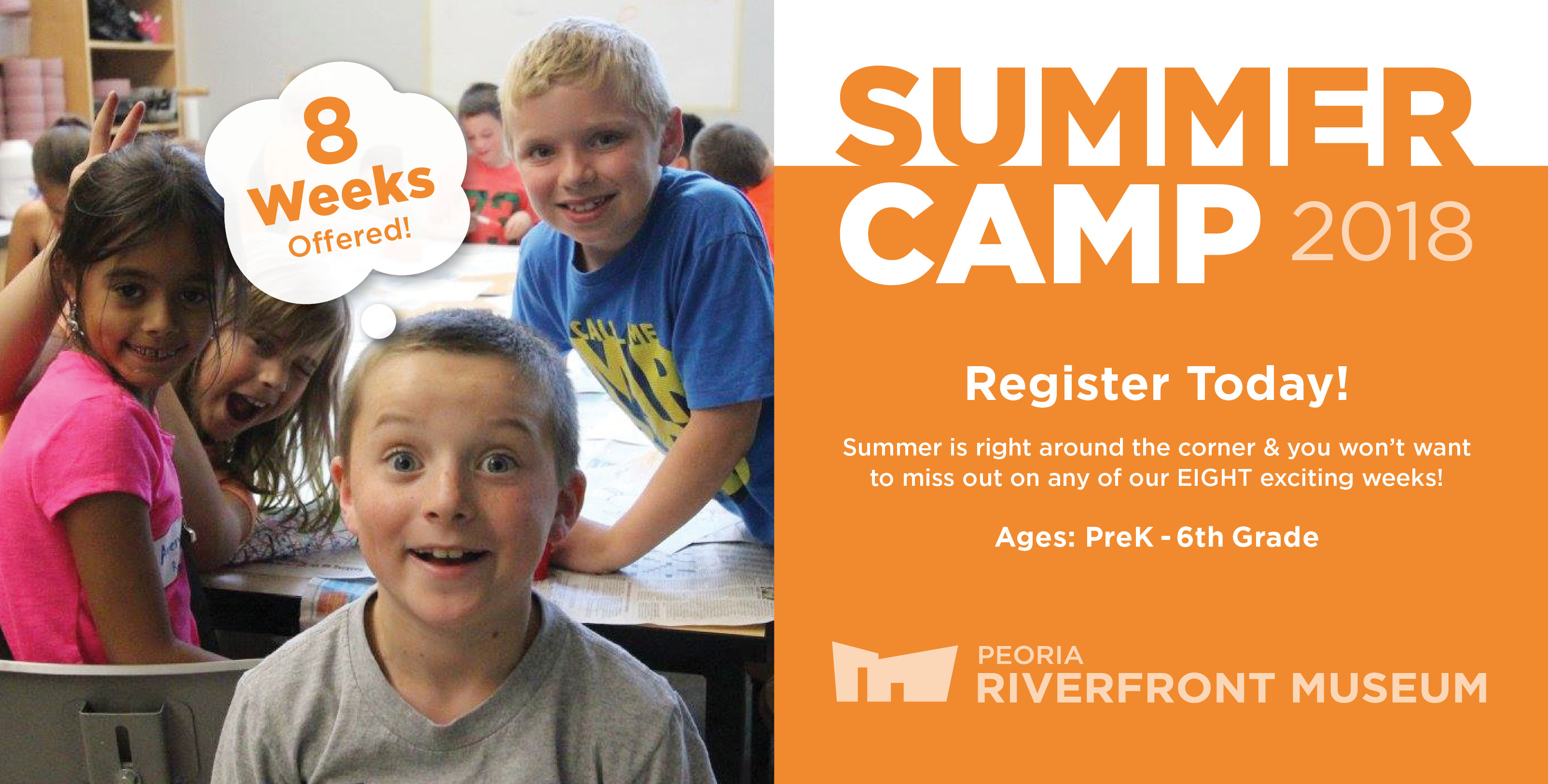 Registration now for Summer Camp 2018 - click here! 
For more information, call Shelby at 309.863.3015.
Riverfront Museum Summer Camp 2018 is right around the corner, and you won't want to miss out on any of our EIGHT exciting weeks! Join us as we build bridges, explore the depths of the earth, travel to the farthest reaches of space, dabble in ooey-gooey science, refine our artistic sensibilities, create our own video games and much more! 
Does your high school or college age student need volunteer hours or want to give back? We have 8 weeks of volunteering opportunities through Summer Camp! For more info - click here!
Summer Camp 2018 Themes
Week 1: June 4-8 | Can You Dig It?
Back by Popular Demand!
Come see all of the amazing things you can find buried underground! This week we'll explore everything from plants and insects, to rocks and minerals, to ancient civilizations and creatures. Campers will become entomologists, geologists, archeologists, and even paleontologists as they learn about bugs near and far, dinosaurs big and small, out-of-this-world rocks, and so much more. After a week with us, you'll never look at a pile of dirt the same way again!
Week 2: June 11-15 | Master Builders' Camp  Full Day Camp is SOLD OUT | Half Day Camp has openings! 
Community Favorite!
Encourage your child to design and build in totally new ways at our LEGO® & K'NEX® Camp! Each day will bring about new challenges: from designing cityscapes and bridges, to creating a stop-motion animation movie and using LEGOS to make art. All campers will get to build with LEGO®s and K'NEX® (half-day campers only will work with LEGOS® & Kids K'NEX®), but only K'NEX® projects will get to go home with the students. This week includes an additional $20 fee to cover the five take-home K'NEX® creations that each camper will construct.
Week 3: June 18-22 | Mad Scientists' Camp Full Day Camp is SOLD OUT | Half Day Camp has openings!
Community Favorite!
Grab your lab-coat and safety glasses and come down to the Riverfront Museum for a week of gooey, bubbly, messy fun! At our Mad Scientists' Camp, students are introduced to several fascinating areas of STEM study, like chemistry, biology, and engineering. Campers get to spend plenty of time exploring our gallery spaces, including the DOME Planetarium. Get ready for a week of exciting experiments, interesting investigations, and lots of super sleuthing to discover the hard-facts about the everyday science that powers our world!
Week 4: June 25-29 | Robotics Camp Full Day Camp is SOLD OUT | Half Day Camp has openings!
Brand New Camp!
You asked, we listened! Introducing our brand new Robotics Camp featuring LEGO® Mindstorms EV3! Developed in partnership with the Illinois Math Academy and Bradley University, this camp will immerse students in the world of robotics. Our older campers (3rd-6th grade) will work together to design, build, and program their very own robots using the LEGO® Mindstorms EV3 technology. Our younger campers (K-2nd grade) will be introduced to robotics concepts by following curriculum created by the First LEGO League. Even our very youngest campers (Pre-Kindergarten) will still get to play and learn with robots by using Beebots, Code-a-Pillars, and other age-appropriate technology. Spots are limited, and this camp is sure to be popular, so register early!
Week 5: July 9-13 | World Travelers' Camp 
Back by Popular Demand!
Grab your passport and get ready to be whisked away on a whirl-wind adventure around the world! In this unique week, campers will learn about the customs, art, architecture, animals, and music of faraway lands. Let us inspire your explorer to expand his or her horizons and cultivate a respect for the talents, achievements, and challenges of others with unique hands-on experiences they can't get anywhere else! Activities will be different this year, so past campers are welcome to return!
Week 6: July 16-20 | Artists in Training Camp SOLD OUT!
Calling All Artists! If you love painting, crafting, sculpting, drawing, and creating, this week is just for you! Several local artists and teachers will encourage young artists to embrace their known talents and explore new skills, materials, and techniques while learning about some of the greatest artists ever known! As an added bonus, some of the classes this year will theme their art projects around our summer exhibition, Dragons, Unicorns & Mermaids: Mythic Creature: Grab your paint brush and pencil and prepare to explore art as you never have before!
Week 7: July 23-27 | Engineering Camp Full Day Camp is SOLD OUT | Half Day Camp has openings! 

Gears and motors and robots, oh my! This week will explore science and engineering using a variety of approaches. Campers will use a variety of tools and technology including Ozobots, K'NEX engineering sets, and video game builders to investigate challenges, design and build motorized cars, and even dabble in simple robotics and computer programming. Previous building experience is not necessary, but is definitely encouraged!
Week 8: July 30-August 3 | Best of Summer Camp

Say goodbye to summer by celebrating everything you love about camp at the Riverfront Museum! Each day will feature a new and exciting theme that represents the best this summer had to offer – dinosaurs, video games, slimy science, amazing art and more. Whether you want your camper to relive their favorite moments, experience the best of a week they missed, or just get a taste of what our camp program is all about, you won't want to miss a moment of this fun-filled week!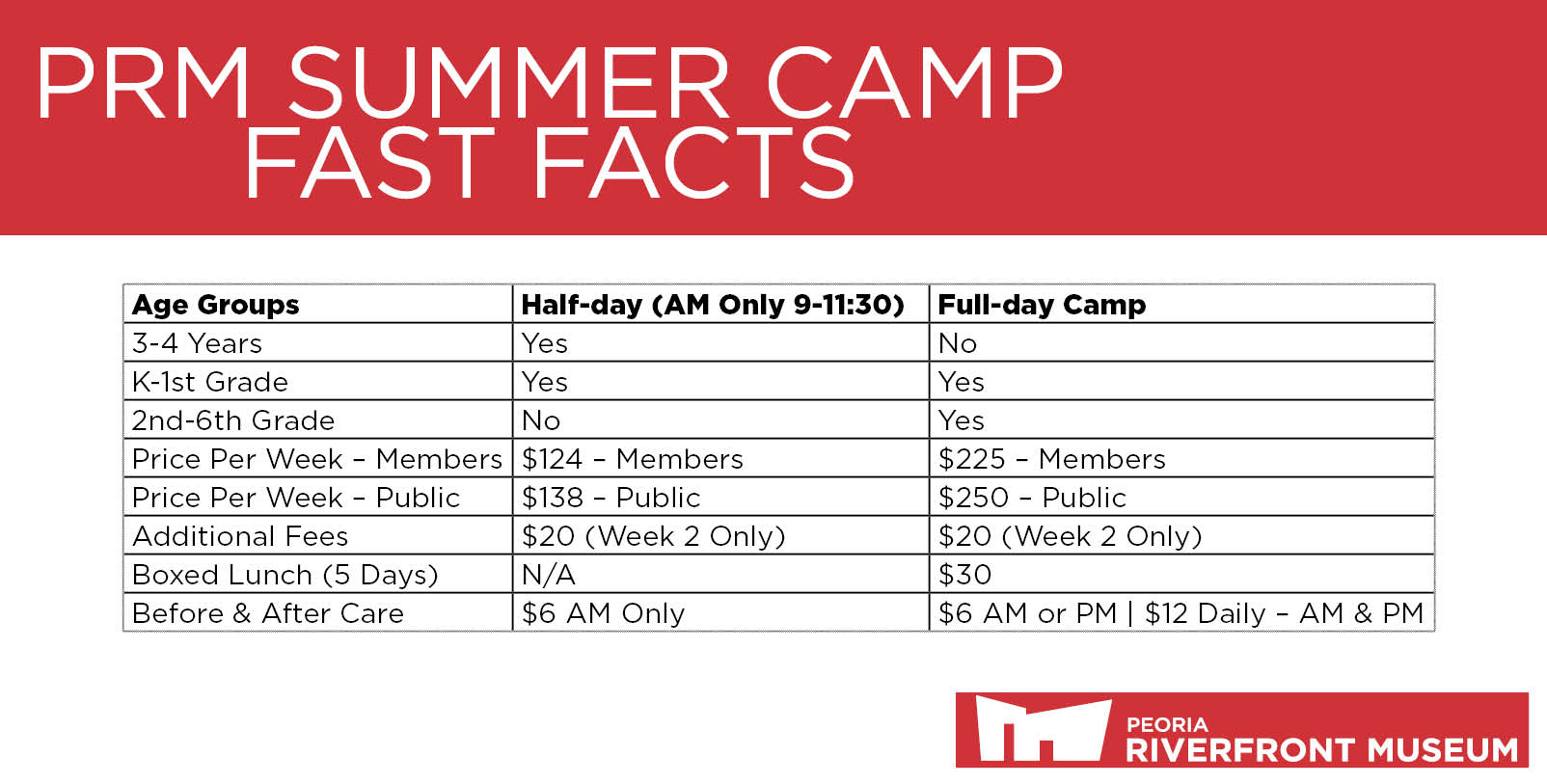 Drop-off  Camp Hours
• Full-day camp is in session from 9 - 3 pm (morning snack provided)
• Half-day camp is in session from 9 - 11:30 am (no half-day lunch)
• First day drop-off (Monday) only begins at 8:30 am
• On all other days drop-off begins at 8:45 am
• Any campers arriving earlier than the stated drop-off times will be charged an Early Drop-Off Fee unless they are enrolled in Before Care
Pick-Up
• Full-day camp pick-up ends at 3:15 pm
• Half-day camp pick-up ends at 11:45 am
• Any campers picked up later than the stated pick-up times will be charged a Late Pick-Up Fee unless they are enrolled in After Care
Lunch
Full-day campers will have a 30 minute lunch in the auditorium with supervised activities. Campers may bring a sack lunch or purchase a boxed lunch (by Cracked Pepper) for $30 for the week. Lunches may be purchased at registration, or on the first day of camp.
Before & After Care
• Before Care is $6/day and runs from 7:15-8:45 am daily
• After Care is $6/day and runs from 3-5:30 pm daily
• There is a fee of $12/day per child needing both Before & After Care
Early Drop-Off | Late Pick-Up Fees
The museum reserves the right to impose a $5 fee for every 5 minutes that a camper is at the Museum before or after their designated times.
Refunds | Withdrawals | Cancellations
We ask for at least one month's notice if you plan to cancel or withdraw from a week of camp. A full refund will be given to a camper who withdraws from a camp at least two full weeks prior to the start of their camp minus a $25 processing fee. A 50% refund will be given upon withdrawal less than two weeks before camp begins minus a $25 processing fee. No refunds are given once camp begins.
Caterpillar, Inc. Employee Discount
Campers whose parent or direct guardian works for Caterpillar Inc. will receive a 10% discount on registration fees. This discount cannot be used in combination with any other discounts (including the museum membership discount), and it does not apply to extra fees like lunch, Before/After Care, or the K'NEX® Fee. To receive the discount, you must register in person or over the phone, and be able to show proof of employment (ID badge or similar item).
Call Shelby at 309.863.3015 for more information.