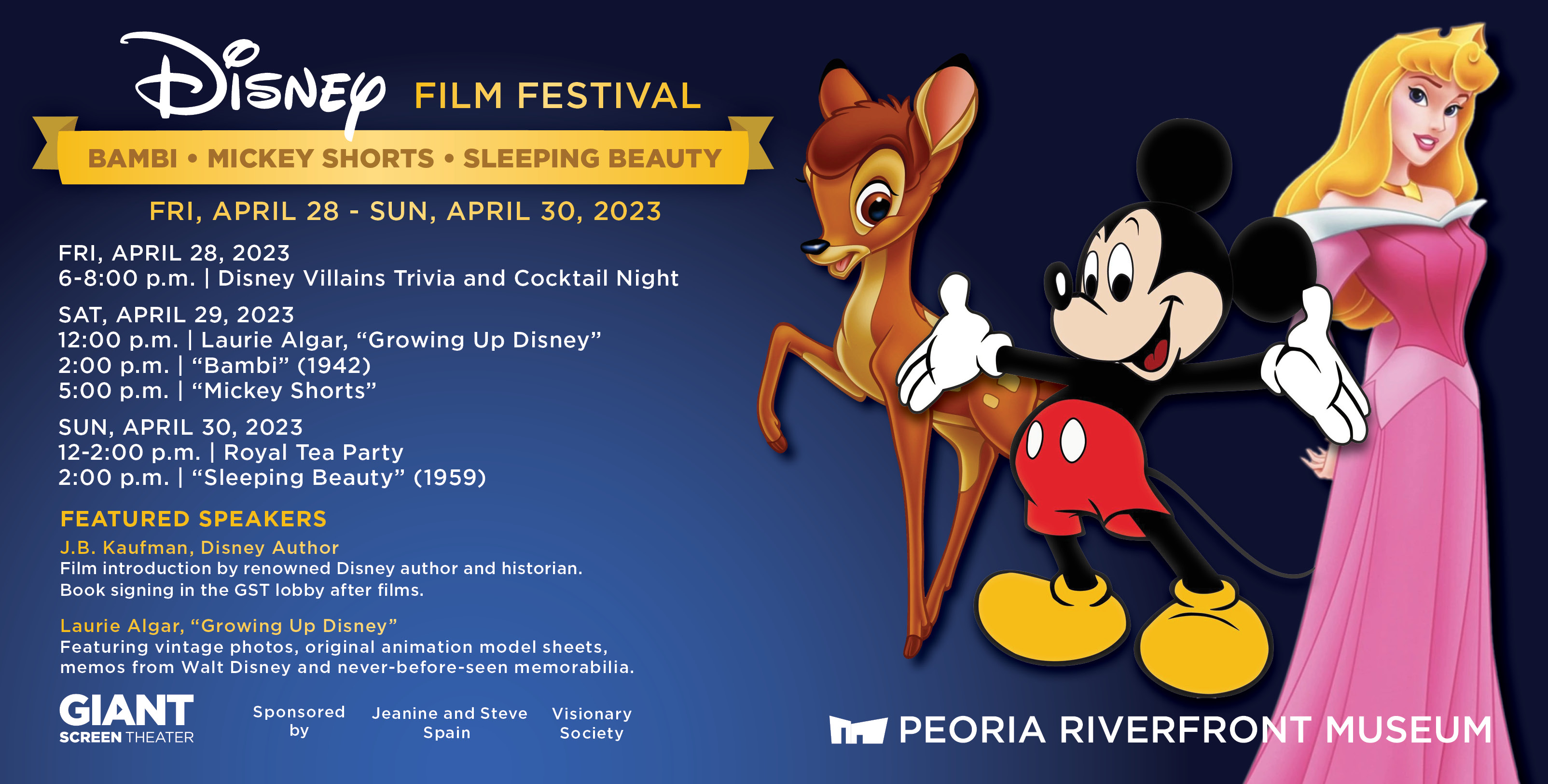 DISNEY FILM FESTIVAL
April 28 - 30, 2023 
This April, the Peoria Riverfront Museum becomes the Happiest Place on Earth! Join us, for the "Disney Film Festival!"

The "Disney Film Festival" brings to life the Golden Age of Disney with screenings of beloved classics "Bambi" (April 29) and "Sleeping Beauty" (April 30) on Illinois' largest screen, the way they were meant to be seen!
Renowned Disney author and historian J.B. Kaufman will join us for fascinating pre-film talks and post-film Q&As with book signings after each film. Mr. Kaufman is a film historian and author who specializes in Disney animation history and silent films. His books include "The Fairest One of All," "Pinocchio: The Making of the Disney Epic," and "Walt Disney's Mickey Mouse." He also serves as the consulting historian for The Walt Disney Family Museum.
For the full schedule of Disney Films, click HERE.

Programming Schedule:
April 28, 2023
Disney Villains Trivia and Cocktail Night
6 p.m. - 8 p.m. 
 Test your Disney villain knowledge at this 21+ event. Guests will receive an extra point for each person on the team who is dressed in Disney themed attire. Winning team receives free movie tickets to the films shown during the Disney Film Festival. Two drinks from the "Pick Your Poison" bar and food included with your ticket. 

*Teams up to 8 members

Members: $25
Non- Members: $30

Get tickets HERE
April 29, 2023
Growing up Disney
12 p.m. - 2 p.m.
Laurie Algar, daughter of Disney legend, James Algar, presents "Growing Up Disney" about her father's 43-year career as animator, producer, and director with Walt Disney Studio. Laurie's presentation features vintage photos, original animation model sheets, memos from Walt, Disney and never-before-seen memorabilia. Algar's presentation will be followed by light food and drinks, available in the Giant Screen Theater lobby. Laurie Algar will be available for questions. 

This is a FREE event!
April 30, 2023
Royal Tea Party
12 p.m. - 2 p.m 
Join us for a Royal Tea Party with activities, social time and snacks with princesses and princes from A Royal Remembrance. All are welcome to attend in royal or Disney themed attire. All children must be chaperoned by an adult.

Non-member Adult/Senior tickets: $5
Non-member Child tickets: $20

Member Adult/Senior tickets: FREE!
Member Child tickers: $15

Get tickets HERE
THANK YOU TO OUR SPONSORS
The "Disney Film Festival" is sponsored by Steve and Jeanine Spain and Visionary Society