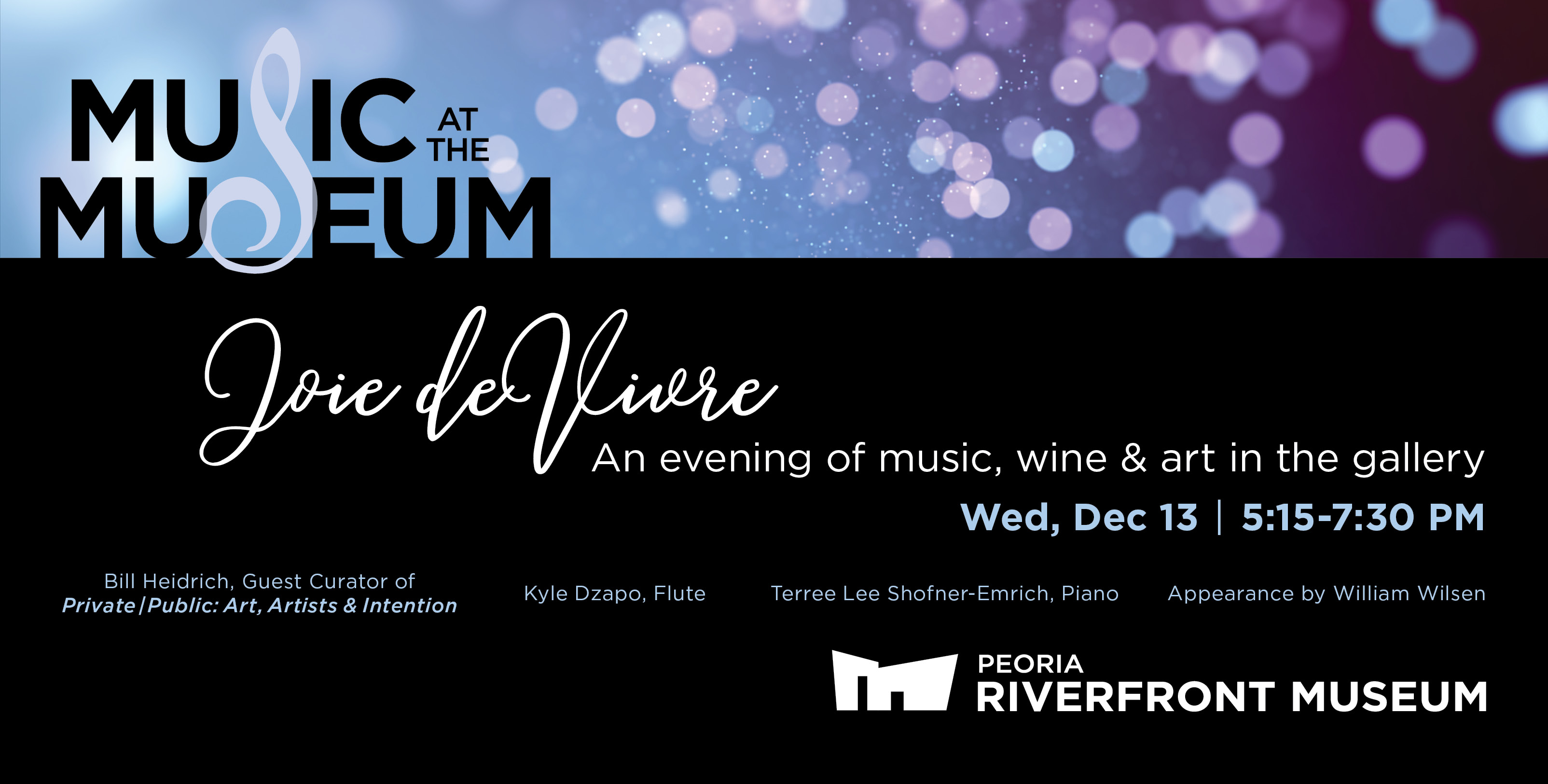 Music at the Museum
Joie de Vivre | An Evening of Music, Wine & Art
Wed, Dec 13  |  5:15-7:30 pm
Fine Art Gallery
Purchase tickets online - click here.
"Joie de Vivre" is a jubilant French expression which literally means "joy of life" - or to partake in an activity that exults the soul. Experience your own Joie de Vivre this Wednesday as we launch our Music at the Museum series. Join us for this extraordinary and relaxing evening of music, art & wine in the Private | Public: Art, Artists & Intention exhibition. The evening will celebrate Austrian artist Gustav Klimt, painter of the legendary "Woman in Gold" ("Portrait of Adele Bloch-Bauer I"), whose sketch of the painting is in the exhibition. Wine & hors-d'oeuvres included. 21+
Featuring: 
Bill Heidrich, guest curator of Private | Public: Art, Artists & Intention
Kyle Dzapo, flute
Terree Lee Shofner-Emrich, piano
Special appearance by William Wilsen
Schedule:
5:15-6:00  |  Hors d'oeuvres
6:00-6:45  |  Concert in the gallery
6:45-7:30  | Coffee & desserts
Concert compositions:
Fantaisie by Gabriel Fauré
Prelude to the Afternoon of a Faun by Claude Debussy
Sonata for Flute and Piano by Francis Poulenc
Proceeds benefit the Peoria Riverfront Museum
Purchase tickets online now - click here.