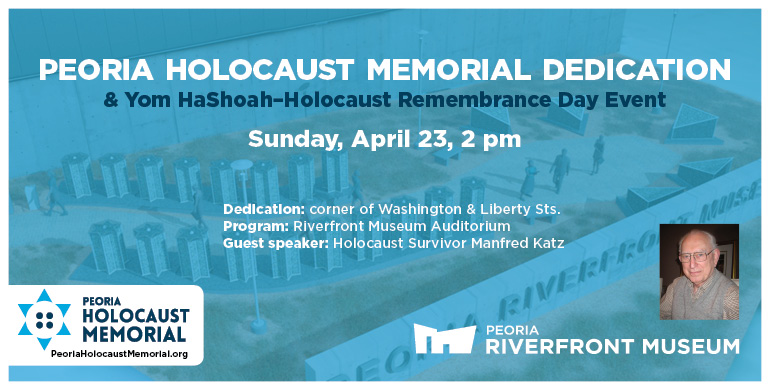 Peoria Holocaust Memorial Dedication
& Yom HaShoah–Holocaust Remembrance Day Event
Sunday, April 23, 2 pm
Dedication: corner of Washington & Liberty Sts.
Program: Riverfront Museum Auditorium (after dedication)
Guest speaker: Holocaust Survivor Manfred Katz 
Dedication will take place outside the Peoria Riverfront Museum, at the corner of Washington Street and Liberty Street. Program will follow inside the Museum, on the lower level. The Memorial dedication begins at 2 pm with Yom HaShoah program immediately following, rain or shine.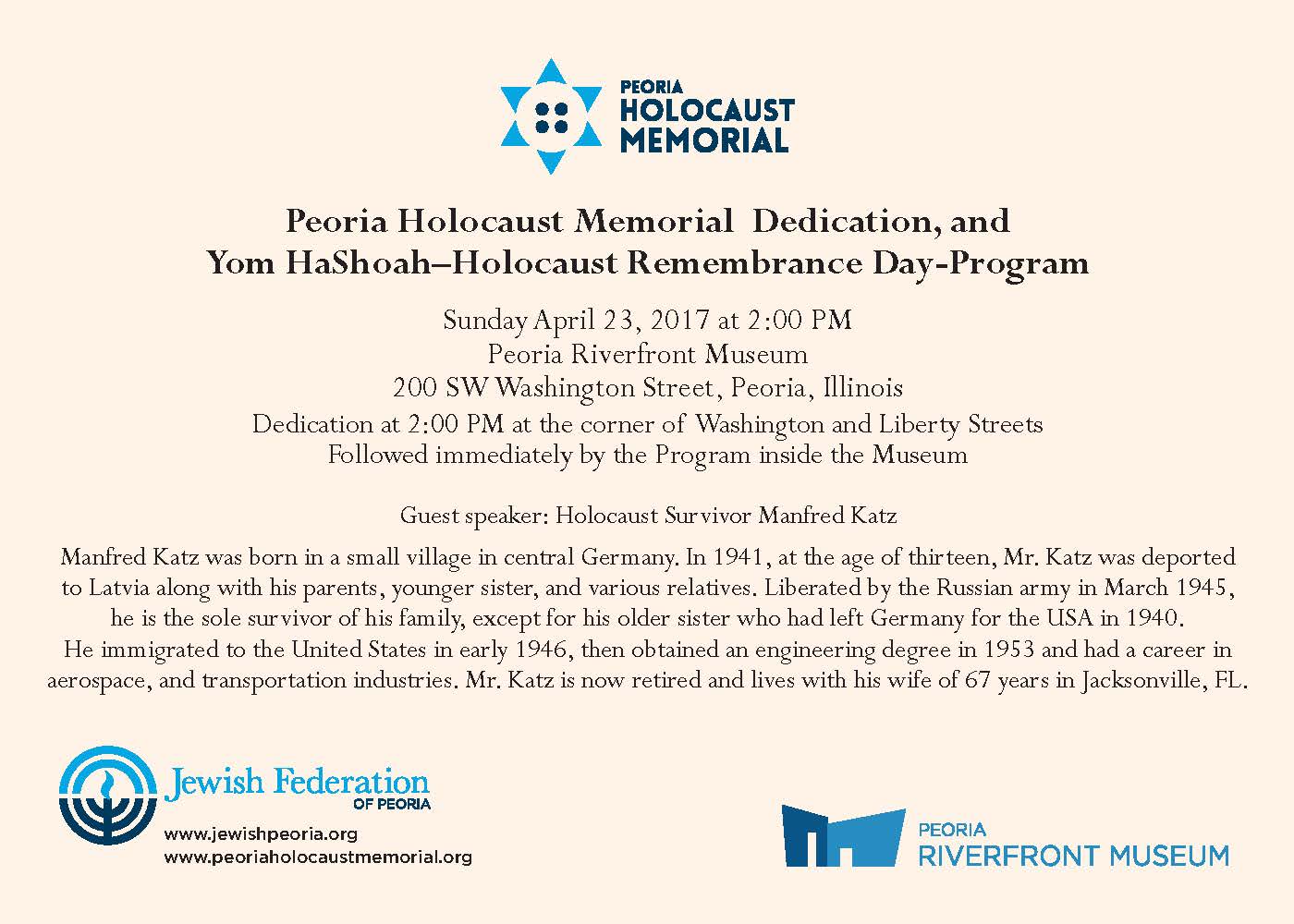 Yom HaShoah - Holocaust Remembrance Day Event Program
This year's Yom HaShoah, or Holocaust Remembrance Day, program will feature the dedication of the refurbished Peoria Holocaust Memorial, also known as "The Button Project," at its new home at the Peoria Riverfront Museum.
Manfred Katz, a Holocaust survivor who emigrated to the United States following World War II, and father of Peoria resident Sheldon Katz, who designed the Peoria Holocaust Memorial, will speak about his experience during and after the war. Representatives of the Jewish Federation of Peoria, the Peoria Riverfront Museum, and the Peoria City Council will be in attendance.
Yom HaShoah commemorates the victims of the single greatest tragedy created and recorded by man. We must never forget its lesson that intolerance and extremism, if left unchecked, becomes a cancer that metastasizes into an evil doctrine of violence and hate.
The entire community is invited to attend the program. Educators and religious leaders are encouraged to use the event as an opportunity to foster discussion around the topics of tolerance and inclusion.
For more information on the Memorial, visit peoriaholocaustmemorial.org.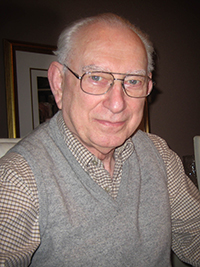 Manfred Katz Biography
Manfred Katz was born in a small village in central Germany, the cond of three children. He attended the local public school for four years and spent an additional three years in a Jewish parochial school in a nearby city. In 1941 at the age of thirteen, Mr. Katz was deported to Latvia along with his parents, younger sister, and various relatives. Liberated by the Russian army in March 1945, he is the sole survivor of his family, except for his older sister who had left Germany for the USA in 1940.
After liberation Mr. Katz made his way west to Frankfurt with two objectives: first, to learn the fate of his family, which proved to be unsuccessful to this very day; secondly, to leave Germany as soon as possible. He immigrated to the United States and arrived in St. Louis, MO, in early 1946. He immediately began high school, continued on to college, got married, and in January 1953 obtained a degree in engineering. Mr. Katz went on to pursue an exciting career in engineering and management in the military, space, and transportation industries.
Mr. Katz is now retired and living with his wife of sixty-seven years in an independent living facility in Jacksonville, Florida. The Katzes have four married sons, nine grandchildren, and two great-grandchildren; they try to stay in close touch by taking advantage of all the modern electronics gadgets available, and periodic visits.
For more information on the Yom HaShoah - Holocaust Remembrance Day Event, visit: JewishPeoria.org.