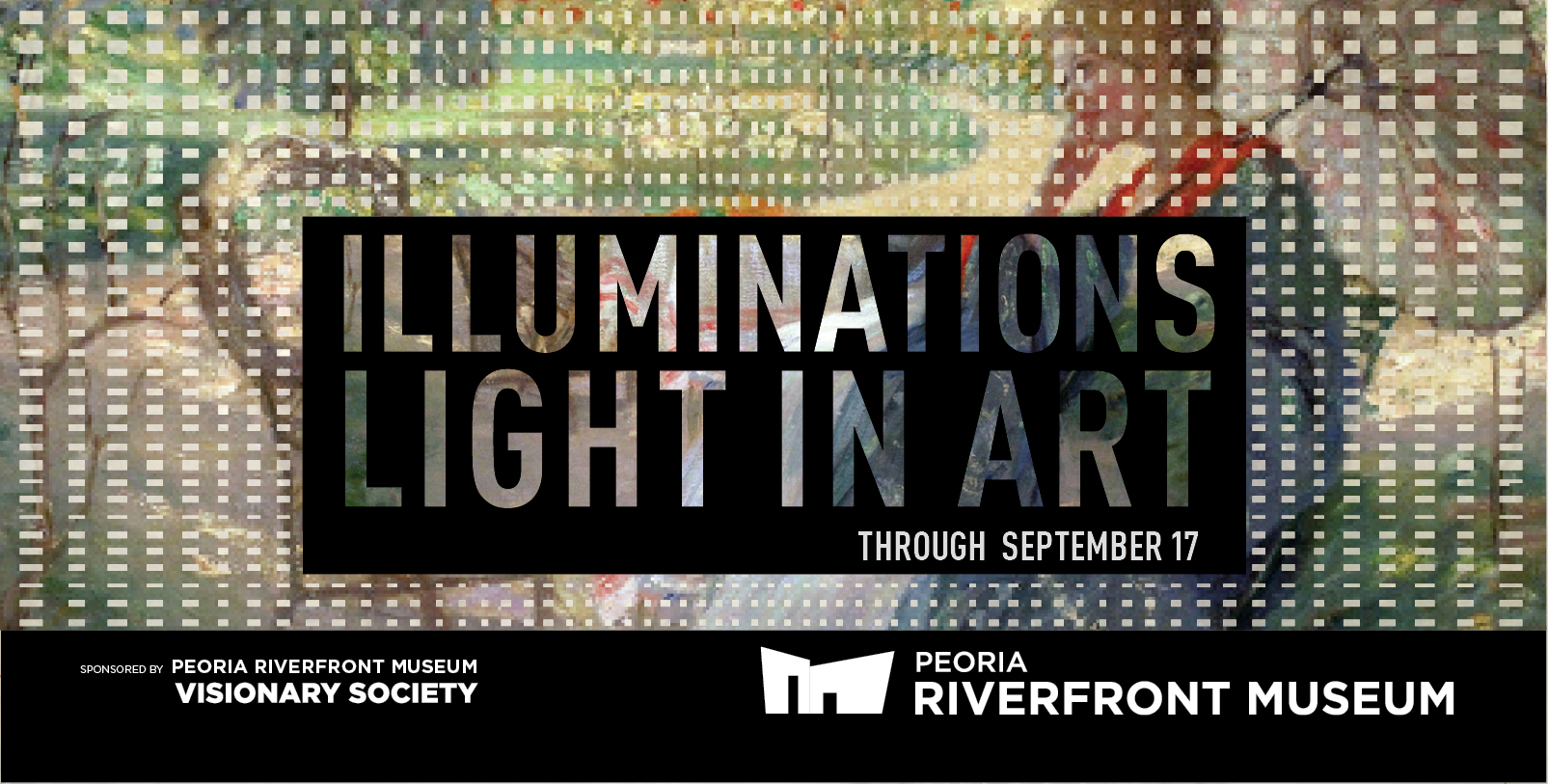 July 15 to September 17, 2017
Permanent Collection Gallery
Paintings of light are on display alongside the world's blackest substance, Vantablack, and the world's "glitteriest glitter"!  Illuminations: Light in Art features 28 works of art from our Permanent Collection that highlight how artists have used and featured light in their work.
"Illuminations" begins with a look at Impressionist paintings, which capture the interplay of light and atmosphere, and how artists have used chiaroscuro, the contrast between light and shadow, to create dimensionality and to lend a dramatic effect to their subjects. Contemporary works on display demonstrate the use of light, shadow and tonality to create dramatic compositions and continue the traditions begun in centuries past. 
On loan from Peoria Historical Society is a beautiful Tiffany lamp that shows how craftsmen have made use of the beauty of light and glass together. 
The exhibition ends with contemporary works that blend art and science, capitalizing on advances in our understanding of the properties of light to create innovative works of art. These include a work of Polage® (polarized light collage) by artist and inventor Austine Wood Comarow, a hologram by artist and holographer Rudie Berkhout, and a work on loan by Peoria photographers  Doug and Eileen Leunig from their series of "light paintings," where each scene is "painted" with light from a high-powered flashlight.
Also on display is a sample of Vantablack – "Vanta" stands for "Vertically Aligned NanoTube Arrays" – the blackest artificial substance known. This coating is made of carbon nanotubes that act like a miniature ultra-dense forest, absorbing up to 99.965% of visible light. It was developed for scientific applications – such as the interior of observatory telescopes – but has also captured the imagination of the art world. 
Next to the Vantablack is a sample of the world's "glitteriest glitter," entitled "Diamond Dust" and made of tiny glass shards, by British artist Stuart Semple.
Just outside of the exhibition is a small display of art glass (located in the gallery hallway). The glass display will be on view throughout the run of our main summer exhibition, Playing with Light. Glass plays with light like no other artistic medium does, and this display features works by artists who have shaped the studio glass movement in Illinois and across the country.