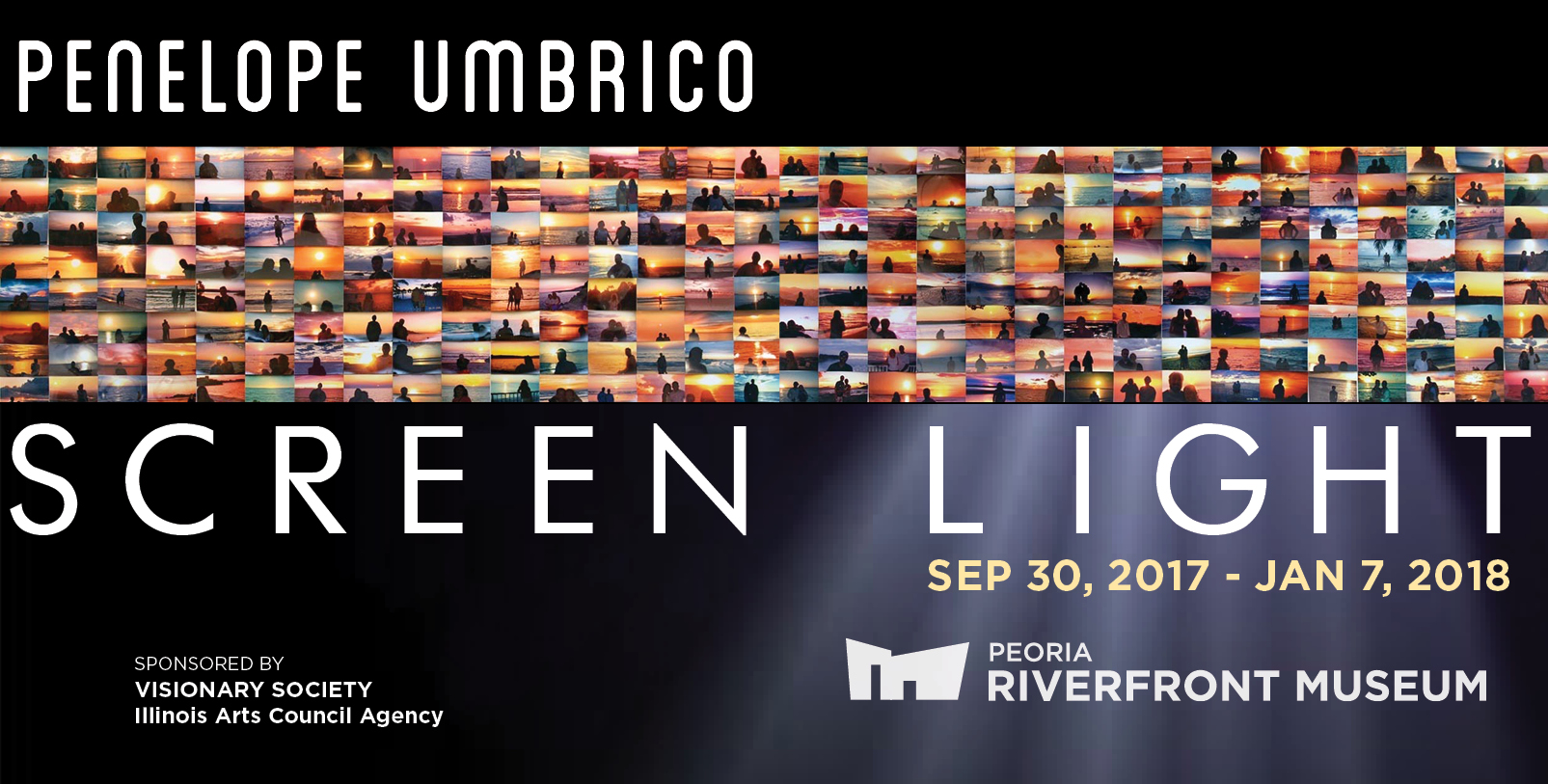 September 30, 2017 through January 7, 2018
Permanent Collection Gallery
Embracing the wealth of images available on social media, contemporary artist Penelope Umbrico draws from the millions of images shared on Craigslist, Flickr, and other social media sites and uses them as source material for her installations. She selects popular subjects such as sunsets and televisions and creates large-scale installations that present contemporary society's collective photographic habits and their intent and results. Screen Light features and contrasts two of Umbrico's photo-based installations: Sunset Portraits from Flickr and TVs from Craigslist.
The people depicted in Sunset Portraits are purposely engaging with photography, intent on making a portrait and presenting this portrait as evidence of "being there." However, the technology of the camera works against this intent—the camera exposes for the sun, not the people, and the people appear silhouetted. In contrast, TVs from Craigslist comprises photographs of an object taken solely for the purpose of selling the object on Craigslist. These pictures are taken purely for utilitarian purposes, but it is in these pictures that you can see the individuality of the people inadvertently caught in the reflection of the screens of the unwanted TVs.
About the Artist
Penelope Umbrico is one of the first contemporary photographers to explore the transition from film to digital photography and the resulting wealth of publically accessible photographs in the realm of social media, along with the issues involving questions of fair use and ownership of those photos.
Umbrico was born in Philadelphia in 1957, and lives and works in Brooklyn, New York. She attended the Ontario College of Art, Toronto (1980) and received an MFA (1989) from the School of Visual Arts, New York. She has published numerous books including a monograph Penelope Umbrico (photographs) (Aperture 2011) and most recently Range (Aperture 2014) and Out of Order (RVB Books 2014). She is the recipient of awards and grants including a Guggenheim Fellowship (2011), a Smithsonian Artist Research Fellowship (2012) and the John Gutmann Photography Award (2012).
55th Annual Conference for the Midwest Chapter of the Society for Photographic Education (SPE)
The Peoria Riverfront Museum is display this exhibition in conjunction with Bradley University's hosting of the Society for Photographic Education's conference titled Developing Spaces/Places on October 12 - 15. To learn more about the conference, click here .  
This exhibition is sponsored by the Peoria Riverfront Museum Visionary Society and the Illinois Arts Council.