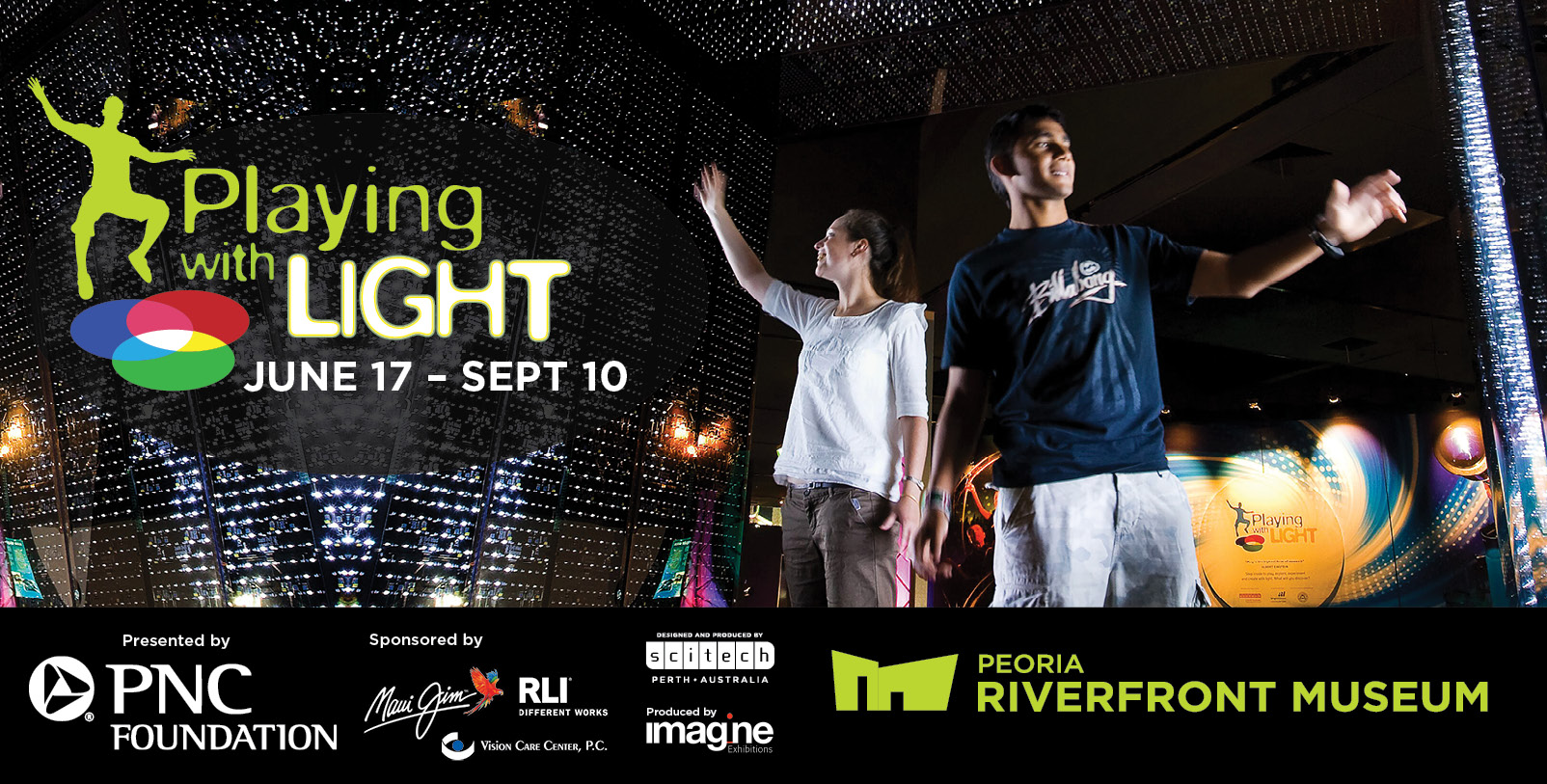 Playing with Light Exhibition
June 17 - September 10, 2017
International Feature Gallery
Let there be light! Step out of the darkness and into this exhibition where visitors will try to sneak past a laser light security block, step inside a giant kaleidoscope, "draw" with infrared "paint", or make their own powerful telescope! Playing With Light explores our big bright world and the many ways in which science and physics create light!
Hands-on interactives
Laser Dodge, Sticky Light, Kaleidoscope, Bendy Mirror, Computer Vision, Make a Telescope, Change Your View, Color Shadows, Color Mixing, Paint with Infrared, See with a Spectroscope, Fiber Optic Transmission, Freeze Your Shadow, See in Slow Motion, Hologram, Concave Reflections, Polarized Light, and much more.
More on Playing with Light
Created by the renowned Scitech in Perth, Australia, this exhibition with many applications such as vision, the beauty of rainbows, fiber optic communication, holographic security, and laser surgery, light provides the basis for much of our current technology and is largely responsible for the way we view our world.
Using basic physics principles, innovative interactive experiences and a sense of fun, Playing With Light offers the opportunity to explore our world and how it is illuminated through 22 exhibits with a multitude of outcomes.
Key messages include: How light plays a vital role in our daily lives, how science helps us to describe and explain the behavior of light and to discover even more about the world around us, and how play and experimentation are important for learning.
Playing with Light has been designed around a number of key, immersive experiences for people of all ages. It provides wonderful opportunities for parents and caregivers to participate in their children's learning and play experiences while in the exhibition.
STEM concepts
Physics, and in particular, optics, is a subject that is difficult to demonstrate in the classroom without specialist equipment. This exhibition provides the opportunity to engage both primary and secondary school students. 
The subject material provides high quality teaching and learning opportunities outside the classroom for visiting groups. In addition, the attractiveness and highly creative nature of the exhibition provide an opportunity to engage adults of all ages with science and technology.
Playing with Light was created by Scitech and is produced by Imagine Exhibitions Inc. 
For more information on Playing with Light - click here!