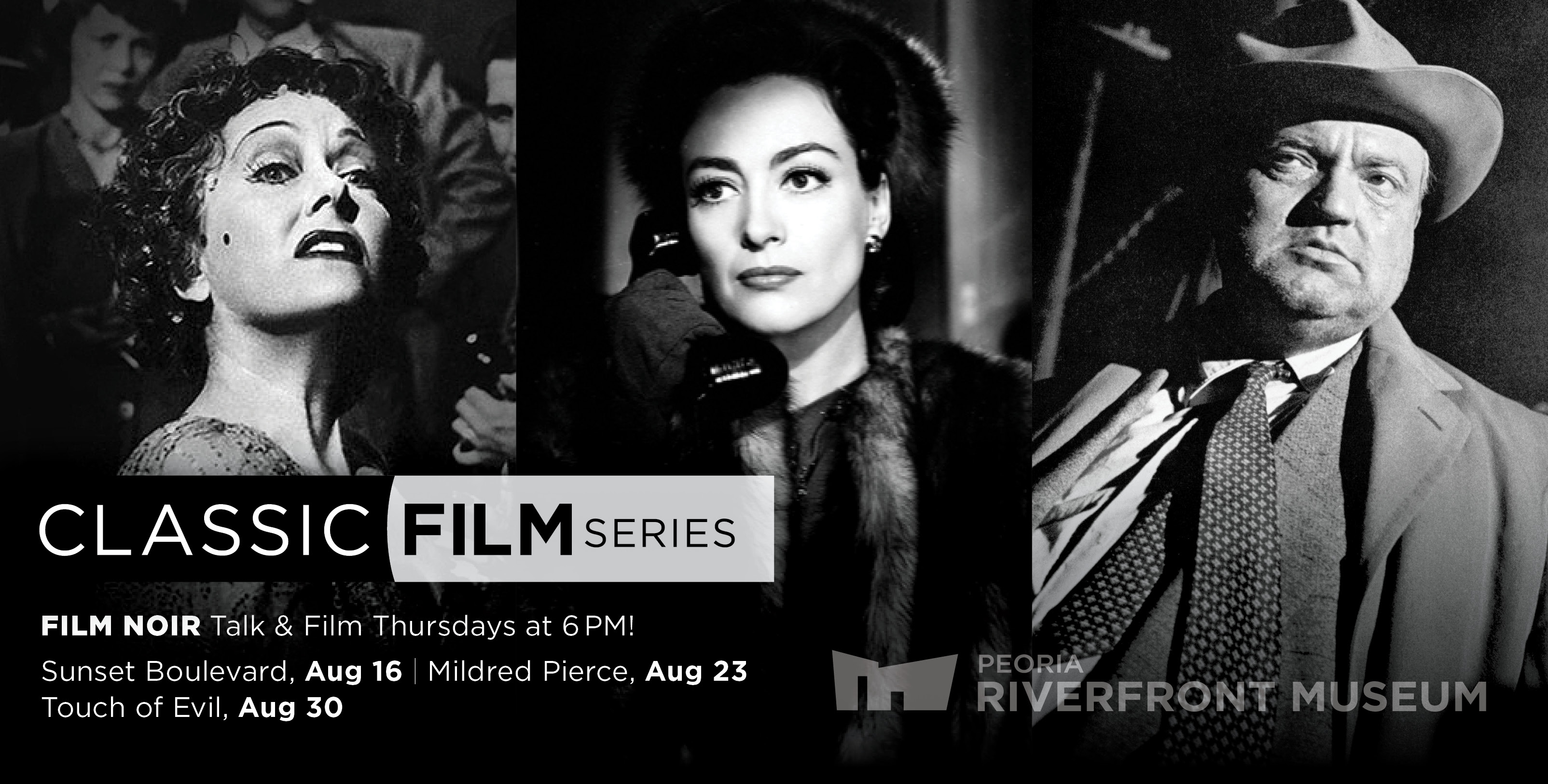 Sunset Boulevard
Thu, Aug 16 | 6 PM
Guest Speaker: Jennifer Ritchrath
An aging silent film queen (Gloria Swanson) refuses to accept that her stardom has ended. She hires a young screenwriter (William Holden) to help set up her movie comeback. The screenwriter believes he can manipulate her, but he soon finds out he is wrong. The screenwriter's ambivalence about their relationship and her unwillingness to let go leads to a situation of violence, madness, and death. Dir. Billy Wilder. 1950.
Mildred Pierce
Thu, Aug 23 | 6 PM
Guest Speaker: Paul Resnick
When Mildred Pierce's (Joan Crawford) wealthy husband leaves her for another woman, Mildred decides to raise her two daughters on her own. Despite Mildred's financial successes in the restaurant business, her oldest daughter, Veda (Ann Blyth), resents her mother for degrading their social status. In the midst of a police investigation after the death of her second husband (Zachary Scott), Mildred must evaluate her own freedom and her complicated relationship with her daughter. Dir. Michael Curtiz. 1945.
Touch of Evil
Thu, Aug 30 | 6 PM
Guest Speaker: Steve Tarter
When a car bomb explodes on the American side of the U.S./Mexico border, Mexican drug enforcement agent Miguel Vargas (Charlton Heston) begins his investigation, along with American police captain Hank Quinlan (Orson Welles). When Vargas begins to suspect that Quinlan and his shady partner, Menzies (Joseph Calleia), are planting evidence to frame an innocent man, his investigations into their possible corruption quickly put himself and his new bride, Susie (Janet Leigh), in jeopardy. Dir. Orson Welles. 1958. PG-13.
Buy tickets online now - click here!