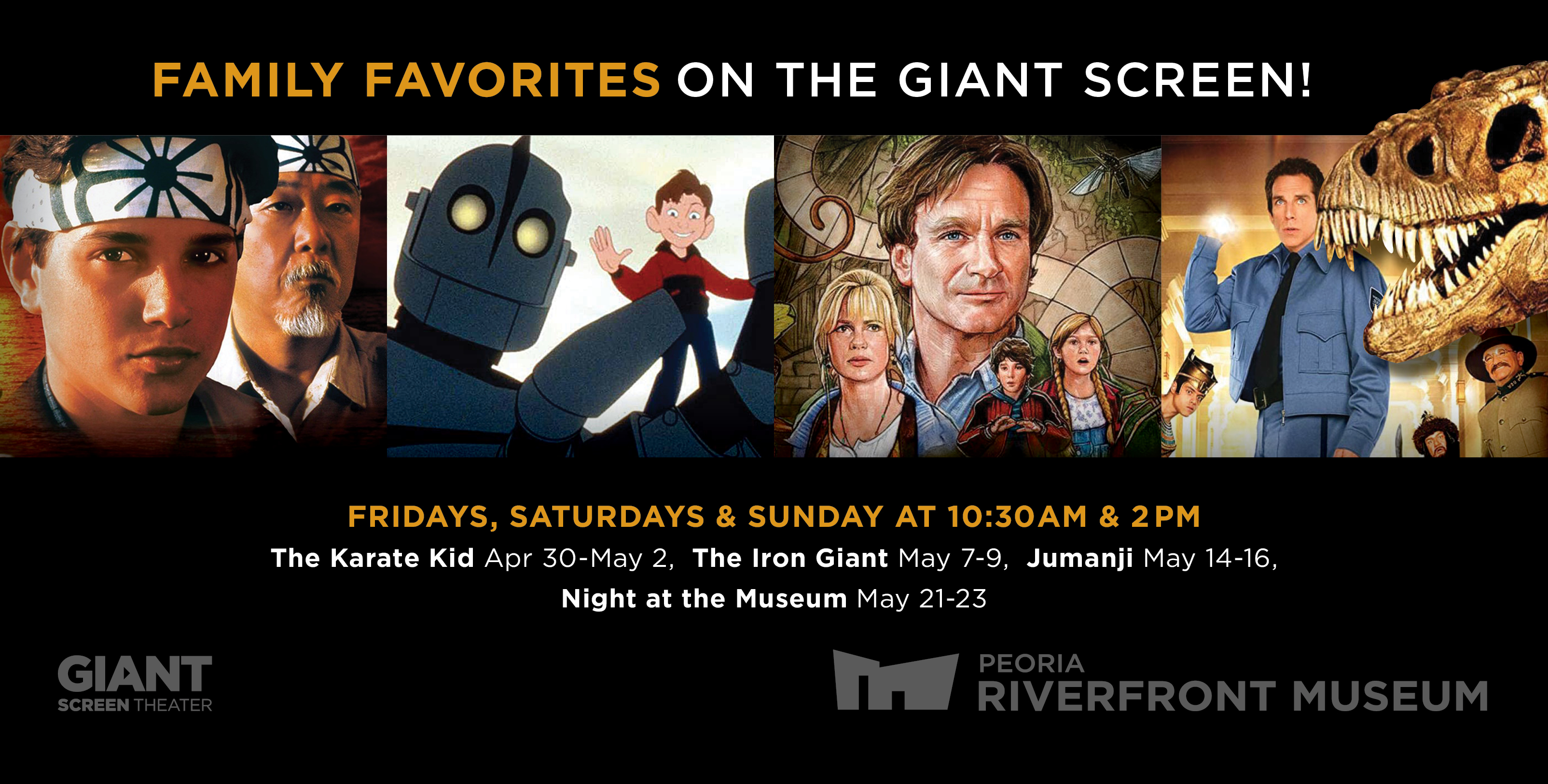 THE KARATE KID
Apr 30 & May 1 | 10:30 AM & 2 PM
May 2 | 12:30 PM
Daniel (Ralph Macchio) moves to Southern California with his mother, Lucille (Randee Heller), but quickly finds himself the target of a group of bullies who study karate at the Cobra Kai dojo. Fortunately, Daniel befriends Mr. Miyagi (Noriyuki "Pat" Morita), an unassuming repairman who just happens to be a martial arts master himself. Miyagi takes Daniel under his wing, training him in a more compassionate form of karate and preparing him to compete against the brutal Cobra Kai. 1984. Rated PG. Runtime: 2h 7m.
Tickets | CLICK HERE
---
THE IRON GIANT
May 7 & 8 | 10:30 AM & 2 PM
May 9 | 12:30 PM
In this animated adaptation of Ted Hughes' Cold War fable, a giant alien robot (Vin Diesel) crash-lands near the small town of Rockwell, Maine, in 1957. Exploring the area, a local 9-year-old boy, Hogarth, discovers the robot, and soon forms an unlikely friendship with him. When a paranoid government agent, Kent Mansley, becomes determined to destroy the robot, Hogarth and beatnik Dean McCoppin (Harry Connick Jr.) must do what they can to save the misunderstood machine. 1999. Rated PG. Runtime: 1h 30m.
Tickets | CLICK HERE
---
JUMANJI
May 14 & 15 | 10:30 AM & 2 PM
May 16 | 12:30 PM
A magical board game unleashes a world of adventure on siblings Peter (Bradley Pierce) and Judy Shepherd (Kirsten Dunst). While exploring an old mansion, the youngsters find a curious, jungle-themed game called Jumanji in the attic. When they start playing, they free Alan Parrish (Robin Williams), who's been stuck in the game's inner world for decades. If they win Jumanji, the kids can free Alan for good -- but that means braving giant bugs, ill-mannered monkeys and even stampeding rhinos! 1995. Rated PG. Runtime: 1h 44m.
Tickets | CLICK HERE
---
NIGHT AT THE MUSEUM
May 21 & 22 | 10:30 AM & 2 PM
May 23 | 12:30 PM
Dreamer Larry Daley thinks he's destined for something big but his imaginative ideas never pay off and in desperate need of a job, he accepts to be a security guard at the Natural History Museum. During his watch, Larry makes a startling discovery. Thanks to the unleashing of an Egyptian curse, the museum's animals spring to life after the building closes. Larry must find a way to save the chaotic situation. 2006. Rated PG. Runtime: 1h 48m.
Tickets | CLICK HERE
---