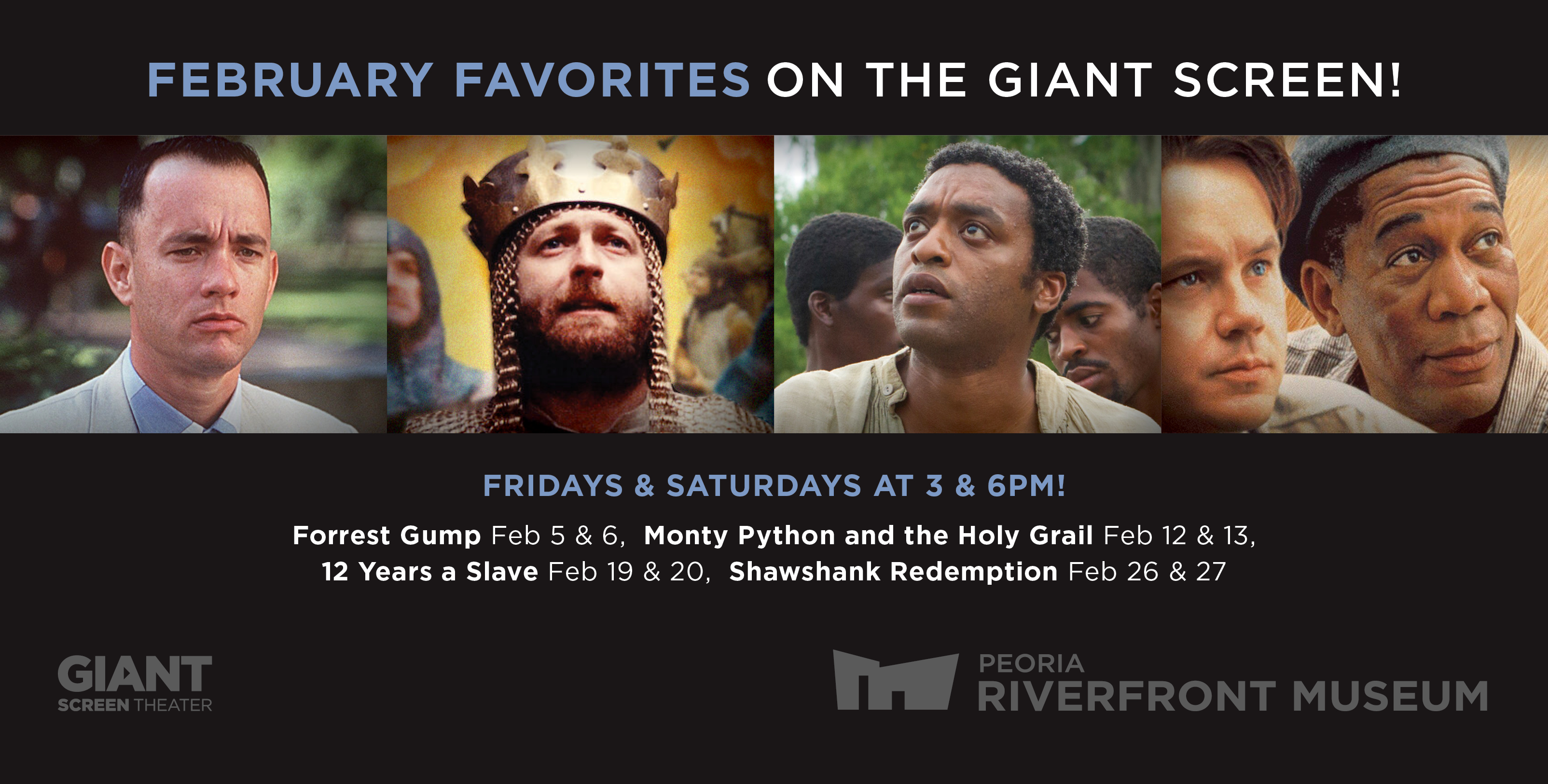 Monty Python and the Holy Grail
Feb 12-13 | 3 PM & 6 PM
Click here to purchase or reserve tickets!
Did you know? The production of "Monty Python and the Holy Grail" was sponsored by notable rock bands and performers, including Pink Floyd, Led Zeppelin, Genesis and Elton John.
A comedic send-up of the grim circumstances of the Middle Ages as told through the story of King Arthur and framed by a modern-day murder investigation. When the mythical king of the Britons leads his knights on a quest for the Holy Grail, they face a wide array of horrors, including a persistent Black Knight, a three-headed giant, a cadre of shrubbery-challenged knights, the perilous Castle Anthrax, a killer rabbit, a house of virgins, and a handful of rude Frenchmen. Rated PG | 1h 32m
Seating capacity is limited, so we recommend ordering your tickets in advance.
COMING UP
12 Years a Slave
Feb 19-20 | 3 PM & 6 PM
Click here to purchase or reserve tickets!
In the years before the Civil War, Solomon Northup (Chiwetel Ejiofor), a free black man from upstate New York, is kidnapped and sold into slavery in the South. Subjected to the cruelty of one malevolent owner (Michael Fassbender), he also finds unexpected kindness from another, as he struggles continually to survive and maintain some of his dignity. Then in the 12th year of the disheartening ordeal, a chance meeting with an abolitionist from Canada changes Solomon's life forever. Rated-R | 2h 14m
The Shawshank Redemption
Feb 26-27 | 3 PM & 6 PM
Click here to purchase or reserve tickets!
Andy Dufresne (Tim Robbins) is sentenced to two consecutive life terms in prison for the murders of his wife and her lover and is sentenced to a tough prison. However, only Andy knows he didn't commit the crimes. While there, he forms a friendship with Red (Morgan Freeman), experiences brutality of prison life, adapts, helps the warden, etc., all in 19 years. Rated R | 2h 22m