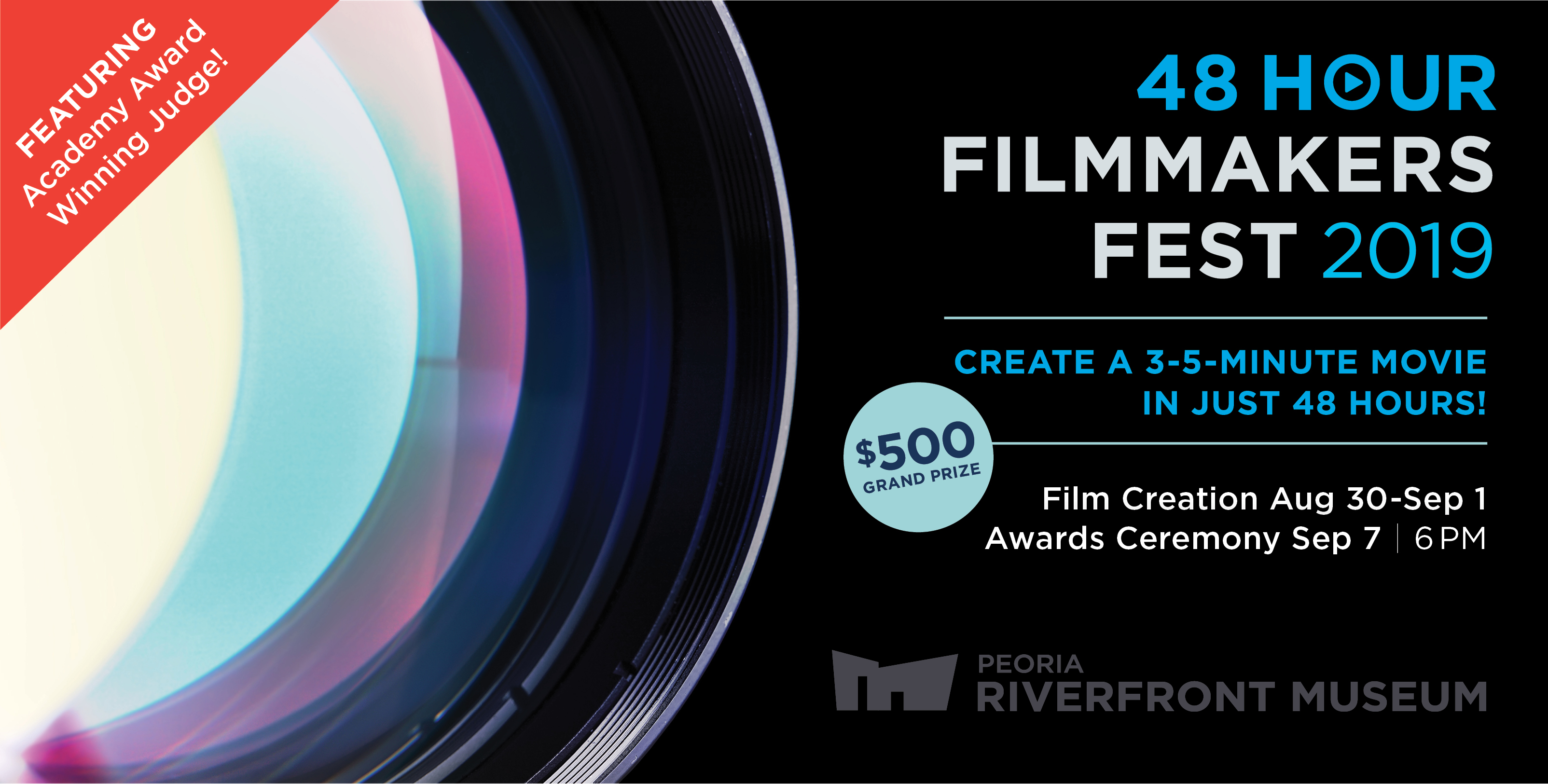 48-hour Filmmakers Fest 2019
Awards Ceremony: Sat, Sep 7, 6 pm
JUDGES
Aaron Schneider, Academy Award winning filmmaker & Dunlap native
Paul Resnick, English professor at Illinois Central College
Eric Heard, Museum board member
HOSTS
Kevin Kizer, film historian
David Stief, Giant Screen Theater curator
2019 WINNERS
Best Film  | "La Maleta," directed by Giovanni Galindo
Runner-up  |  One Foot Forward," directed by Stephen Heritch
People's Choice  |  "The Paintwatchers," directed by Brandon Ellis & Justin Hymer
To watch the films submitted this year - click here!
---
WHAT IS IT? HOW DOES IT WORK?
The Riverfront Museum's 48-hour Filmmakers Fest is a competition that gives aspiring filmmakers of all ages the chance to create a 3-5-minute movie in just 48 hours. Each film — from writing and shooting to editing and sound design – must occur between Fri, Aug 30, and Sun, Sep 1. 
On Aug 30, we will announce via email a theme, a line of dialogue and an object that needs to be included in each submission, e.g. Friendship, "That's too much" and a baseball bat. After this announcement is made, filmmakers will have 48 hours to create their 3-5-minute film. Participants do not need to be present when the required elements are announced. This information will be emailed to participants, as well as posted to the museum's website and Facebook page.
On Sun, Sep 1, filmmakers will submit their finished product electronically and, over the next several days, they will be viewed by a panel of judges who will determine the overall winner and runner-up.
On Sat, Sep 7 at 6 PM, the top 20 submissions will be screened at the Giant Screen Theater, at which time the winner and runner-up will be announced. In addition, a special People's Choice award will be selected based on audience vote that night. $5 at the door. Participants receive 4 free passes with registration. Seating is limited.
WHO CAN ENTER?
Anyone. All it takes is a passion for filmmaking or storytelling — and a lot of energy to get it all done in 48 hours.
HOW MUCH DOES IT COST TO ENTER?
$10 entry fee.
WHAT WILL I WIN?
PRIZES
Best Film: $500, trophy
Runner-up: $250, trophy
People's Choice: trophy
OFFICIAL RULES
All footage must be shot within the official time period (5 PM Aug 30 – 5 PM Sep 1), and no stock footage or footage shot or created at another time may be used. We recommend organizing a cast and crew, and securing equipment and locations in advance.
Opening credits are not encouraged, but if you use them, they are considered to be part of the film, and therefore count against the five-minute maximum. End credits can be no longer than 60 seconds, and do not count against the five-minute maximum. (That is, a film may be 5 minutes long, with an additional 60 seconds of credits, for a total running time for 6 minutes.)
HOW TO SUBMIT YOUR FILM
All films must be submitted by 5 PM on Sep 1. Submissions can be dropped off at the Museum front desk on a USB flash drive or portable hard drive, or shared via Dropbox folder to dstief@peoriariverfrontmuseum.org.
The filename should be the name of your film i.e. "Star Wars.mp4"
Video format must be .mov or .mp4 – HD resolution recommended.