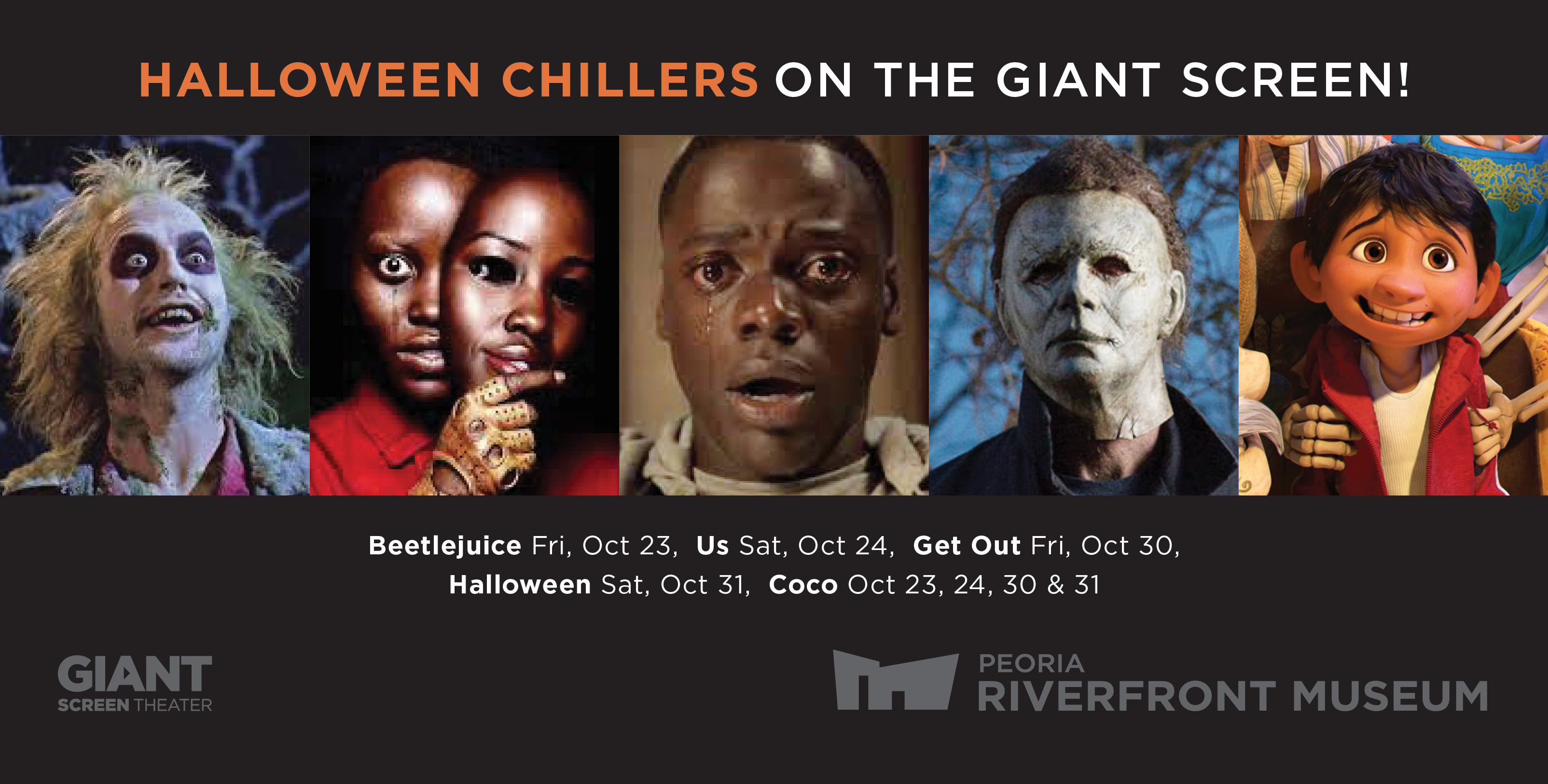 Beetlejuice
Fri, Oct 23 | 3 PM & 7 PM
Purchase tickets online - click here!
After Barbara (Geena Davis) and Adam Maitland (Alec Baldwin) die in a car accident, they find themselves stuck haunting their country residence, unable to leave the house. When the unbearable Deetzes (Catherine O'Hara, Jeffrey Jones) and teen daughter Lydia (Winona Ryder) buy the home, the Maitlands attempt to scare them away without success. Their efforts attract Beetlejuice (Michael Keaton), a rambunctious spirit whose "help" quickly becomes dangerous for the Maitlands and innocent Lydia. Directed by Tim Burton. 1988. 1h 33m. PG.
Us
Sat, Oct 24 | 3PM & 7PM
Purchase tickets online - click here!
Critics' Choice Movie Award for Best Sci-Fi/Horror Movie, NAACP Image Award for Outstanding Actress in a Motion Picture, New York Film Critics Circle Award for Best Actress
Accompanied by her husband, son and daughter, Adelaide Wilson (Lupita Nyong'o) returns to the beachfront home where she grew up as a child. Haunted by a traumatic experience from the past, Adelaide grows increasingly concerned that something bad is going to happen. Her worst fears soon become a reality when four masked strangers descend upon the house, forcing the Wilsons into a fight for survival. When the masks come off, the family is horrified to learn that each attacker takes the appearance of one of them. Written & directed by Jordan Peele. 2019. 2h 1m. R.
Get Out
Fri, Oct 30 | 3 PM & 7 PM
Purchase tickets online - click here!
Academy Award for Writing (Original Screenplay), MTV Movie Award for Best Comedic Performance, Empire Award for Best Horror
Now that Chris (Daniel Kaluuya) and his girlfriend, Rose (Allison Williams), have reached the meet-the-parents milestone of dating, she invites him for a weekend getaway upstate with Missy and Dean. At first, Chris reads the family's overly accommodating behavior as nervous attempts to deal with their daughter's interracial relationship, but as the weekend progresses, a series of increasingly disturbing discoveries lead him to a truth that he never could have imagined. Written & directed by Jordan Peele. 2017. 1h 44m. R.
Halloween
Sat, Oct 31 | 3 PM & 7 PM
Purchase tickets online - click here!
The original! On a cold Halloween night in 1963, six year old Michael Myers brutally murdered his 17-year-old sister, Judith. He was sentenced and locked away for 15 years. But on October 30, 1978, while being transferred for a court date, a 21-year-old Michael Myers (Tony Moran) steals a car and escapes Smith's Grove. He returns to his quiet hometown of Haddonfield, Illinois, where he looks for his next victims. Starring Jamie Lee Curtis and Donald Pleasence. Written & directed by John Carpenter. 1978. 1h 31m. R.
Coco
Oct 23, 24, 30, 31 | 12 PM
Purchase tickets online - click here!
Winner of two Academy Awards including Best Animated Feature Film!
Despite his family's generations-old ban on music, young Miguel (Anthony Gonzales) dreams of becoming an accomplished musician like his idol Ernesto de la Cruz (Benjamin Bratt). Desperate to prove his talent, Miguel finds himself in the stunning and colorful Land of the Dead. After meeting a charming trickster named Héctor (Gael Garcia Bernal), the two new friends embark on an extraordinary journey to unlock the real story behind Miguel's family history. Written & directed by Lee Unkrich. 2017. 1h 49m. PG.