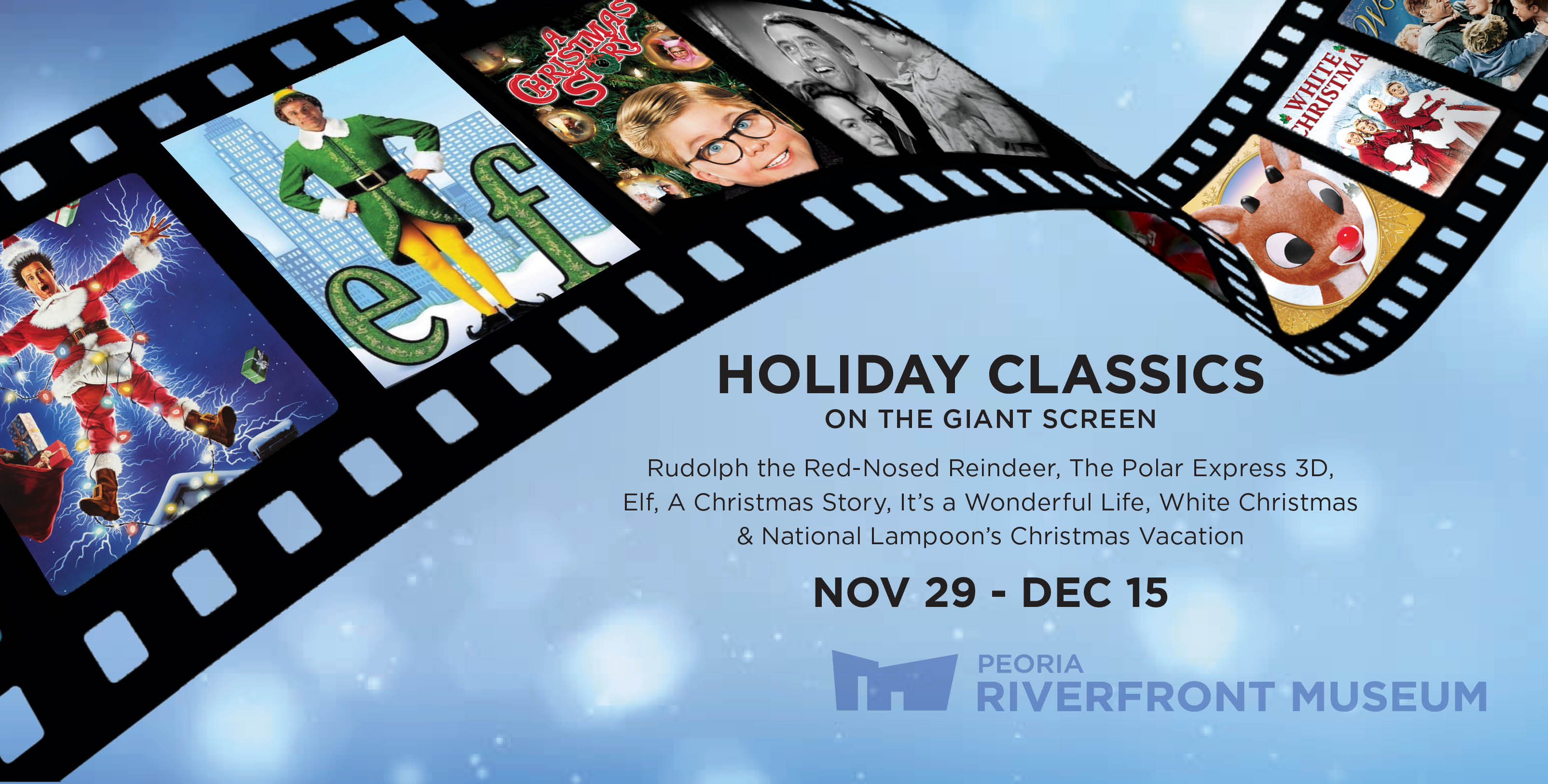 Rudolph the Red-Nosed Reindeer
Nov 29, 30 & Dec 6 | Noon & 2 PM
Dec 7 & 14 | Noon
A misfit reindeer and his friends look for a place that will accept them. Rated G. 1964. 47m.
Buy tickets online now - click here!
The Polar Express 3D
Nov 29 - Members Only Screening
Nov 30 & Dec 6 | 3:30 PM
Dec 1, 8, 13, 14, 15 | 1 PM & 3:30 PM
Tom Hanks and director Robert Zemeckis ("Forrest Gump"; "Cast Away") reunite for "Polar Express," an inspiring adventure based on the beloved children's book by Chris Van Allsburg. When a doubting young boy takes an extraordinary train ride to the North Pole, he embarks on a journey of self-discovery that shows him that the wonder of life never fades for those who believe. Rated G.
Buy tickets online now - click here!
Elf
Nov 29 & Dec 11 | 6 PM
Buddy (Will Ferrell) was accidentally transported to the North Pole as a toddler and raised to adulthood among Santa's elves. Unable to shake the feeling that he doesn't fit in, the adult Buddy travels to New York, in full elf uniform, in search of his real father. As it happens, this is Walter Hobbs (James Caan), a cynical businessman. After a DNA test proves this, Walter reluctantly attempts to start a relationship with the childlike Buddy with increasingly chaotic results. Rated PG.
Buy tickets online now - click here!
A Christmas Story
Nov 30 & Dec 12 | 6 PM
Based on the humorous writings of author Jean Shepherd, this beloved holiday movie follows the wintry exploits of youngster Ralphie Parker (Peter Billingsley), who spends most of his time dodging a bully (Zack Ward) and dreaming of his ideal Christmas gift, a "Red Ryder air rifle." Frequently at odds with his cranky dad (Darren McGavin) but comforted by his doting mother (Melinda Dillon), Ralphie struggles to make it to Christmas Day with his glasses and his hopes intact. Rated PG.
Buy tickets online now - click here!
It's a Wonderful Life
Dec 1, 13 | 6 PM
George Bailey has so many problems he is thinking about ending it all - and it's Christmas! As the angels discuss George, we see his life in flashback. As George is about to jump from a bridge, he ends up rescuing his guardian angel, Clarence - who then shows George what his town would have looked like if it hadn't been for all his good deeds over the years. Rated PG.
Buy tickets online now - click here!
White Christmas
Dec 8 | 6 PM
Singers Bob Wallace (Bing Crosby) and Phil Davis (Danny Kaye) join sister act Betty (Rosemary Clooney) and Judy Haynes (Vera-Ellen) to perform a Christmas show in rural Vermont. There, they run into Gen. Waverly (Dean Jagger), the boys' commander in World War II, who, they learn, is having financial difficulties; his quaint country inn is failing. So what's the foursome to do but plan a yuletide miracle: a fun-filled musical extravaganza that's sure to put Waverly and his business in the black!
Buy tickets online now - click here!
National Lampoon's Christmas Vacation
Dec 10, 15 | 6 PM 
As the holidays approach, Clark Griswold (Chevy Chase) wants to have a perfect family Christmas, so he pesters his wife, Ellen (Beverly D'Angelo), and children, as he tries to make sure everything is in line, including the tree and house decorations. However, things go awry quickly. His hick cousin, Eddie (Randy Quaid), and his family show up unplanned and start living in their camper on the Griswold property. Even worse, Clark's employers renege on the holiday bonus he needs. Rated PG-13. 
Buy tickets online now - click here!