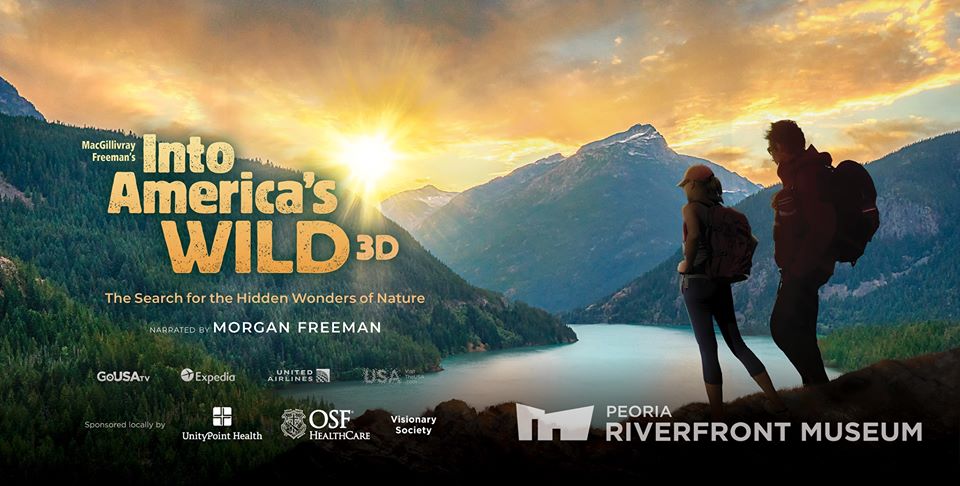 Into America's Wild 3D
The Peoria Riverfront Museum is closed to the public effective March 14, 5 p.m. until further notice. We make this decision in light of the rapidly changing circumstances and the announcement of the first local case of COVID-19. We choose to exercise an abundance of caution and responsibility as a public space and trusted community institution. Closure includes galleries, Planetarium, Giant Screen Theater, and all related programs and events.
From the Academy Award®-nominated producers of the acclaimed hit film "National Parks Adventure" comes "Into America's Wild" 3D, an unforgettable cross-country adventure into the hidden wonders of the natural world. A non-stop ride via kayak, bike, train, hot air balloon, zipline, kiteboard, hiking boots and more, "Into America's Wild" visits some of the most beautiful but untamed landscapes of America, from the lush coastline of Oregon and the wilds of Alaska to the ancient canyons of the Southwest and the rolling hills of the Appalachian Trail. Setting out on this journey are three trailblazers – astronaut John Herrington, Alaskan bush pilot and youth advocate Ariel Tweto, and long-distance hiker Jennifer Pharr Davis – who share a passion for connecting people to experiences in the wild. As they wind their way through the scenic byways, ancient homelands, secret gems and hidden trails that form the natural tapestry of America, viewers will discover the special human connection we all share with nature.
A MacGillivray Freeman Film produced in association with Brand USA.
Sponsored locally by UnityPoint Health, OSF HealthCare, Visionary Society.
Find out more: intoamericaswild.com