Event Details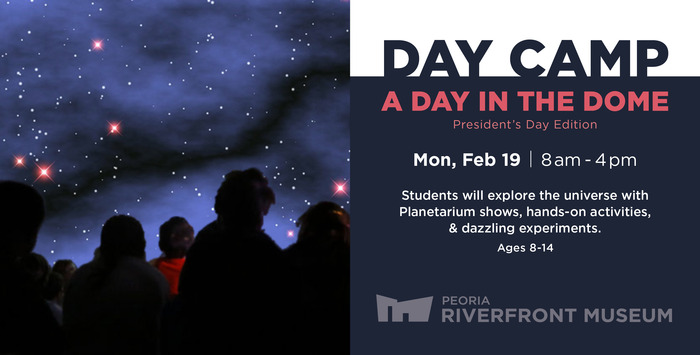 PRM Day Camp - President's Day Edition | A Day in the DOME 
Mon, Feb 19 | 8 am-4 pm 
President's Day is for stellar learning and adventure, not being stuck at home. Join the Riverfront Museum for an out-of-this-world day in Peoria's DOME Planetarium! Students will spend their time exploring the universe like never before with customized Planetarium shows, hands-on activities, and dazzling experiments. By the end of the day, we will have gone to the edge of the observable universe and back! 
Please provide your student(s) with a peanut-free sack lunch.
Ages 8-14
$50 Members | $55 Public
After Care, 4-5:30 pm (optional): $4 per day
Register online now – click here.
Tickets & more info also available at the Museum or by phone: 309.686.7000.