Event Details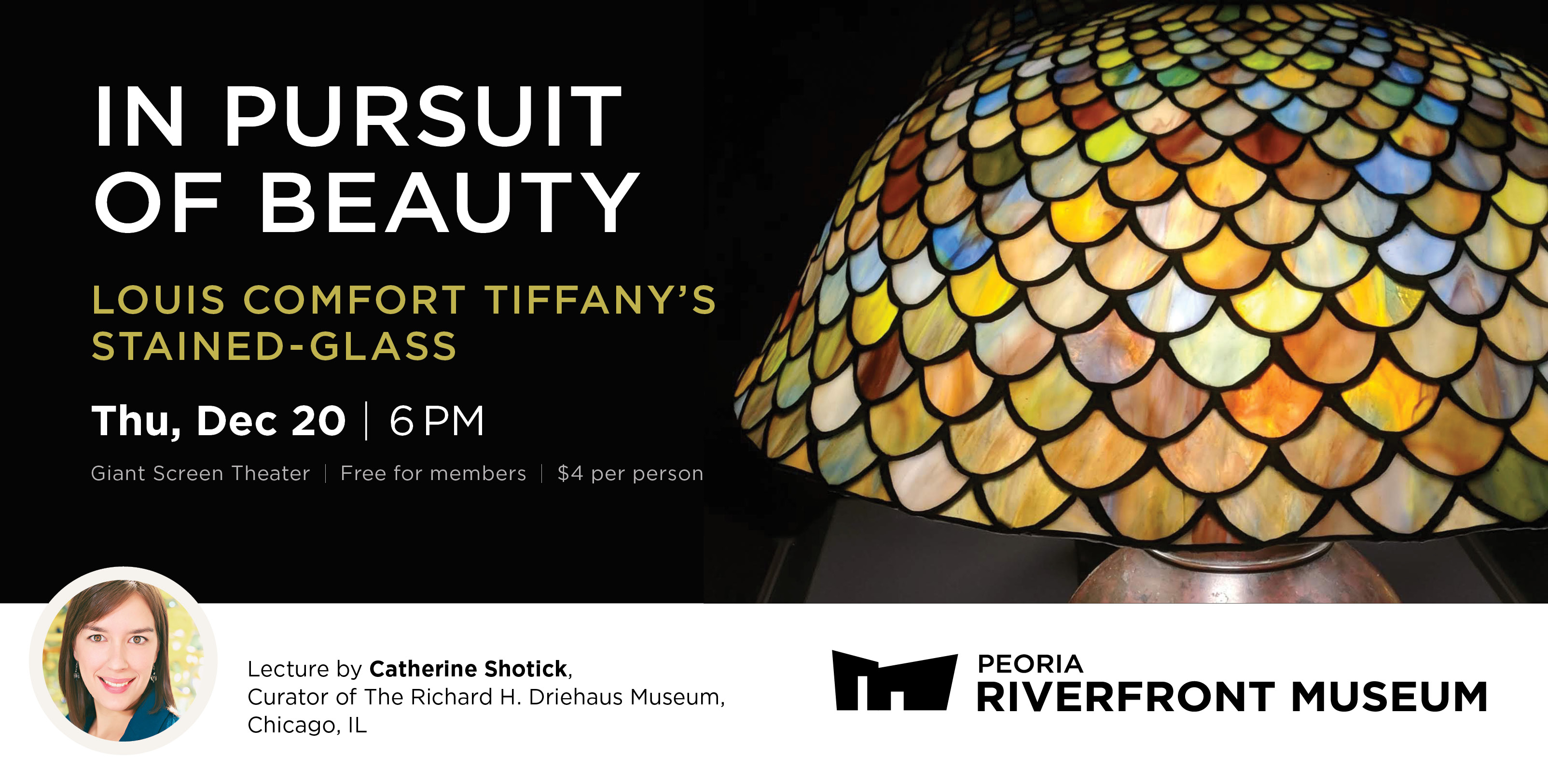 In Pursuit of Beauty: Louis Comfort Tiffany's Stained-Glass
Featuring Catherine Shotick, Curator at The Richard H. Driehaus Museum
Thu, Dec 20 | 6 pm
Giant Screen Theater
Louis Comfort Tiffany, one of the most original and prolific designers of the late 19th-century, declared that his life-long goal was "the pursuit of beauty." Although Tiffany worked in a variety of media, from blown glass and ceramics to jewelry and metalwork, it was his stained-glass designs that brought him the greatest recognition. Through years of experimentation—and competition with his early rival John La Farge—Tiffany revolutionized the look of stained glass, which had remained essentially unchanged since medieval times.
A brief guided tour of the exhibition, TIFFANY: The Collection of Don Shay, will follow the lecture.
The Riverfront Museum is pleased to welcome Catherine Shotick, a native of Peoria, IL and past intern at our predecessor museum, Lakeview Museum of Arts & Sciences back for a special lecture on Louis Comfort Tiffany!
Catherine Shotick is responsible for all the curatorial activities of the Richard H. Driehaus Museum, including its in-house and traveling exhibitions programs, as well as its permanent collection. She came to the Driehaus from the Oklahoma City Museum of Art, where, as Assistant Curator of Exhibitions, she managed selected exhibitions, and provided general curatorial and collections assistance. Catherine is currently organizing her upcoming exhibition Eternal Light: The Sacred Stained-Glass of Louis Comfort Tiffany, which will be on view in September 2019. Catherine holds a B.A. in Art History from Southern Illinois University Carbondale and an M.A. in Art History from the University of Massachusetts Amherst.
Free for members (please reserve your seat!) | $4 per person
Buy tickets online now - click here.
Tickets & more info also available at the Museum or by phone: 309.686.7000.