Event Details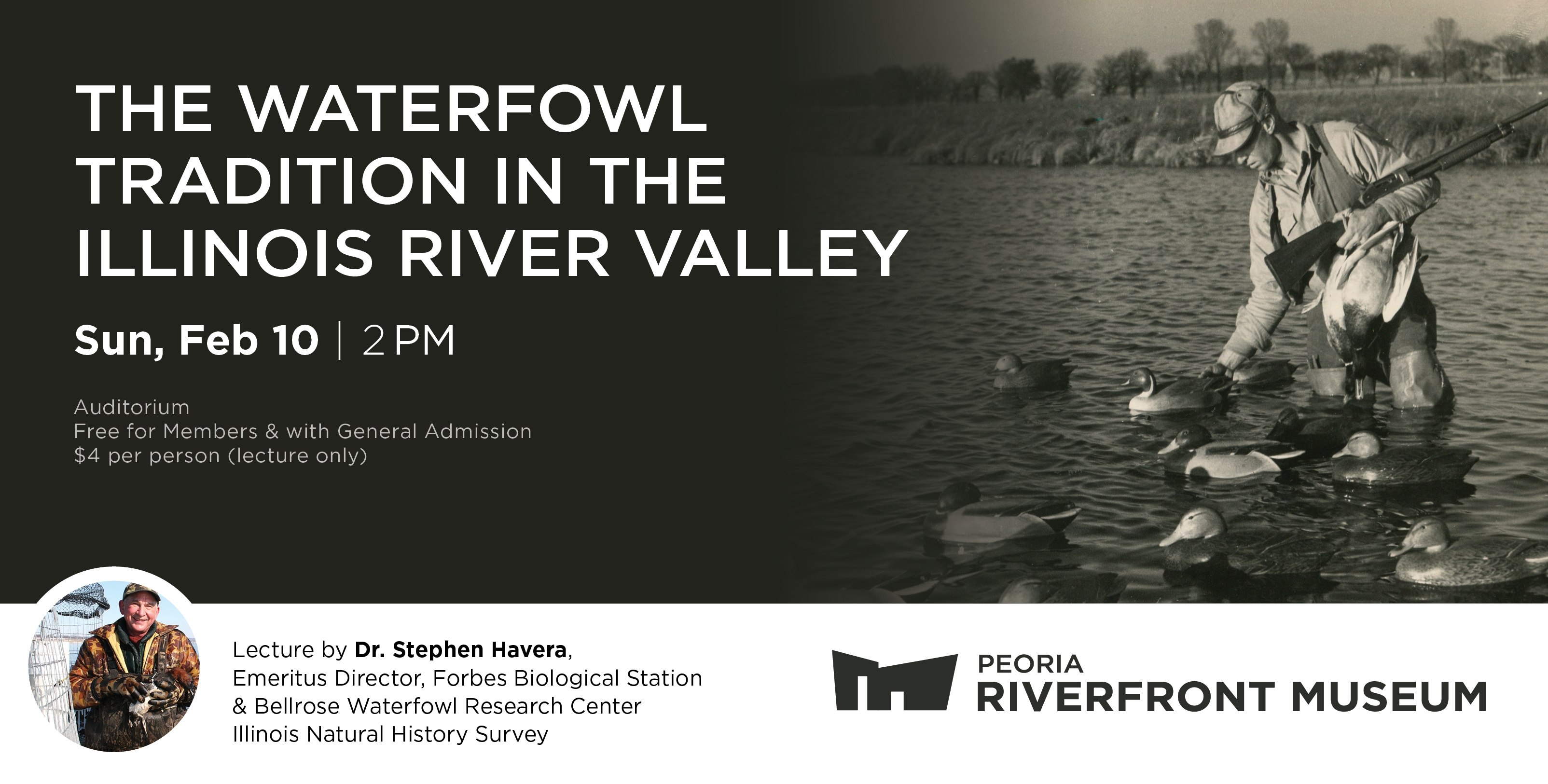 The Waterfowl Tradition in the Illinois River Valley
Featuring Dr. Stephen Havera
Sun, Feb 10 | 2-3 pm
Auditorium
Illinois lies in the heart of the Mississippi Flyway with the Illinois and Mississippi rivers serving as pulsating arteries of travel for more than 20 species of ducks and geese. Illinois is generally a migration area for most web-footed species, with breeding grounds stretching northward and wintering grounds occupying more southerly climates.
The Illinois River was one of North America's most productive river systems. Over the centuries, the Illinois River has hosted the passage of waterfowl seeking the abundant food present in its lakes, marshes and forests. As a result, a remarkable waterfowl tradition emerged in the Illinois Valley over the past two centuries including decoy carvers, private duck clubs, public waterfowl areas, and biological investigations, among other aspects.
This presentation provides an overview of this incredible natural resource and mankind's responses.
Havera is known nationally for his work on the contentious waterfowl lead poisoning/nontoxic shot issue as well as his dedication to wildlife and their habitats. His work on wetlands has promoted the management, research and acquisition of critical habitat. He was relentless in his dedication to the restoration of Thompson Lake and the establishment of the Emiquon National Wildlife Refuge.
Dr. Stephen Havera has been providing professional service to our natural resources since he joined the Illinois Natural History Survey (INHS) in 1972. He remains active in the biological arena and maintains an Emeritus appointment with INHS.
Havera received a B.S. in Biology from Bradley University and M.S. and Ph.D. degrees in Zoology from the University of Illinois. He served two years in the U.S. Army Military Police. His professional experience spans five decades culminating as a Senior Professional Scientist and Director of the Frank C. Bellrose Waterfowl Research Center and Forbes Biological Station.
Free for Members & with General Admission | $4 Public (Lecture Only)
Buy tickets online now - click here.
Tickets & more info also available at the Museum or by phone: 309.686.7000.