Event Details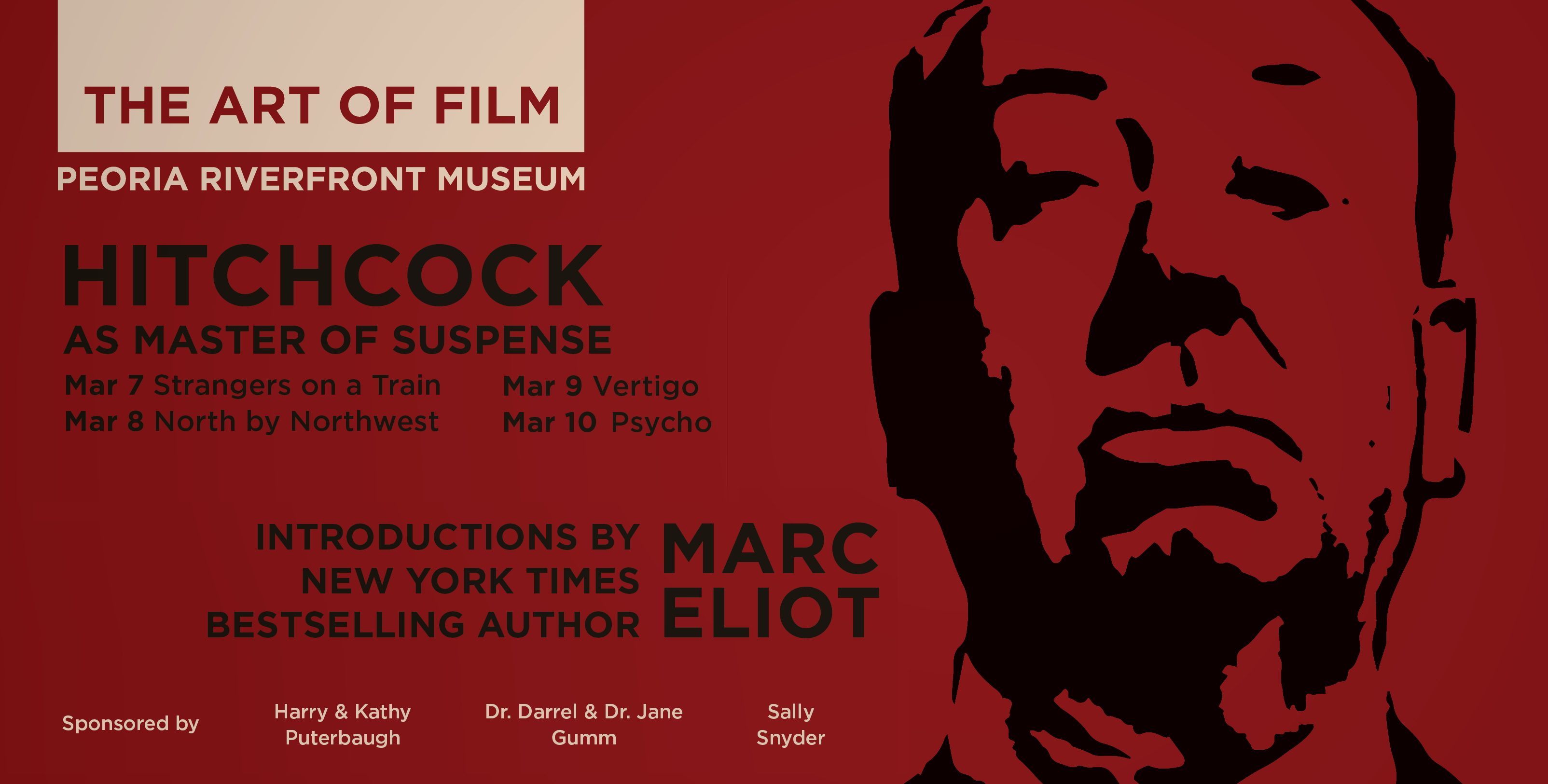 THE ART OF FILM | Hitchcock as Master of Suspense
Presented by Author Marc Eliot & Peoria Riverfront Museum
Thu, Mar 7 | 6 pm | Strangers on a Train 
Fri, Mar 8 | 6 pm | North by Northwest
Sat, Mar 9 | 6 pm | Vertigo
Sun, Mar 10 | 2 pm | Psycho
Giant Screen Theater
International bestselling author, film critic and historian Marc Eliot looks at four films from director Alfred Hitchcock, to trace the progress of his personal expression and stylistic development, to reveal the deeper meanings of his 52-film career. Mr. Eliot has chosen Hitchcock because his films are easily accessible both as vehicles of entertainment and showpieces of the art of film.
An unprecedented film festival event, experience some of the greatest American movie classics in the Museum's Giant Screen Theater, engage in lively discussions, Q&A's, and meet the author at book signings with several of his best biographies. 
Buy tickets online now - click here.
$20 Member | $70 Member all-access pass
Ticket includes admission to film, discussion, and book signing.
$25 Public per event | $90 Public all-access pass
All access pass includes admission to all 4 films, discussions, book signings, and 4 large popcorn & drink combos.
$500 Producer Sponsor | $1,500 Director Sponsor
Producer Sponsorship Level:
4 reserved seats at each film
2 reserved parking spots
Pre-show Green Room for you and your guests
Signed copy of a Marc Eliot book
Name featured in the event ad on the Museum's website
Director Sponsorship Level:
8 reserved seats at each film
4 reserved parking spots
Pre-show Green Room for you and your guests
Invitation for you and a guest to a private book signing reception on March 6th
Recognition in Museum publications
Recognition in event and exhibit publicity and promotions
Recognition on social media, e-blasts, press releases, and more!
Name/logo featured in event ads