Event Details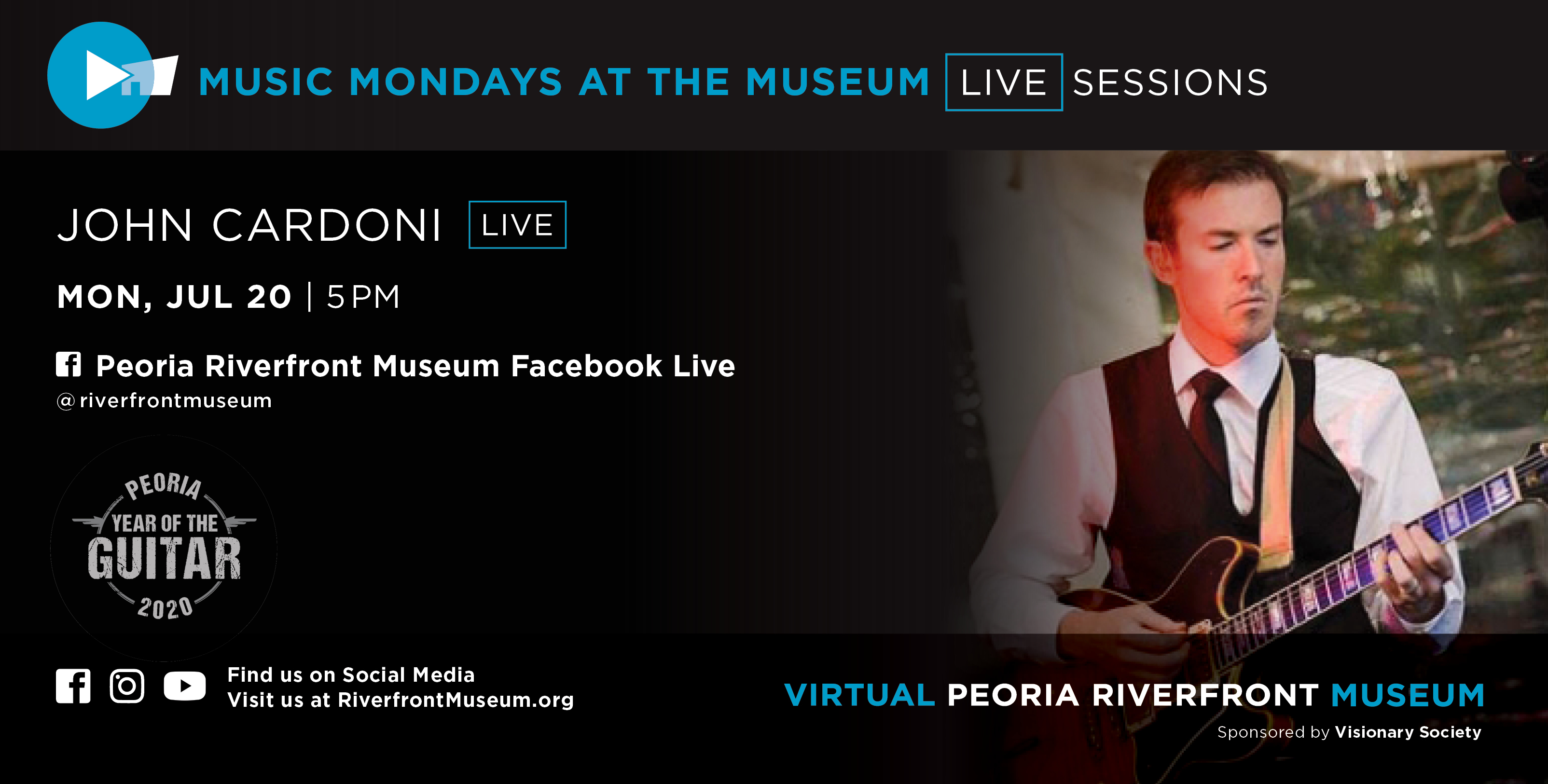 Music Mondays | Year of the Guitar LIVE SESSIONS on Facebook
John Cardoni LIVE
Mon, Jul 20 | 5 pm
Live on Peoria Riverfront Museum's Facebook Page (@riverfrontmuseum)
Join us for FREE Music Mondays | Year of the Guitar LIVE SESSIONS on Peoria Riverfront Museum's Facebook page, as Central Illinoisans and accomplished guitar musicians bring live concerts to your living room!
John Cardoni
John Cardoni is an Adjunct Instructor of Guitar at Belmont University, where he teaches commercial guitar lessons, guitar class, and performs with the Faculty Jazz Group. He regularly performs across the country with Nashville-based bands and artists. Currently he works with the 12 South Band, a high-end corporate band. From 2013 to 2015 he was lead guitarist and musical director for American Idol alum Josh Gracin. He also performed on stage with Amy Grant, Danny Gottlieb, Chester Thompson, Kristin Kelly, Maynard Ferguson, Paul Galbraith, Laura Bell Bundy, and Amber Carrington (The Voice). In addition, he opened for Little Richard, Earth Wind & Fire, Laurence Juber (guitarist for Wings), Norbert Putnam, NEEDTOBREATHE, Craig Morgan, Keith Anderson, J.T. Hodges, Antigravity, Freckled Sky, and Blue Rodeo. So far Mr. Cardoni has recorded nine albums with four different bands, along with various session and demo work. For six years he helped lead a 9-piece funk/fusion band called Public Display of Funk (they were young). The band recorded three albums that featured many of his original compositions and arrangements. He recorded four more records with an original alt-country/rock group called The Micah Walk Band. In his spare time, he works on producing original tracks for licensing and writing solo guitar arrangements.
Mr. Cardoni earned his M.M. in Commercial Music with an emphasis in guitar performance from Belmont University in 2013. His graduate recital and thesis paper focused on the music and playing styles of Nashville guitarists over the years. That research involved interviewing greats such as John Knowles (C.G.P.), Guthrie Trapp, Kenny Vaughan, Jack Pearson, and Brent Mason. Mr. Cardoni received his B.M. in Commercial Music from Millikin University in 2004. His undergraduate studies centered on both classical and jazz guitar, music theory, arranging, and recording studio work. In 2008 Mr. Cardoni joined the Millikin faculty. He taught classical and commercial guitar lessons, directed the secondary guitar ensemble, and led a pop/rock combo. He also composed and arranged multiple pieces for classical guitar ensemble. His arrangement of "O Come, O Come, Emmanuel" featured as the title track for a 2010 Christmas album by the Millikin Guitar Ensemble.
Contact: john.cardoni@adjuncts.belmont.edu
Post-concert videos will be posted on our YouTube channel in our "Year of the Guitar" playlist!
Sponsored by Visionary Society.