Showtimes
December 7 - 9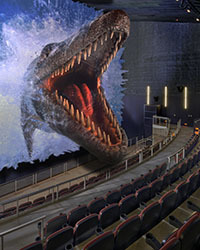 Grand Canyon Adventure 3D  
Tuesday - Friday: 12:05 p.m. & 2: 15 p.m.
The Last Reef 3D  
Tuesday - Friday: 11:00 a.m., 1:10 p.m., 3:20 p.m., 4:30 p.m., 5:35 p.m.  
Dr. Seuss' How the Grinch Stole Christmas
Saturday: 2:15 p.m.
Sunday: 1:20 p.m.
National Lampoon's Christmas Vacation
Saturday: 7:00 p.m.
Sunday: 6:00 p.m.
Theater is closed on Monday, December 2nd & 9th.
Tickets for The Hobbit: Desolation of Smaug are on-sale now!
Click here to buy tickets for The Last Reef and  Grand Canyon Adventure. 
Click here to buy tickets for The Hobbit, the Holiday Series, or the January Concert Series.
Please note: Film open and close dates and times are subject to change due to circumstances beyond our control at the national distribution level. These are movies we anticipate showing. To ensure the most up-to-date information, please check this site regularly. Thanks for understanding!
About The Theater
Att five stories high and seven stories wide, the Giant Screen Theater at Peoria Riverfront Museum extends beyond the field of vision, so viewers literally experience the big picture! Add ultra-sharp, ultra-detailed images; a state-of-the-art audio system generating up to 14,000 watts of power for surround sound you can feel, seats in stadium configuration so every seat is the best seat in the house, and 3-D capabilities that make you think you can reach out and touch objects on the screen.
The experience is so realistic, you might forget it's only a movie and find yourself diving for cover when a 20-foot-tall elephant charges your way or an F-14 fighter jet approaches at the speed of sound! The giant screen will be one of the first to use a digital format, rather than film, for the most vivid experience imaginable.