All supplies provided for day camps unless otherwise noted. All paid day camps require a minimum number of participants to run or will be cancelled two business days prior to the start date. Pre-registration required.
For more info call Shelby at 309.863.3015.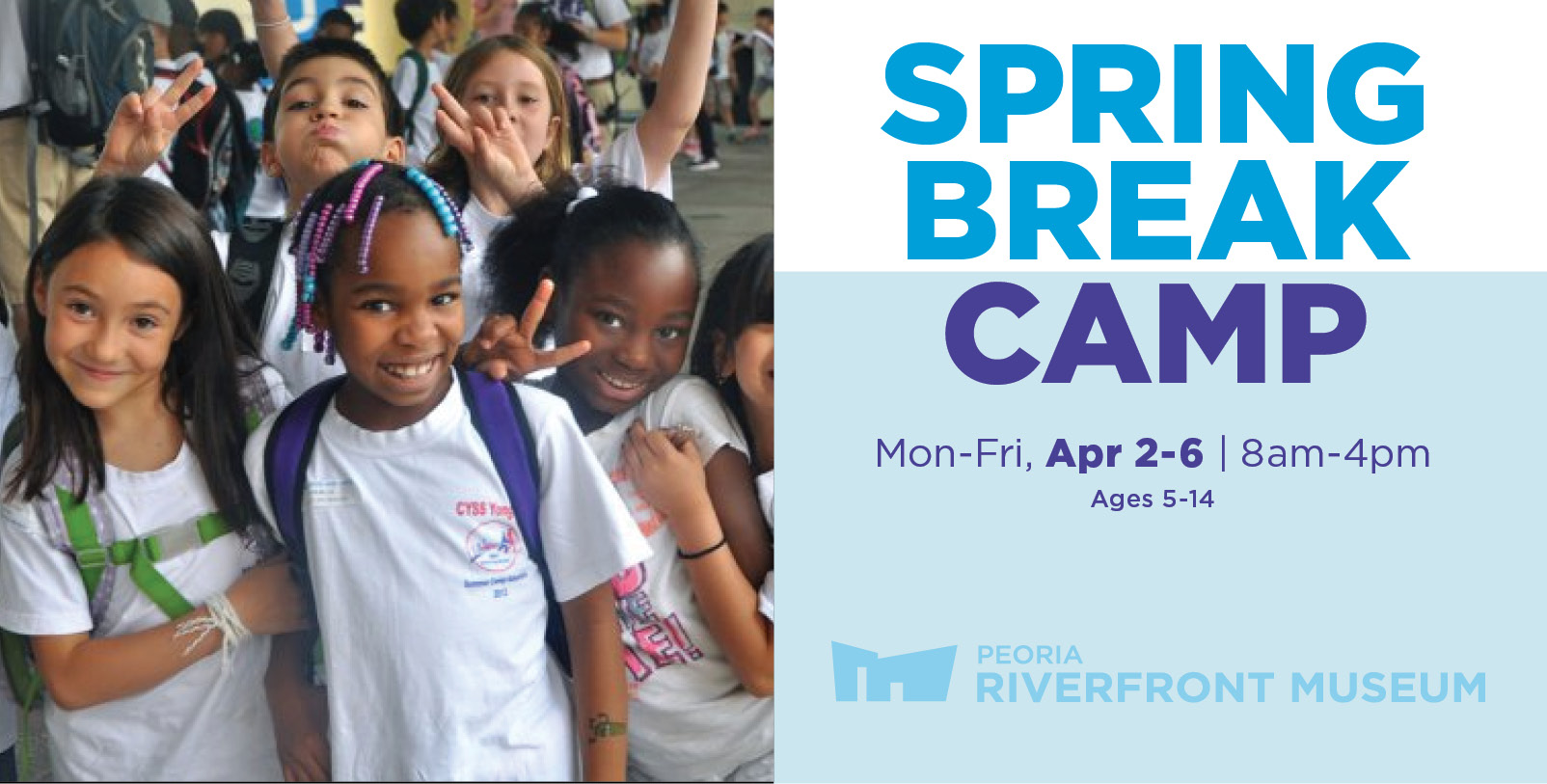 Spring Break Camp
April 2-6 | 8 am-4 pm daily | After Care available from 4-5:30 pm
If you enjoy our summer camp you will surely enjoy our Spring Break Camp! Students will have a blast exploring everything the museum has to offer! Each day will feature a new and exciting activities! Throughout the week the students will get to watch a movie in the Giant Screen Theater, explore the galleries including Celebrate Illinois: 200 Years in the Land of Lincoln, and travel out of this world in the Planetarium Dome! Please pack your student(s) with a peanut-free sack lunch. Best of all, this spring camp will provide all of the same quality of programming as summer camp, but with special extended hours designed to better accommodate working parents.
Ages 5-14
$225 Members | $250 Public*
Register online now - click here.
Ages Accepted
•Campers ages 5-14 may enroll.
Camp Hours
•Winter Break Camp will be in session from 8 am-4 pm (morning snack provided)
Drop-off
•Daily drop off is from 7:45-8 am
• Any campers arriving earlier than the stated drop-off times will be charged an Early Drop-Off Fee.
Pick-Up
•Camp pick-up is from 4-4:15 pm
• Any campers picked up later than the stated pick-up times will be charged a Late Pick-Up Fee unless they are enrolled in After Care.
After Care
•After Care is $4/day and runs from 4-5:30 pm daily.
Lunch
Campers will have a 30 minute lunch in the auditorium. Campers may bring a sack lunch or purchase a boxed lunch (by Cracked Pepper) for $6/day. Lunches may be purchased at registration, or on the first day of camp.
Early Drop-Off | Late Pick-Up Fees
The museum reserves the right to impose a $5 fee for every 5 minutes that a camper is at the Museum before or after their designated times.
Refunds | Withdrawals | Cancellations
A full refund will be given to a camper who withdraws from a camp at least two full weeks prior to the start of their camp minus a $25 processing fee. A 50% refund will be given upon withdrawal less than two weeks before camp begins minus a $25 processing fee. No refunds are given once camp begins.
*Caterpillar, Inc. Employee Discount
Campers whose parent or immediate guardian works for Caterpillar Inc. will receive a 10% discount on registration fees. This discount cannot be used in combination with any other discounts (including the museum membership discount), and it does not apply to extra fees like Lunch or After Care. To receive the discount, you must register in person or over the phone, and be able to show proof of employment (ID badge or similar item).