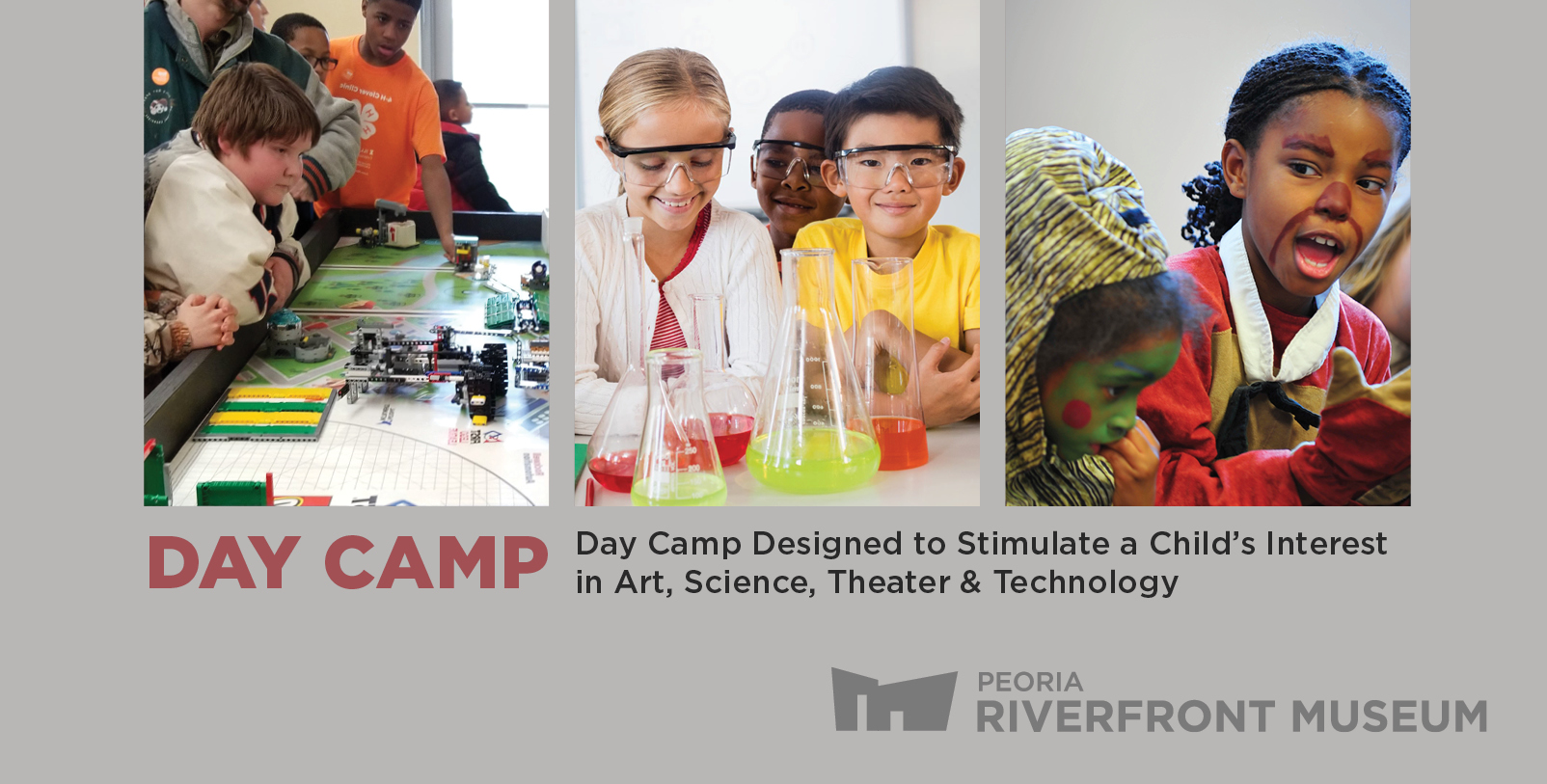 Day Camps 2019-2020
Did you enjoy our summer camp? Your child is sure to love our Day Camps! Bring your child to spend the day learning and having fun at the Peoria Riverfront Museum's Day Camps! Day camp is available for children in kindergarten through 6th grade.
ENGINEERING CHALLENGES! - CANCELLED
Mon, Mar 23 | 8:30 am-4 pm
Take our challenges head on in this project-based learning day camp! We'll explore the galleries, see a Giant Screen Theater Film, and emphasize teamwork. From cardboard to robotics, this Day Camp is sure to get you thinking out of the box!
Registration closes Wed, Mar 18 at 4 pm
INTERSTELLAR - CANCELLED
Fri, Mar 27 | 8:30-4 pm
Rockets, black holes, astronauts, oh my! Travel the solar system at the Museum to learn about the weird and wonderful solar system that we live in. Students will participate in hands-on STEAM themed space activities, attend two shows in the Dome Planetarium, and explore the Museum's exhibitions.
WILD WORLD - CANCELLED
Fri, Apr 10 | 8:30-4 pm
Learn about the wild world all around us! From the animals in our yard, to the creatures in our lakes, rivers, and oceans. See our new educational film Wild America 3D in the Giant Screen Theater and explore our newest art exhibitions! Students will work together with an emphasis on teamwork in hands-on projects.
ANIMATION CELEBRATION - CANCELLED
Mon, Apr 13 | 8:30 am-4 pm 
Have you ever wanted your art to come alive on the page? Learn how to make your drawings wiggle, dance, and jump at Animation Celebration! Students will experiment with different animation techniques, such as flipbooks and stop motion.  
-
Members $70 | Public $90 
Day Camp is in session from 8:30 am-4 pm. Drop off is from 8:15-8:30 am. After care is available from 4 pm-5:30 pm for $10 per camper per day camp. 
All supplies and a mid-morning snack are included with registration fee. A 30-minute lunch period is provided, please pack your child a nut-free sack lunch.
Be sure to check the day registration closes for each day camp, as we close registration a few days prior to the camp.