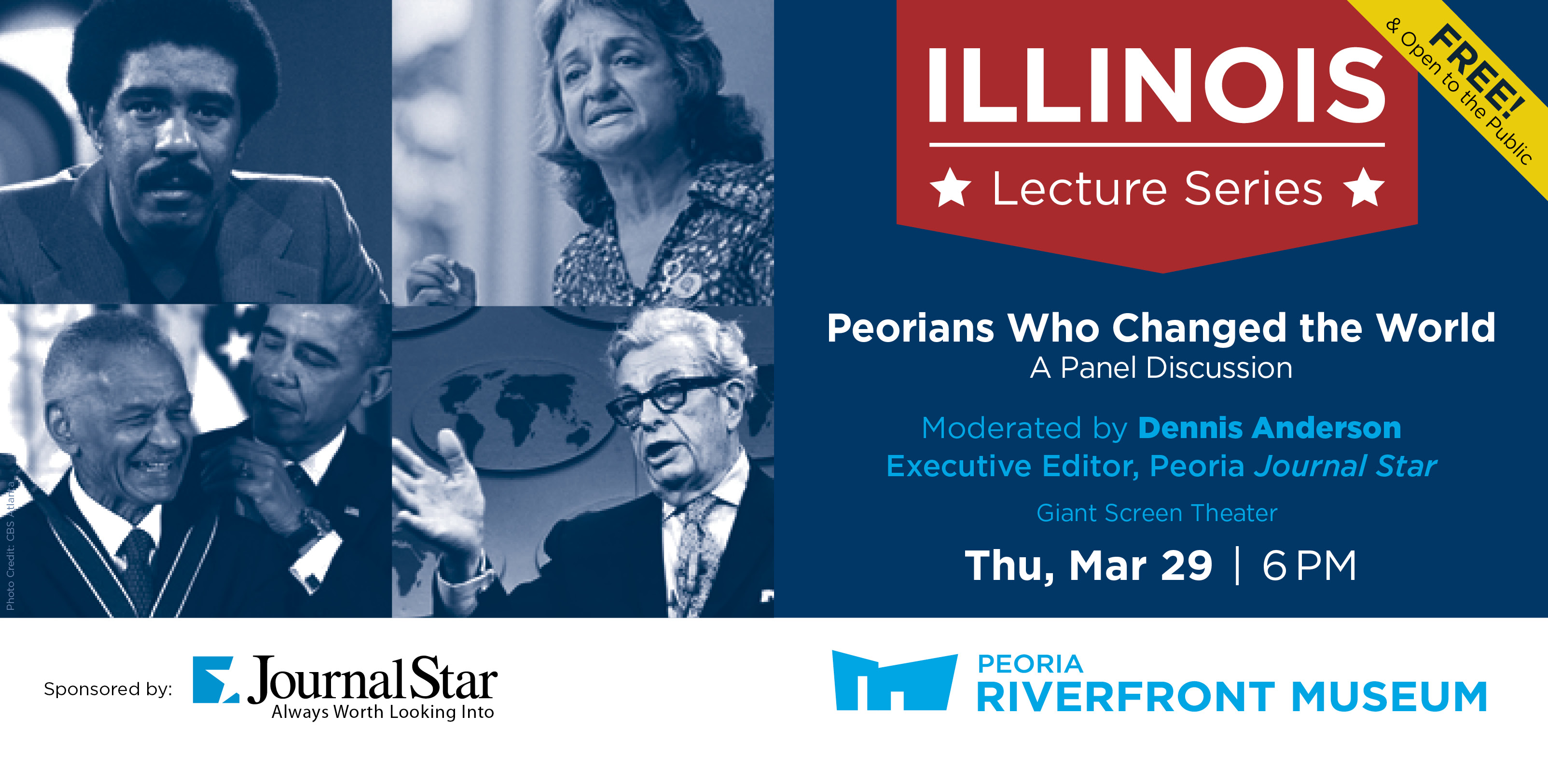 Peorians Who Changed the World: A Panel Discussion
Thu, Mar 29  |  6 pm
Moderated by Dennis Anderson, Executive Editor, Journal Star
Sponsored by the Peoria Journal Star
Free & Open to the Public
Join us for a special panel discussion about Peorians who changed the way people think and advanced society globally - from Betty Friedan to Richard Pryor - by the journalists who interviewed and covered them! Our local journalists have been on the beat through the years as the ultimate daily keepers of our Peoria area history. This event, moderated by Journal Star Executive Editor, Dennis Anderson, provides an opportunity for public Q&A on these world-changing Peorians.The Giant Screen Theater event is free and open to the public!
Peorians who advanced Civil Rights worldwide:
Senator Everett Dirksen
Presented by Chris Kaergard, political reporter & assignment editor, Journal Star
Peorians who improved life & choices for women worldwide:
Feminist icon Betty Friedan
Susan G. Komen Foundation founder Nancy Brinker
Presented by Barbara Mantz Drake, former editorial page editor, Journal Star
Peorians who advanced Civil Rights worldwide: Rev. Dr. C.T. Vivian
Presented by Pam Adams, education reporter, Journal Star
Peorians who changed arts, culture & social discourse worldwide:
Comedian Richard Pryor
Bishop Fulton Sheen
Presented by Phil Luciano, news columnist, Journal Star
More info also available at the Museum or by phone: 309.686.7000.
Find out more! Follow the Journal Star's statewide yearlong, in-depth Illinois Bicentennial news feature series:
More on Illinois history can be found with series the Journal Star's weekly series on the bicentennial, highlighting the people, places, and things that make the state unique. The series is being produced by nearly 20 newspapers that are Illinois Associated Press Media Editors and Illinois Press Association members. Stories have appeared in more than 100 newspapers statewide.
Find out more at 200Illinois.com!