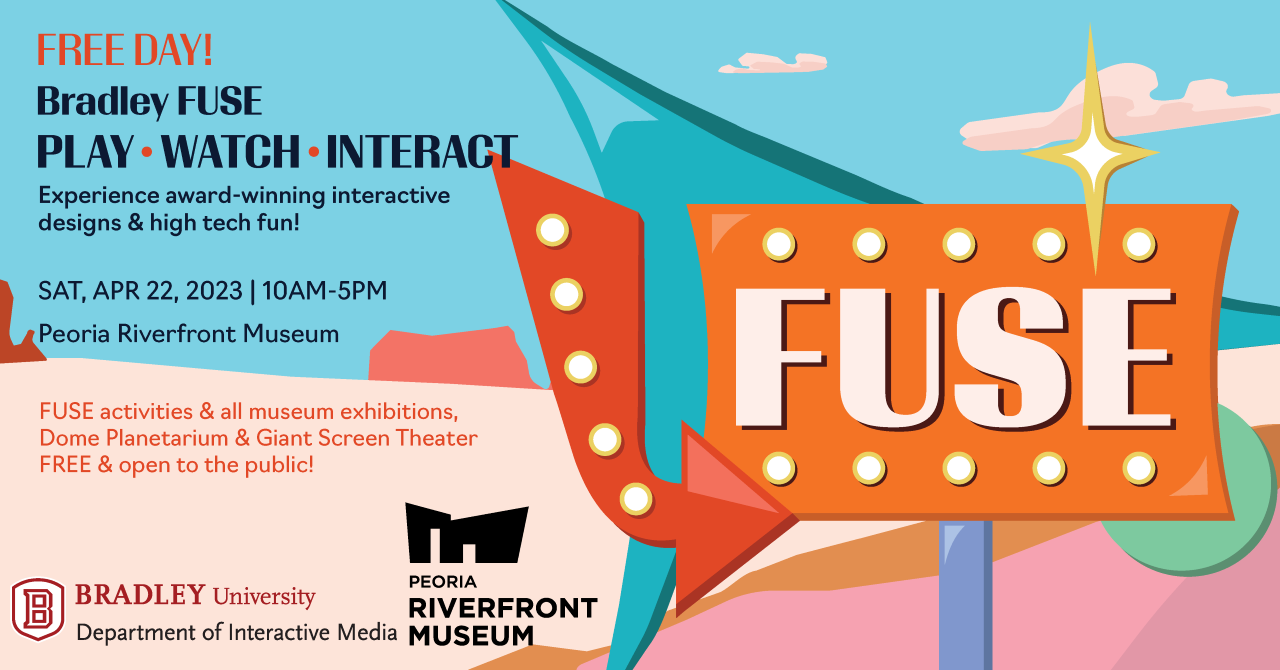 FREE DAY! BRADLEY FUSE INTERACTIVE EXPERIENCE
PLAY • WATCH • INTERACT
Sat, April 22, 2023  | 10 a.m. - 5 p.m.
Bradley's FUSE brings award-winning interactive design & high-tech fun to Peoria Riverfront Museum!
FREE and open to the public: all FUSE activities, museum exhibitions, Dome Planetarium and Giant Screen Theater 
From advertising and entertainment, to education, health care, gaming and more, interactive media professionals are the bridge between industry and creative solutions. Now Bradley University's internationally recognized Department of Interactive Media is inviting the public to experience their groundbreaking work at FUSE 2023.
FUSE is a dynamic and engaging showcase of Bradley's interactive media students' work, free of charge.
FUSE 2023 includes:
A Game Art Gallery — A gallery of digital artwork created by Bradley game art majors, ranging from concept art to game-ready props, environments and characters.
Animation in Motion and Out of Service Double Feature — A comprehensive showcase of the Animation major containing: the Fuse 2023 Bumper and Compendium Reel, the 12-to-12 Animation Challenge winner, the 24 Hour Animation Challenge winner, and the Senior Capstone Animations; and the interactive video experience, "Out of Service," a collaboration between the Departments of Interactive Media and Television Arts.
Dome Animations — Animations made specifically for the museum's Dome Planetarium, crafted by Bradley Animation students and designed to be extremely immersive experiences.
Games — Play and enjoy unique games, like the senior capstone project "Wicked Wizards," that have been conceptualized, designed, programmed and produced by Bradley students.
Keynote Speakers —Listen to seniors from all majors in the Department of Interactive Media share their accomplishments and give advice about studying interactive media.
Laptop and Mobile Displays — Interactive user-experience capstone work displayed on laptops and mobile devices, designed to create a seamless experience for the user.
This one-day event is produced by Bradley students within the Department of Interactive Media's five majors: Animation, Game Design, Interactive Media, User Interaction/User Experience, and Game Art. Additionally, students in Bradley's master's degree program will display their work.
Representatives from community partners Caterpillar, OSF HealthCare, SparkLearn, Undead Labs, and Volition will rate the projects and hand out awards to deserving students.
BRADLEY'S PRESS RELEASE: FUSE 2023
To learn about this year's FUSE, visit Bradley's website HERE