Monday-Saturday (see special schedule for 1st Wednesdays)
11:30 am - Perfect Little Planet
12:30 pm - Eclipse: The Sun Revealed
2:30 pm - Stars Over Peoria 
3:30 pm – Uniview: Lord of the Rings
4:15 pm - Eclipse: The Sun Revealed (Friday-Sunday only)
Sunday
1:15 pm - Eclipse: The Sun Revealed
2:30 pm - Stars Over Peoria 
3:30 pm – Uniview: Lord of the Rings
4:15 pm - Eclipse: The Sun Revealed (Friday-Sunday only)
*Special First Wednesdays Schedule - June 7, July 5, August 7
11:15 am - Perfect Little Planet
Noon - Special Event: Relax Under the Stars
1:10 pm - Eclipse: The Sun Revealed
2:30 pm - Stars Over Peoria 
3:30 pm – Uniview: Lord of the Rings
August 21 - Special Schedule for the Solar Eclipse 
11:15 am - Eclipse: The Sun Revealed
Noon - 2:15 pm - Live Stream of the Total Solar Eclipse
2:30 pm - Stars Over Peoria 
3:30 pm – Cosmic Colors: Adventures Along the Spectrum
August 22 - September 10
Monday-Saturday (see special schedule for 1st Wednesdays)
11:30 am - Perfect Little Planet
12:30 pm - Cosmic Colors: Adventures Along the Spectrum
2:30 pm - Stars Over Peoria 
3:30 pm – Uniview: Lord of the Rings
4:15 pm - Back to the Moon for Good (Friday-Sunday only)
Sunday
1:15 pm - Cosmic Colors: Adventures Along the Spectrum
2:30 pm - Stars Over Peoria 
3:30 pm – Uniview: Lord of the Rings
4:15 pm - Back to the Moon for Good (Friday-Sunday only)
*Special First Wednesdays Schedule - September 6
11:15 am - Perfect Little Planet
Noon - Special Event: Relax Under the Stars
1:10 pm - Cosmic Colors: Adventures Along the Spectrum
2:30 pm - Stars Over Peoria 
3:30 pm – Uniview: Lord of the Rings
September 10 - September 30
Tuesday-Saturday
11:30 am - Perfect Little Planet
12:30 pm - Cosmic Colors: Adventures Along the Spectrum
2:30 pm - Stars Over Peoria 
3:30 pm – Uniview: Lord of the Rings
4:15 pm - Back to the Moon for Good (Friday-Sunday only)
Sunday
1:15 pm - Cosmic Colors: Adventures Along the Spectrum
2:30 pm - Stars Over Peoria 
3:30 pm – Uniview: Lord of the Rings
4:15 pm - Back to the Moon for Good (Friday-Sunday only)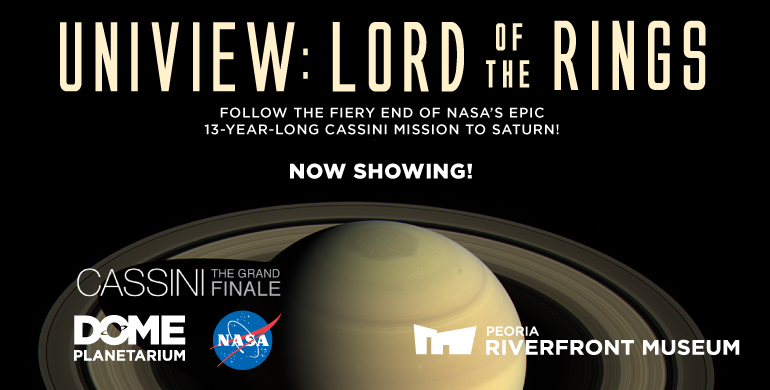 DAILY SHOWS
Eclipse: The Sun Revealed 
Are you ready for the total solar eclipse of 2017? This show uses beautiful visuals to explore the historical and cultural view of solar and lunar eclipses, and explains the geometry that creates the awe-inspiring sight. Learn how to safely watch an eclipse, and about scientific discoveries that have been supported by total solar eclipses. 30 min.
Perfect Little Planet
Discover our solar system through a new set of eyes: a family from another star system seeking the perfect vacation spot. Fly over the surface of Pluto, our best known dwarf planet. Dive down the ice cliffs of Miranda. Sail through the rings of Saturn. Feel the lightning storms at Jupiter. Walk on the surface of Mars. Which destination would you choose? (35 min.).
Stars Over Peoria
Learn about the stars and planets that you can see overhead this season in this interactive program. Hop through constellations, learn cool star names, and discover where the moon and planets will be in the current sky. Zoom in and take a closer look at the planets visible in the night sky! Live show, 25 min.
Uniview - Lord of the Rings 
 NASA's epic 13-year long mission at Saturn will reach its fiery conclusion on September 15th this year when the Cassini spacecraft dramatically plunges into the gas giant and burns up in its atmosphere. This show follows in Cassini's footsteps, exploring the incredibly beautiful vistas provided by Saturn, its rings, and its many exotic moons. Along the way we'll uncover some of Cassini's biggest discoveries, such as geysers venting from an underground ocean on one of Saturn's icy moons, and lakes and rivers of liquefied "natural gas" on Saturn's planet-sized moon Titan.