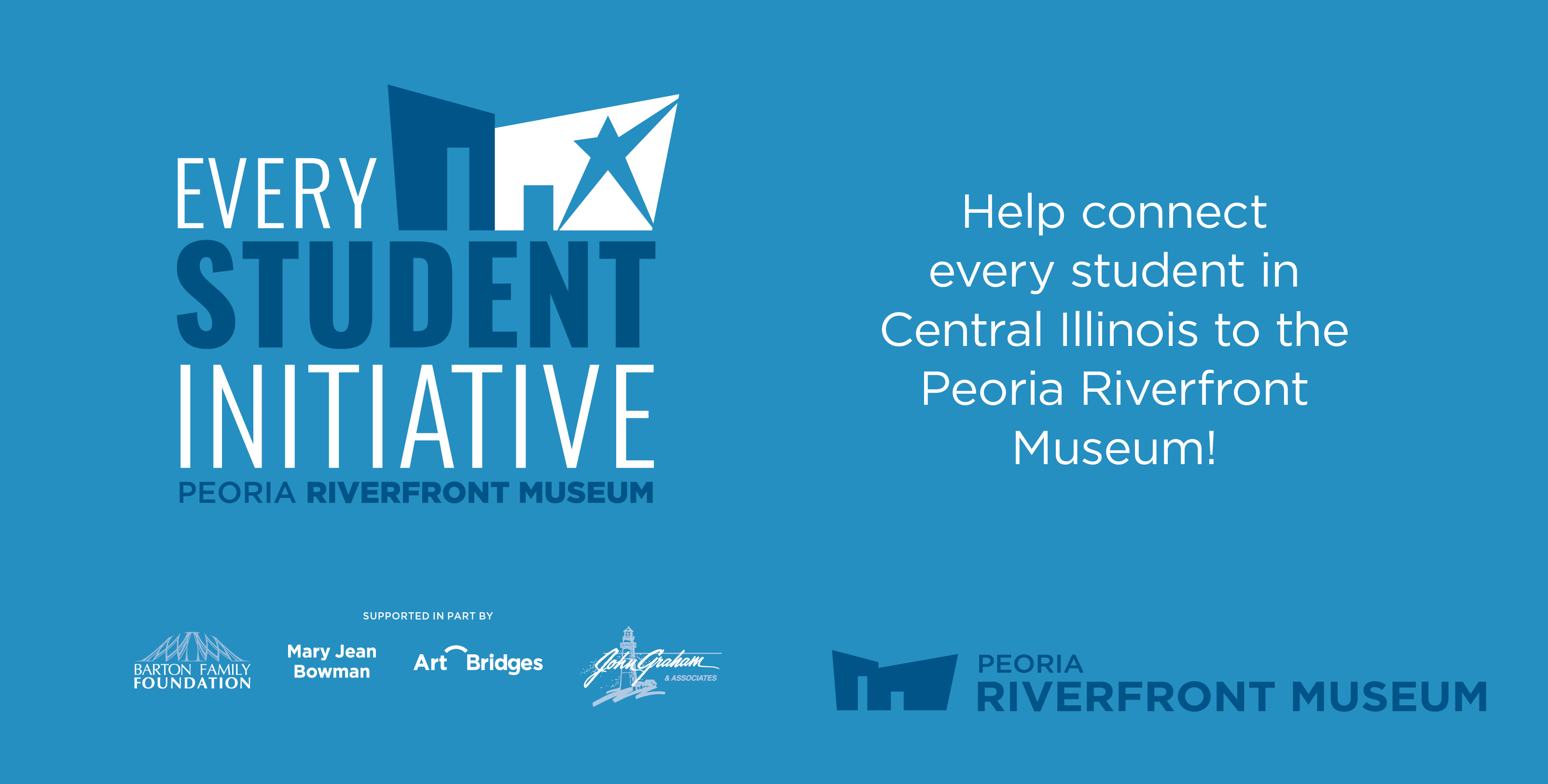 Peoria Riverfront Museum's Every Student Initiative
The Every Student Initiative (ESI) vision is to engage every student from every public, private and homeschool organization in Central Illinois with a curricula-inspired visit to the Peoria Riverfront Museum every year. Since its inception in 2017, ESI has provided more than 50,000 museum experiences at no cost to students. ESI was launched with a grant from the Barton Family Foundation and has received support from Mary Jean Bowman, the Art Bridges Foundation, John Graham & Associates, and Church Women United, with additional support from the museum's Corporate Visionary Society Council members, the annual Holiday Luncheon, and hundreds of individual donors.
Support ESI!
If you are interested in joining in connecting students to the Peoria Riverfront Museum by becoming a donor or are a school wanting to plan a field trip, please contact Holly Johnson, the Every Student Initiative/Group Tours Coordinator by email at hjohnson@peoriariverfrontmuseum.org or by phone at 309.863.3013. 
To support the Every School Initiative with a donation - click here. Contact Anne Marie Miller at ammiller@peoriariverfrontmuseum.org or 309.863.3026.
Thank you to our Supporters!
J David Arnold
James and Marianne Benson
Myrna Bietz
Dana Bischoff
Joyce Blumenshine Trachtenbarg and David Trachtenb
William and Nicolasa Bougie
Dan and Mary Anne Campbell
Frank and Janice Carder
Sharon Craig
John Elwood
Michael and Virginia Everett
Candice and Andy Feit
Mike and Jo Foster
Everett and Sue Freeberg
Mary Jo Garesche
Kendall and Karen Harrell
Helen Harrison
Dean and Janis Hayden
Richard and Norma Helfrich
Mary Jean Hisler
Amy and Anthony Jones
Bob and Diane Jorgensen
Janet Kelley
Mike and Vickie Kerker
Jacquelyn Krag
Jack and Kathleen Leson
Chris and Ronda Mathewson
Dottie McComas
Richard McCormack
Rick and Cheryl Miller
Joseph Milton and Angela Fritch-Milton
Trudy Muller
Michelle Nielsen Ott and Adam Ott
Bill and Jane O'Malley
Thomas and Geralene O'Neill
Randy and Diane Pendarvis
Mark and Cris Potthoff
Paula Prutsman
Calista Reed
Curt Ribando
Bob and Delores Ritter
William and Dolores Robertson
Donald Shay
Dolores Sheen
Jim and Jill Sherman
Bradley Shumaker and Patricia Valle
Steve and Jeanne Spain
Barbara Swanson
Jack Talcott
Tom Teijido and Maureen Naughtin
Robin Thomas
Steve and Lisa Ullenius
Bill and Mary Voorhees
Margie Wagner
William and Margaret Wendle
Barbara and Dave Wickness