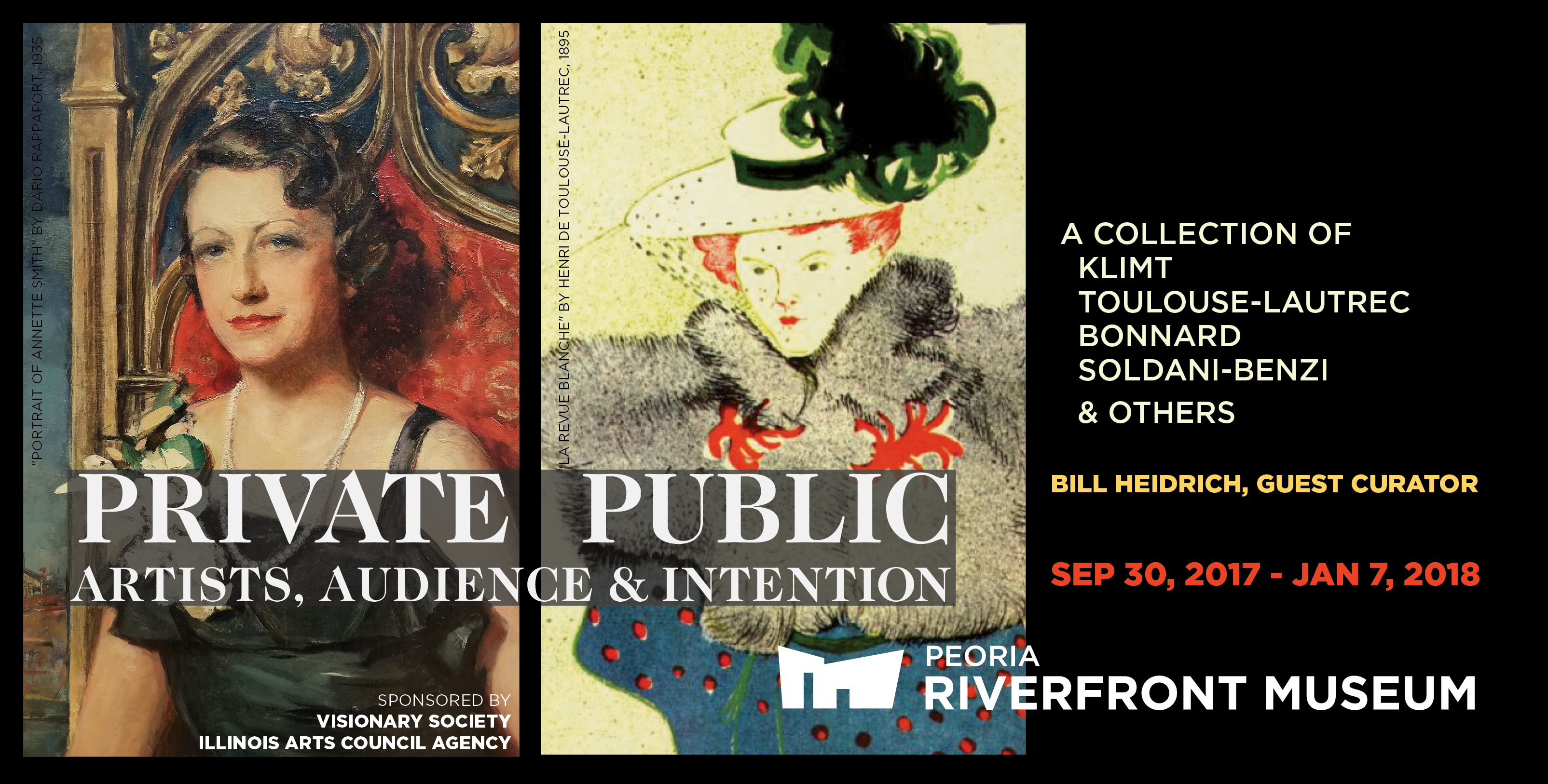 Private  |  Public:  Artists, Audience & Intention
A Collection of Klimt, Toulouse-Lautrec, Bonnard, Soldani-Benzi & Others
September 30, 2017 - January 7, 2018
Bill Heidrich, Guest Curator
This exhibition contrasts two groups of art, one intended for private enjoyment with one created for very public display. Private | Public contrasts three posters created in late 19th century Paris, designed to be seen by all, with a selection from the Clemenceau bequest, pieces which were only enjoyed by an affluent minority when they were created. To enhance our understanding of the milieu in which these works were created, the museum has borrowed a number of important pieces from local private collections.
Did you know? Our "Private | Public: Artists, Audience & Intention" exhibit features an original study (sketch) by Gustav Klimt of the "Portrait of Adele Bloch-Bauer" (a.k.a. "Woman in Gold")? See the sketch in the exhibit and see the film Sun, Nov 12, 5 pm - click here!
Private Art 
The paintings and works of decorative art in the first section of the exhibition were originally created and purchased as private art and cherished items in the homes of well-to-do individuals. While intended for private use, these items also functioned in large part to convey the style and status of their owners to the friends and associates invited into their homes. The Clemenceaus, a prominent family in France, owned many of the works you see in this display.

In 1931, Annette Smith, an American woman, married Michel Clemenceau, the son of French Prime Minister George Clemenceau. The couple lived in high society in France, surrounded in their home by beautiful items like you see here. They divorced in the early 1950s, and Annette Smith Clemenceau returned to the United States, settling in Peoria. 
Madame Clemenceau became a prominent figure in Peoria society, and her apartment on Barker served as a lively French-style salon, appointed with beautiful collection of furniture and art. Madame Clemenceau stipulated that this collection be donated to Lakeview Museum after her death.
Included in this section of the exhibition are selections of Louis XV and George II style furniture, fine silver tableware, bronze pieces by Massimiliano Soldani-Benzi. 
Private  |  Public is sponsored by Peoria Riverfront Museum Visionary Society & Illinois Arts Council Agency.
Image Credits
Dario Rappaport (Austrian, 1896 - 1964)
Portrait of Annette Smith Clemenceau (detail), 1935, oil on canvas
Annette Smith Clemenceau Bequest 75.7.94
Henri de Toulouse-Lautrec (French, 1864–1901)
La Revue blanche(detail), 1895, lithograph
Museum purchase with funds given by the Oakriver and Elidar Foundations in honor of Mr. and Mrs. Arthur G. Heidrich, Jr. 1998.27