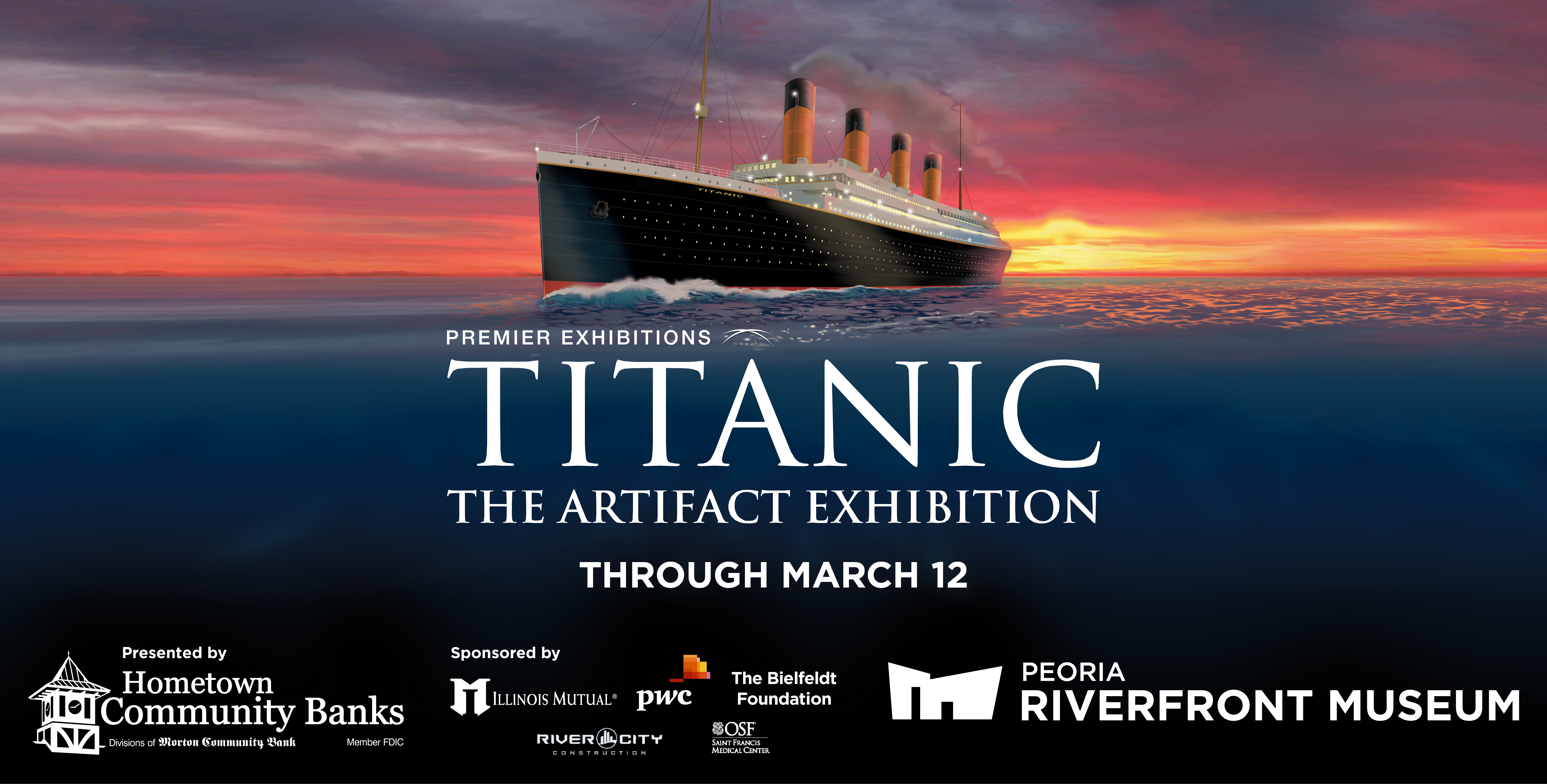 Titanic: The Artifact Exhibition
November 12, 2016 - March 12, 2017
International Features Gallery
Buy tickets online now: click here! 
Audio tours available at Front Desk for $5.
On April 15, 1912, RMS Titanic, the world's largest ship at the time, sank off the coasts of Newfoundland and Nova Scotia on its maiden voyage from Southampton, Great Britain to New York City after colliding with an iceberg. The tragedy claimed more than 1500 lives and altered the world's confidence in modern technology. It also permanently affected the lives of many others, from the ship's builders to the families of it passengers to the fishermen who helped in the recovery process.
Peoria Riverfront Museum will pay tribute to the tragedy, which continues to resonate today, through the upcoming exhibit Titanic: The Artifact Exhibition opening Nov. 12, as well as through a season of Titanic-related art, history and science programming for all ages.
The exhibition showcases artifacts recovered from the sunken ship that are unique to the Peoria Riverfront Museum's show. These pieces, conserved from the ship's debris field, offer visitors a poignant look at the iconic ocean liner and its passengers. The exhibition also includes extensive re-creations of the ship's interior and an interactive iceberg.
Titanic: The Artifact Exhibition has been designed with a focus on the legendary RMS Titanic's compelling human stories as best told through authentic artifacts and extensive room re-creations. Perfume from a maker who was traveling to New York to sell his samples, china etched with the logo of the elite White Star Line - these and many other authentic objects offer haunting, emotional connections to lives abruptly ended or forever altered.
Visitors are quickly drawn back in time to 1912 upon entrance, as each receives a replica boarding pass of an actual passenger aboard RMS Titanic. With boarding pass in hand, visitors then begin their chronological journey through the journey of the Titanic, moving through the ship's construction, to life on board, to the ill-fated sinking and amazing artifact rescue efforts, experiencing countless stories of heroism and humanity
In the "Memorial Gallery" guests will take their boarding pass to the memorial wall and discover whether their passenger and traveling companions survived or perished.

RMS Titanic Inc.
Over the past 15 years, more than 25 million people have seen this powerful exhibition in major museums worldwide - from Chicago to Los Angeles and Paris to London. RMS Titanic, Inc. is the only company permitted by law to recover objects from the wreck site of Titanic. The Company was granted Salvor-in-Possession rights to the wreck site of Titanic by a United States federal court in 1994 and has conducted eight research and recovery expeditions to the Titanic rescuing more than 5,500 artifacts.
Click here to learn more.
For more information call 309.686.7000.
Presented by

Sponsored by
The Bielfeldt Foundation
Mary Jean Bowman • Mike & Margee Cullinan • Ted & Joan Krupa • The Ransburg Family
Mrs. Trenchard French • Thomas & Emily Luthy • William & Nancy Marshall • Tom & Lois Mayer • Doug & Cisty Mills • Sandy Ullman
Chappie & Jan Chapman • Kevin & Jackie Colgan • Alan & Mary DeBord • Paul & Colleen Digiallonardo • Bernie & Barb Drake • Eric Elwood • Karen Gerontes • Hecht-Stout Insurance Agency • Bob & Jean Gilmore • Stu & Nancy Levenick • John & Marilyn Leyland • Rex & Laurie Linder • Daniel & Sarah Mulconrey • Sid Paul Ruckriegel & Andrew Rand • Gerald & Pamela Shaheen • Sally Snyder • Michael & Grace Sposato • Doug & Vicky Stewart • Eugene & Harriett Swager
Ronalee DeNoble • Moni Gibbs • Steve & Deb Krupa