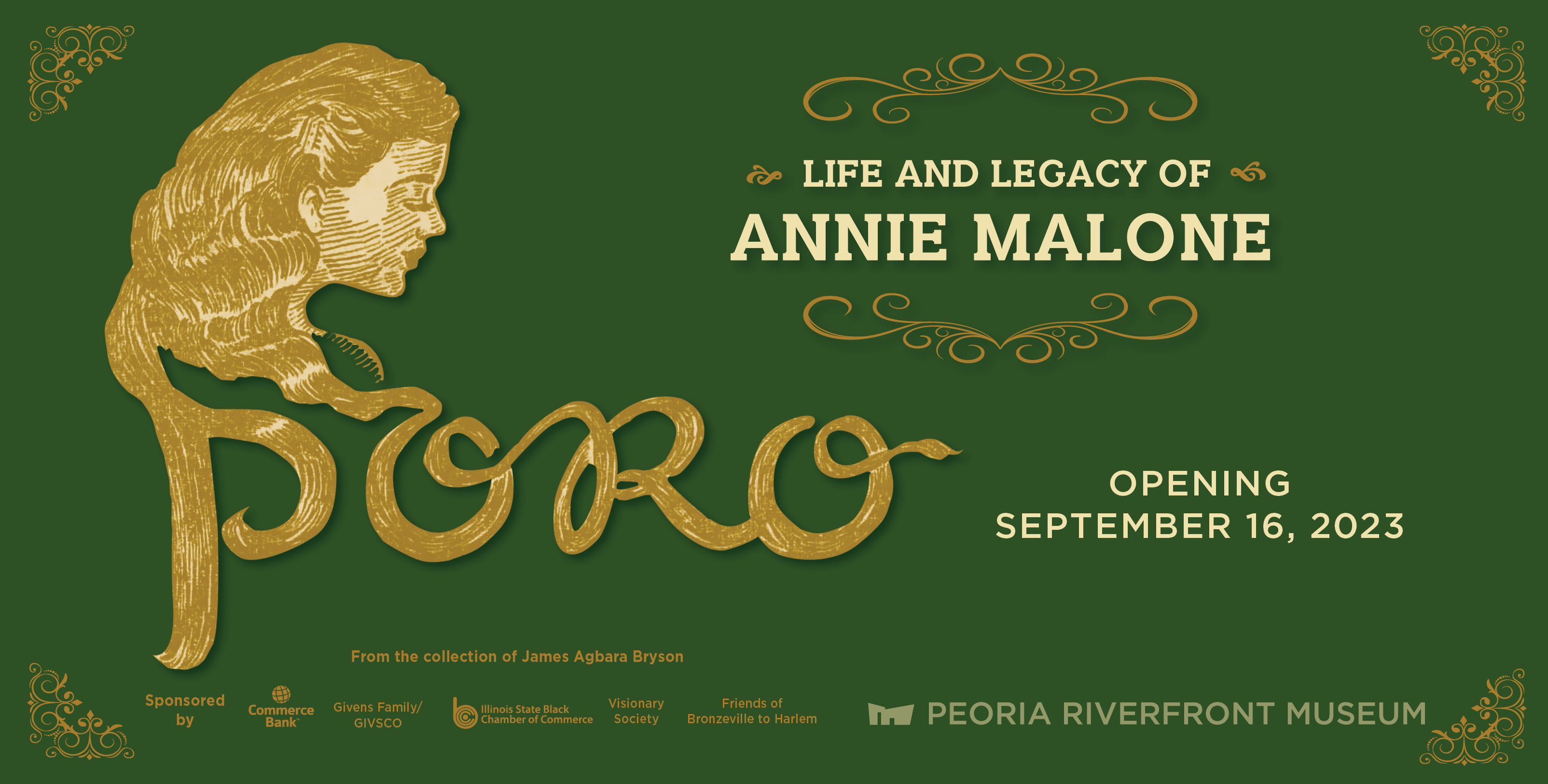 CELEBRATION DAY: ANNIE MALONE
September 16, 2023 | 1 p.m. - 3 p.m.
Join us for the Annie Malone Celebration on Saturday, September 16, 2023 from 1 p.m. to 3 p.m., in the Peoria Riverfront Museum's galleries. We will celebrate the life and legacy of Annie Minerva Turnbo Malone, the nation's first female Black self-made millionaire in the haircare industry. 
Enjoy Hair Love in the Giant Screen Theater, learn more about Annie's time in Peoria, her philanthropy and the legacy of her Poro company and colleges in the new exhibition Life and Legacy of Annie Malone . 
Schedule:
10 a.m. - 11 a.m. | Member Saturday: Annie Malone
   
1 p.m. - 1:30 | Remarks and Hors d'oeuvres in the gallery
    
1:30 p.m. - 2:30 p.m. | Gallery Exploration, museum educator Everley Davis and descendent of Annie Malone Agbara Bryson available tor questions.
    
1:30 p.m. - 3:30 p.m. | Family friendly, interactive activity for kids with a museum education guide in the gallery.
     
2:30 p.m. - 3:00 p.m. | Book signing with Agbara Bryson, descendant of Annie Malone, for his nationally-recognized book The Hidden Story of Annie Turnbo Malone: The First Black Millionaire.
      
3:00 p.m. | Screening of the Annie Malone Documentary, preceded by the short Hair Love in the Giant Screen Theater
Sponsored by Commerce Bank, Givens Family/GIVSCO, Illinois State Black Chamber of Commerce
Additional support from: Peoria CEO Council, Supreme Solutions, Infrastructure Engineering, IDG+ Architects, Ameren Illinois, Visionary Society, Friends of Bronzeville to Harlem