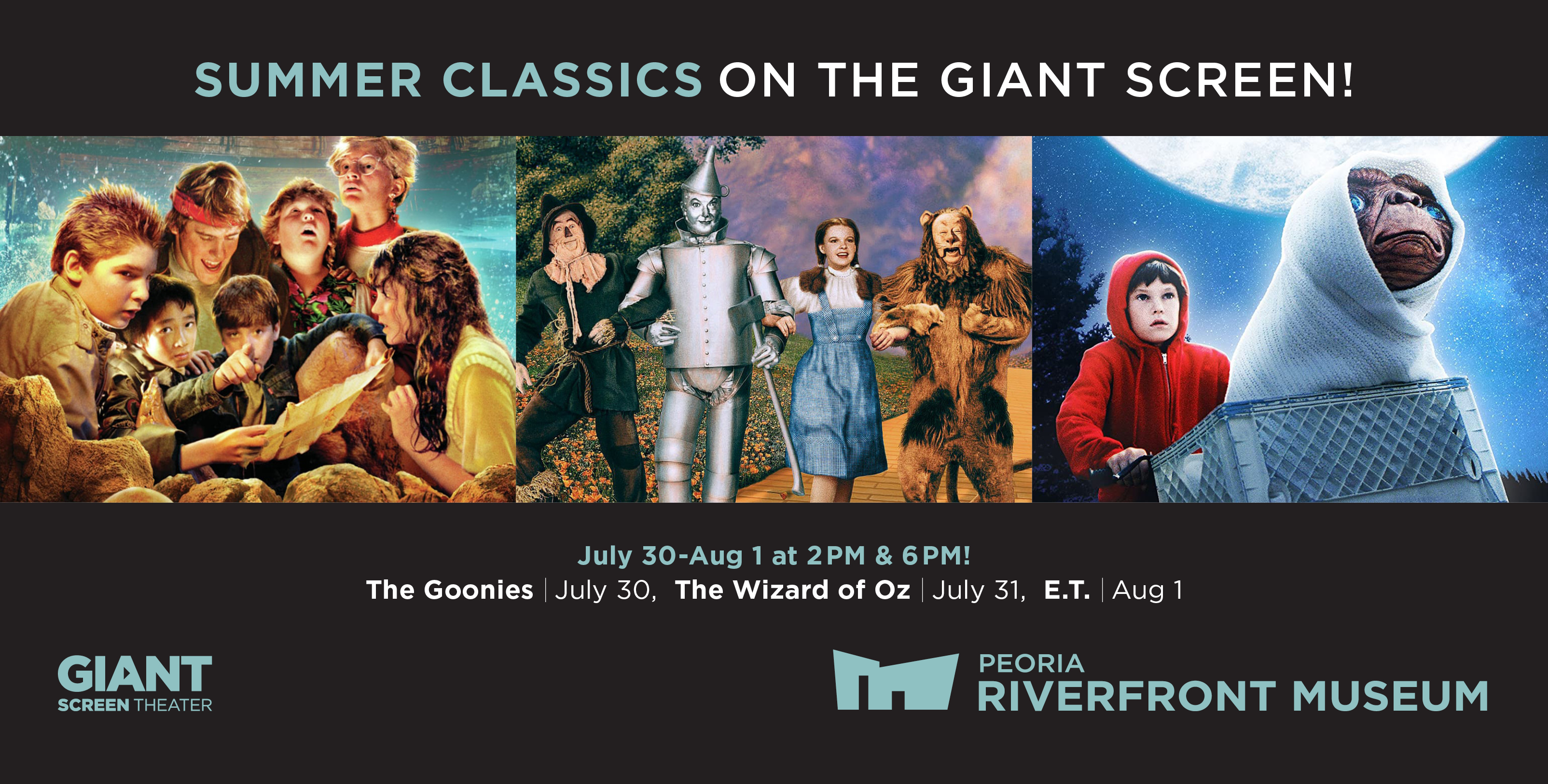 The Goonies
Thu, July 30 | 2 PM & 6 PM
Old-fashioned yarn about a band of adventurous kids who take on the might of a property developing company which plans to destroy their home to build a country club. When the children discover an old pirate map in the attic, they follow it into an underground cavern in search of lost treasure but come up against plenty of dangerous obstacles along the way. Directed by Richard Donner, 1985. 1h 55m. Rated PG.
Purchase tickets online HERE!
--
The Wizard of Oz
Fri, July 31 | 2 PM & 6 PM
When a tornado rips through Kansas, Dorothy (Judy Garland) and her dog, Toto, are whisked away in their house to the magical land of Oz. They follow the Yellow Brick Road toward the Emerald City to meet the Wizard, and en route they meet a Scarecrow (Ray Bolger) that needs a brain, a Tin Man (Jack Haley) missing a heart, and a Cowardly Lion (Bert Lahr) who wants courage. The wizard asks the group to bring him the broom of the Wicked Witch of the West (Margaret Hamilton) to earn his help. Directed by Victor Fleming, 1939. 1h 52m. Rated PG.
Purchase tickets online HERE!
--
E.T. the Extra-Terrestrial
Sat, Aug 1 | 2 PM & 6 PM
After a gentle alien becomes stranded on Earth, the being is discovered and befriended by a young boy named Elliott (Henry Thomas). Bringing the extraterrestrial into his suburban California house, Elliott introduces E.T., as the alien is dubbed, to his brother and his little sister, Gertie (Drew Barrymore), and the children decide to keep its existence a secret. Soon, however, E.T. falls ill, resulting in government intervention and a dire situation for both Elliott and the alien. Directed by Steven Spielberg, 1982. 2h 1m. Rated PG.
Purchase tickets online HERE!
--