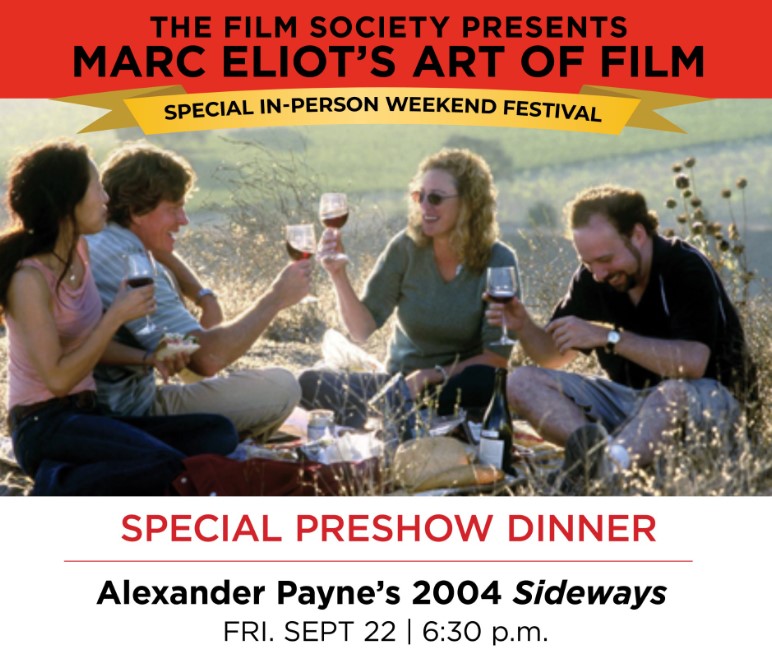 DINNER AND A MOVIE: SIDEWAYS
Friday, September 22, 2023 | Doors open at 4:30 p.m. | Dinner served at 5:15 p.m.
Join us for "Dinner and a Movie: Sideways!" Enjoy a luxurious evening at the Peoria Riverfront Museum, with a California-style menu served buffet style from Cracked Pepper Catering, and California wine to be served. New York Times best-selling author and resident film curator for the Peoria Riverfront Museum, Marc Eliot, will be at the dinner in person to discuss the film. 
Alexander Payne's 2004 Sideways is a comedic romp geographically focused in wine country, California. With an exceptional cast featuring Thomas Haden Church, Paul Giamatti, Virginia Madsen and Sandra Oh, there's no better entrance into Marc Eliot's newest film cycle, shown the way it was made to be seen on the Giant Screen: "They All Laughed, and Laughed, and Laughed, and you will too, at some of the funniest films ever made!" 
Schedule:
Doors open | 4:30 p.m.
Dinner begins | 5:15 p.m. 
Movie begins | 6:30 p.m.
Menu:
Prime rib with horseradish crème.
Vegetarian Gnocchi with Red Pepper Sauce
Truffle Parmesan Baby Bakers
Roasted Asparagus Drizzled with Wine and Lemon
Napa Valley Salad
Dinner Rolls
Sponsored by Kathy and Harry Puterbaugh, Drs. Darrel and Jane Gumm, Nancy Snowden, Film Society.