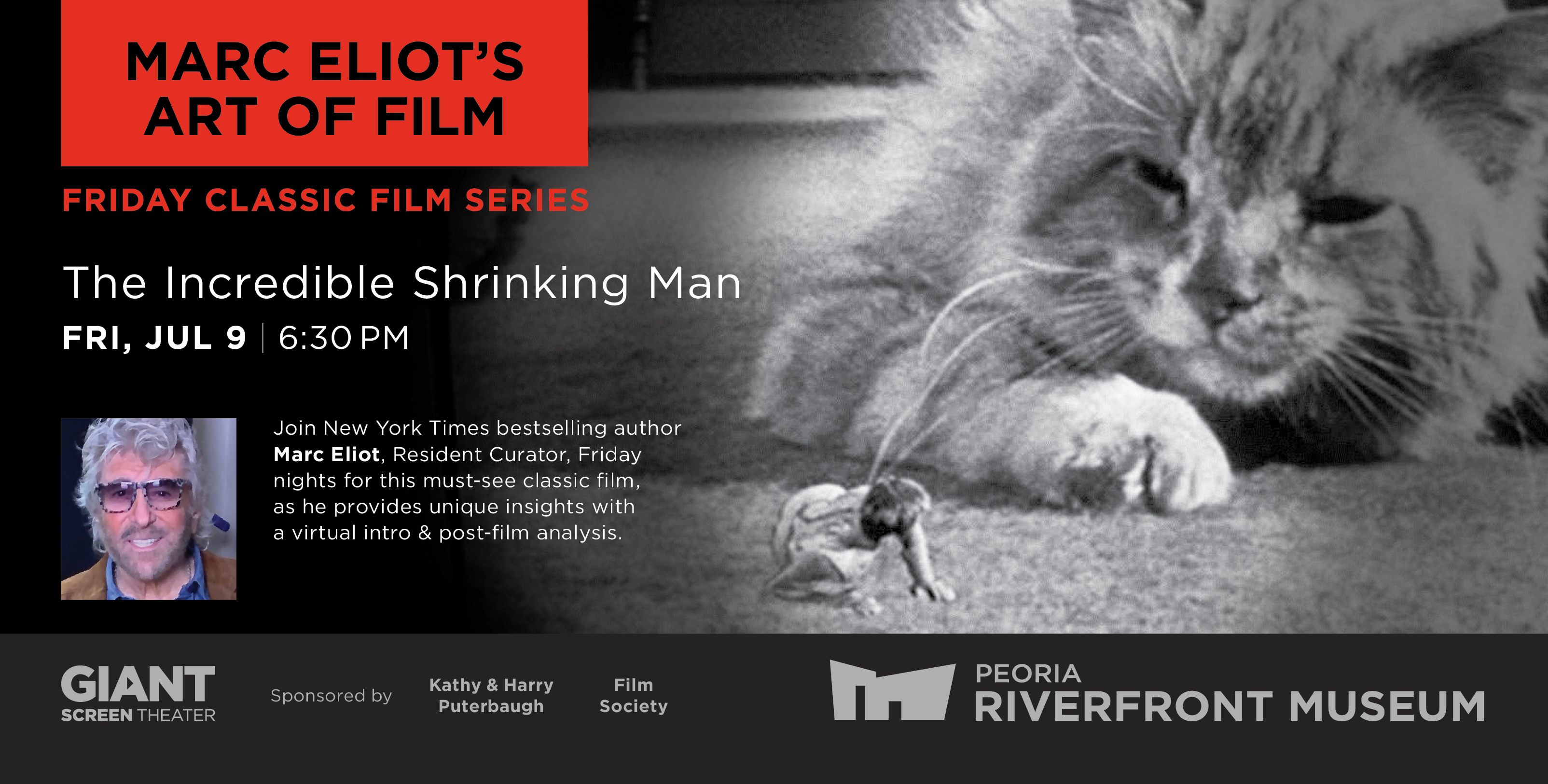 Fri, July 9 | 6:30 PM
Tickets | CLICK HERE
Join us for our new weekly film series in the Giant Screen Theater, "Marc Eliot's Art of Film," with The New York Times Best-Selling Author! Peoria Riverfront Museum is pleased to announce the residency of film critic and historian Marc Eliot, who is the author of more than two dozen books on pop culture and biographies on Hollywood icons. Marc has personally selected each of the films in the "Art of Film" series and provides virtual commentary for each film before and after the film's screening at the museum.
The Incredible Shrinking Man, 1957. USA. Directed by Jack Arnold.
Based on Richard Matheson's novel of the same name that he adapted for the screen (with Richard Alan Simmons), the beautifully written narrative tells what happens as the world gets larger and humanity gets smaller. Robert "Scott" Carey (Grant Williams) begins to shrink after passing through a strange glittering cloud while aboard his private yacht; his wife escapes it and all that is to come as she is below deck when Scott is exposed. Along with a cat and a spider, Carey lives to…well, I think you just have to see this wonderfully expressive film. (The poison cloud is as relevant today as it was in the '50s, substituting the spread of radiation to the Covid pandemic.)
A word about Jack Arnold. He is in my personal, ever-evolving pantheon. Despite the fact that many of his films were cheaply made sci-fi of the crawling creature kind, "B" westerns, and what passed for teenage "reality" (High School Confidential) his ability to project his personality onto his films always recalls for me of another director not treated with the respect he deserves, Michael Curtiz. Among Curtiz' numerous credits are Casablanca and Yankee Doodle Dandy.
Of The Incredible Shrinking Man, Philip K. Scheuer wrote in The Los Angeles Times that the film was "a fascinating exercise in imagination, as terrifying as it is funny…" and I wholeheartedly agree. I would add it is admirable literate, adult, exciting, and from the opening sequence without a dull moment. You should see it for the story, the direction, and the beautiful black-and-white cinema, and for the amazing special effects that include a very mean house cat, and a hungry spider. Shrinking Man has an ending that is as eloquently filmed and spoken as in any film. I've ever seen. This is Jack Arnold's masterpiece.
- Marc Eliot