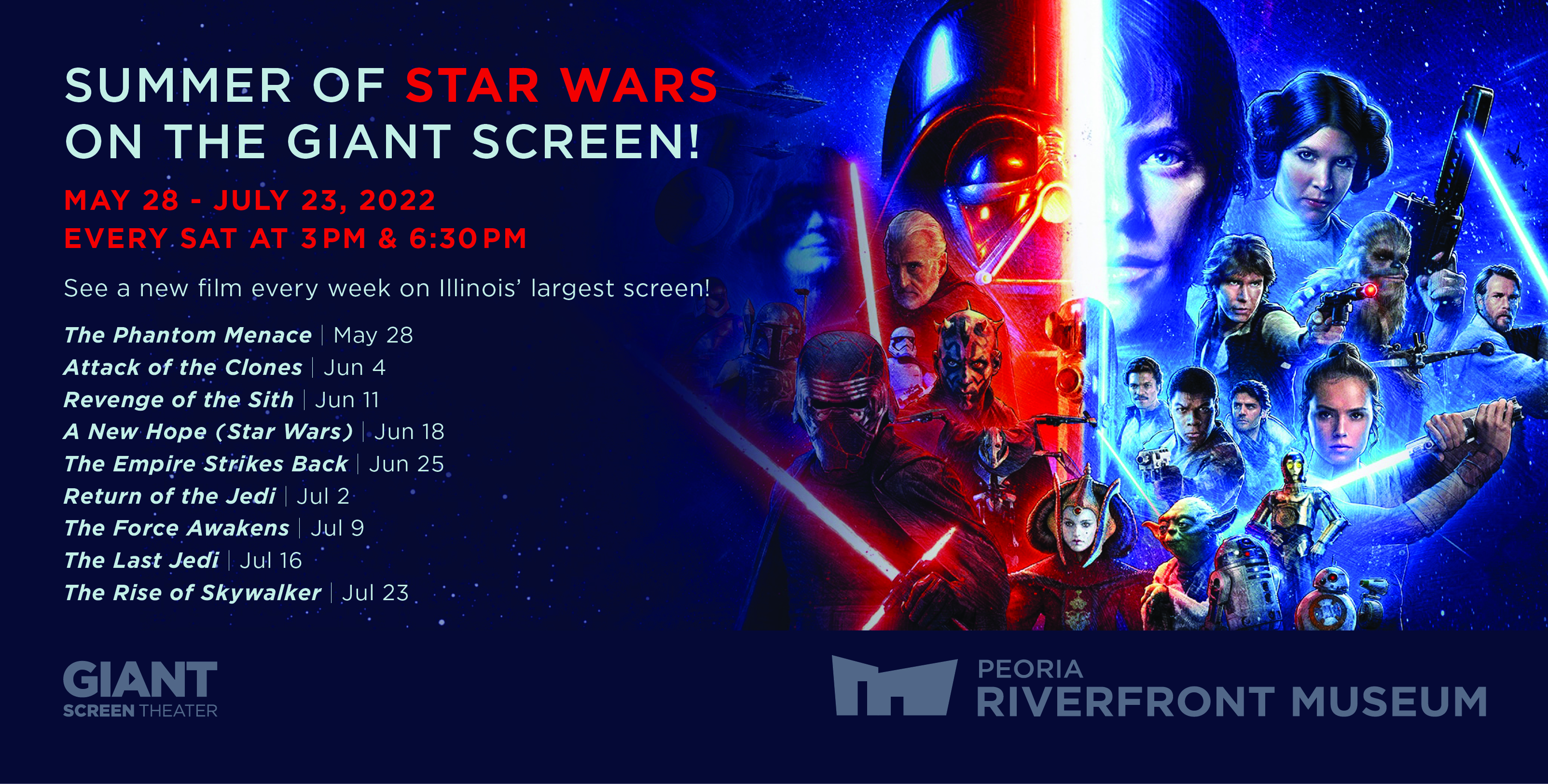 Star Wars: A New Hope  ( Star Wars )
The film that started it all, Star Wars (retitled Star Wars: Episode 4 - A New Hope), celebrates its 45th anniversary this year!
Sat, June 18 | 3 PM - TICKETS
Sat, June 18 | 6:30 PM - TICKETS
The Imperial Forces -- under orders from cruel Darth Vader (David Prowse) -- hold Princess Leia (Carrie Fisher) hostage, in their efforts to quell the rebellion against the Galactic Empire. Luke Skywalker (Mark Hamill) and Han Solo (Harrison Ford), captain of the Millennium Falcon, work together with the companionable droid duo R2-D2 (Kenny Baker) and C-3PO (Anthony Daniels) to rescue the beautiful princess, help the Rebel Alliance, and restore freedom and justice to the Galaxy.
Rated PG | Release date: May 25, 1977 | Director: George Lucas
About STAR WARS
Star Wars (retroactively titled Star Wars: Episode IV – A New Hope) is a 1977 American epic space-opera film written and directed by George Lucas, produced by Lucasfilm and distributed by 20th Century Fox. It stars Mark Hamill, Harrison Ford, Carrie Fisher, Peter Cushing, Alec Guinness, David Prowse, James Earl Jones, Anthony Daniels, Kenny Baker and Peter Mayhew. It is the first film in the Star Wars film series and fourth chronological chapter of the "Skywalker Saga."
When adjusted for inflation, Star Wars is the second-highest-grossing film in North America (behind Gone with the Wind) and the fourth-highest-grossing film in the world. It received ten Oscar nominations at the 50th Academy Awards (including Best Picture), winning seven (more than any other film at the ceremony). In 1989, it became one of the first 25 films that was selected by the U.S. Library of Congress for preservation in the National Film Registry for being "culturally, historically, or aesthetically significant." It was the most recent film in the registry and the only one chosen from the 1970s. In 2004, its soundtrack was added to the U.S. National Recording Registry, and was listed by the American Film Institute as the best movie score of all time a year later. Today, it is widely regarded by many in the motion picture industry as one of the greatest and most important films in cinema history. Read more on Wikipedia.