Event Details
Pollinator Family Day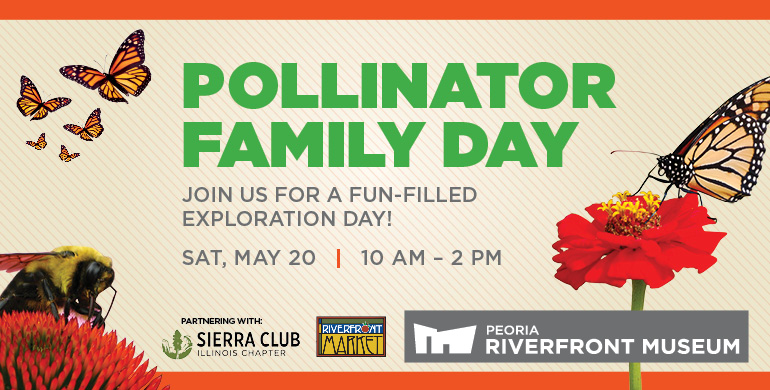 Sat, May 20 I 10 am - 2 pm
Museum Lobby
Butterflies, bees, beetles, bats and all types of pollinators are vital to our food system and a maintaining a healthy ecosystem. Many of these pollinators are facing a decline in population. Learn what you can do to help in a fun-filled family day! Learn about pollinators from community groups including the Heart of Illinois Sierra Club, the Peoria Academy of Science, the Heart of Illinois Beekeepers, and more! Discuss the importance of native plants with experts, and purchase some for your yard. Visit the Mari Posa Bus traveling classroom on monarch butterflies, parked just outside the museum on Water Street. Pollinator Day activities are free. Regular admission applies to museum galleries and Giant Screen Theater films.
Conservation Conversations - a free class on native plants and their benefits by Simply Native Nursery - will be available to all at 12:30 PM
This event is put on in partnership with the HOI Sierra Club and the Peoria RiverFront Market. May 20 is opening day for the RiverFront Farmer's Market - stop by the market for your local vegetables, baked goods, and art, and then join us at the museum for Pollinator Day!
The RiverFront Market is Open every Saturday May 20 – September 30 8 a.m. – Noon
200 Block of Water Street
Featuring local produce, meats, cheeses, baked good, flowers and more!
Local art, live music and demonstrations each week.
www.VisitDowntownPeoria.com