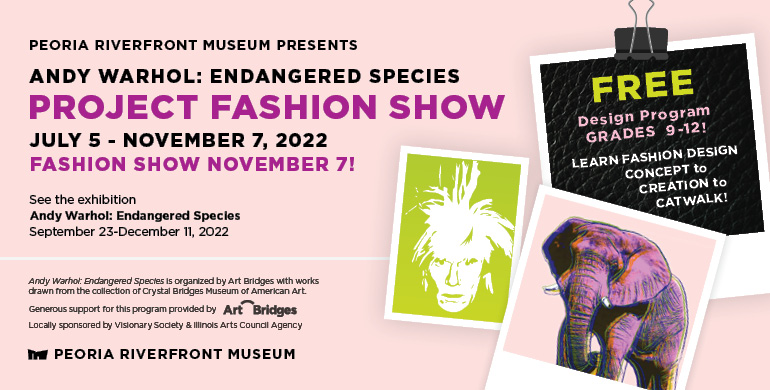 Inspired by the prints of "Andy Warhol: Endangered Species"! See the exhibition Sep. 23 - Dec 11, 2022 at Peoria Riverfront Museum!
Peoria Riverfront Museum presents
Andy Warhol: Endangered Species
PROJECT FASHION SHOW
July 5 through November 7, 2022 
INFORMATION SESSION, Sat. June 25, 11-Noon, Peoria Riverfront Museum
ENTER BY July 5!
Fashion Show & Big Reveal November 7!
LEARN FASHION DESIGN from CONCEPT to CREATION to CATWALK!
FREE & open to all students grades 9-12!
Team up with ISU Fashion Students!
All material & lessons included
Calling all students grades 9-12! Do you love fashion design? Have you ever created your own wearable work of art? Do you have an interest in art and design that you'd like to explore? Interested in art and wildlife conservation?
Partner with Illinois State University (ISU) fashion students to design a complete look inspired by one of Andy Warhol's ten "Endangered Species" prints!
Work with Peoria Art Guild art & design instructors, and Peoria Zoo and Wildlife Prairie Park wildlife experts.
10 teams, led by 10 ISU Fashion Design team captains, will compete for the ultimate prize and runway reveal!  
FREE FOR STUDENTS GRADES 9-12 | No cost or experience necessary to participate. All lessons and material covered!
INFORMATION SESSION | Sat., June 25, 11 a.m. to noon
APPLY HERE
APPLICATION DUE | JULY 5
CONTACT | Everley Davis, program director & Educator & Student Engagement Coordinator: 309.863.3034
We thank Art Bridges for generously supporting this program!
---
TIMELINE
ART AROUND THE WORLD | Cultural Art Classes with PEORIA ART GUILD at Peoria Riverfront Museum | July 1-29
July 1, 8, 15, 22 & 29
Participants must attend two but more are encouraged.
WILDLIFE PRAIRIE PARK Animal Education Day | August 13 
PEORIA ZOO Animal Education Day | August 27 
DESIGN DAYS at Peoria Riverfront Museum | September TBD
Meet your model and get measurements at the first design day!
FINAL DESIGN DUE | September 9
Your team's final design will be presented to a panel for approval. Your materials list is also due at this time to see how you are using your budget.
FITTINGS & PRACTICE | October 13 - November 1
First fitting: October 13
Second fitting: October 27
Final fitting and practice: November 1
FASHION SHOW | November 7
Monday, November 7, 5-7:30 p.m.
Pre-party: 5-6 p.m.
Fashion show & runway reveal: 6-7:30 p.m.
---
LOCAL PROJECT PARTNERS
Illinois State University | Peoria Art Guild | Peoria Zoo | Wildlife Prairie Park.
MEET YOUR ADVISORS
FASHION DESIGN ADVISOR
Bert Marckwardt, fashion design professor, Illinois State University
SEWING & CONSTRUCTION ADVISOR
Julie Mooberry, textile designer
MODEL CASTING & FASHION SHOW ADVISOR
Lexii Loushel, professional model & influencer, SELF Brand Models owner & CEO
ART & CULTURAL ADVISOR
Shannon Cox, Executive Director of Peoria Art Guild
ART & CULTURE TEACHERS
Nana Ekow Maison, artist & art teacher
Ana V. Flemming, artist & art teacher
---
SPONSORS
Andy Warhol: Endangered Species is organized by Art Bridges with works drawn from the collection of Crystal Bridges Museum of American Art.
Generous support for this program provided by Art Bridges.
Locally sponsored by Visionary Society & Illinois Arts Council Agency.