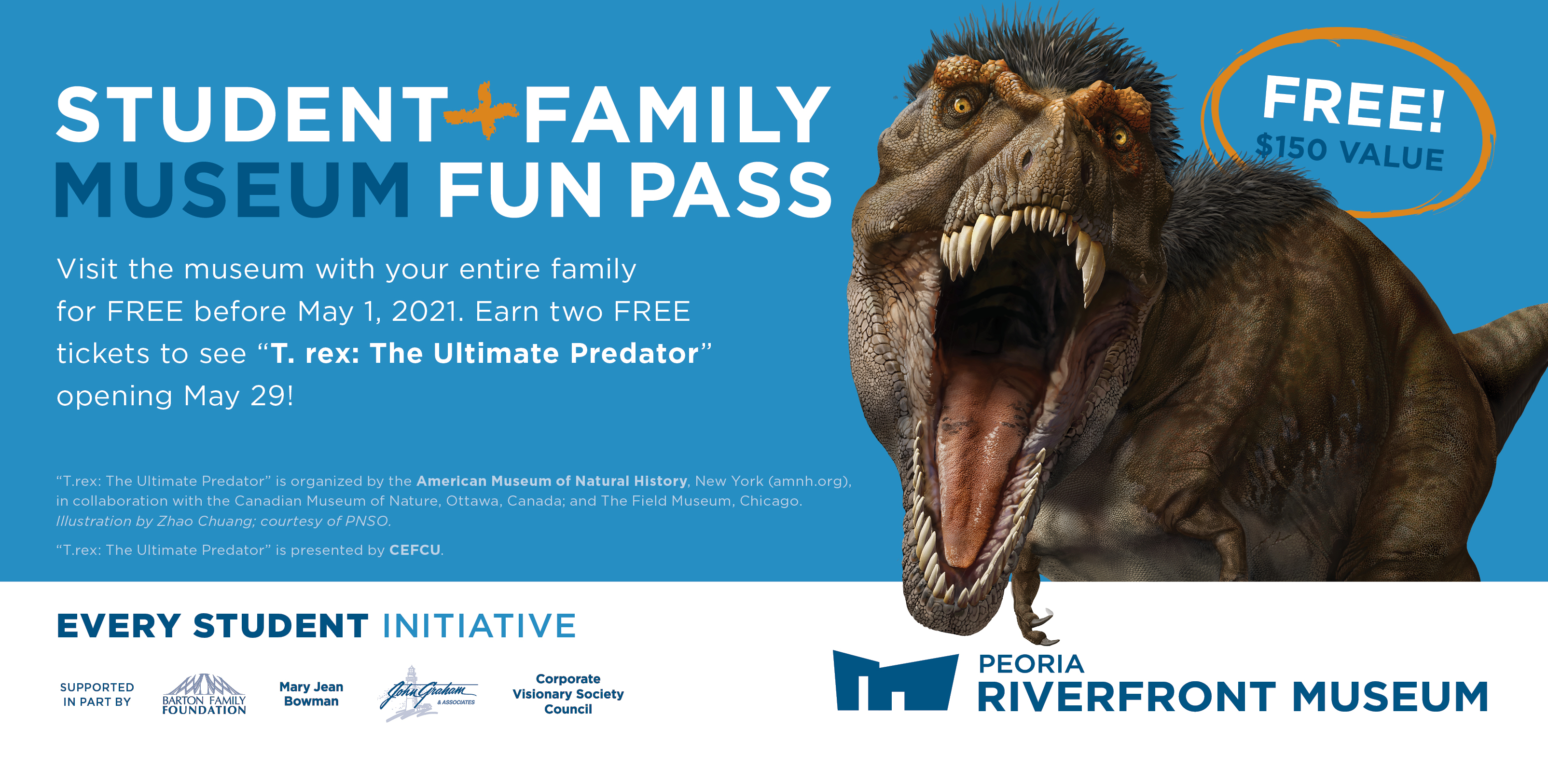 Every Student Initiative Student + Family Fun Pass
Now through May 1
Peoria Public Schools K-8, East Peoria Elementary School District 86, St. Philomena, and other sponsored schools students visit the museum with your entire family for FREE before May 1, 2021 and earn two FREE tickets to see "T. rex: The Ultimate Predator" opening May 29!
Please present your pass at the front desk. Those without passes may present proof of school affiliation and receive a new one.
Sponsor a school to visit the museum for FREE! Find out more about the Every Student Initiative HERE!
It's as easy as ...
1. EXPLORE ANY EXHIBITION
2. WATCH A GIANT SCREEN MOVIE
Immersive Documentaries : "Into America's Wild," "America's Musical Journey," "Tiny Giants," "Walking With Dinosaurs: Prehistoric Planet"
Family Favorites Films: "Willy Wonka & the Chocolate Factory," "Despicable Me," "The Wizard of Oz," "How to Train Your Dragon" and more!
3. SEE A DOME PLANETARIUM SHOW
Get two (2) T. rex: The Ultimate Predator tickets for FREE!
--MORE INFO--
COME TO THE MUSEUM
Downtown Peoria on the riverfront. 222 SW Washington St. All students must be accompanied by adults.
PARK OR RIDE FOR FREE
Free parking in our garage off Water St. CityLink will provide free roundtrip bus service to anyone who shows this pass coming to
the museum.
SHOW YOUR PASS AT THE LOBBY DESK
Our visitor service staff will take care of you. Need a new pass?
WEAR A MASK!
Face coverings are required. Thank you!
For more information call 309.686.7000
DOWNLOAD THE FLYER