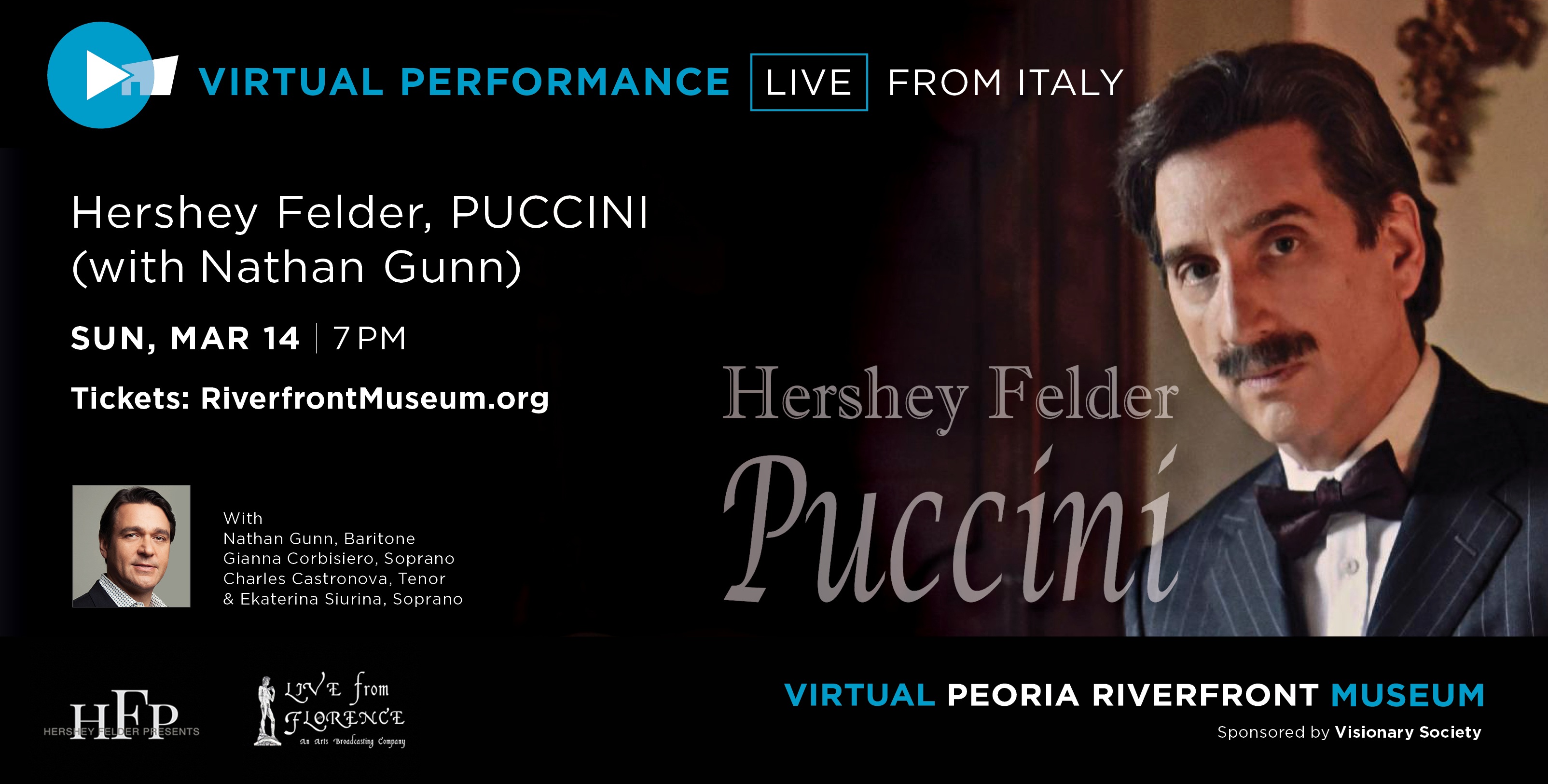 WORLD PREMIERE
HERSHEY FELDER
PUCCINI
LIVE from FLORENCE
Virtual Live Performance from Italy with
Nathan Gunn, Gianna Corbisiero, Ekaterina Siurina and Charles Castronovo
Sun, March 14, 7 pm*
Tickets* | CLICK HERE
*Tickets include extended on-demand viewing access of the recording through Sunday, March 21!
Filmed, performed and streamed live on location in Lucca Italy, in the home where Giacomo Puccini was born, this world premiere features Hershey Felder and three world-renowned opera stars, including University of Illinois' Nathan Gunn, promises to be a very special event.
Hershey Felder, PUCCINI is the story of a young musician in love with the world of opera, and in particular Giacomo Puccini's La bohème, Tosca and Madama Butterfly.  When, through a series of unusual circumstances, the young musician meets the musical master himself, secrets are revealed that send the young man soaring.
With special guests, Baritone Nathan Gunn, who recently performed live at Peoria Riverfront Museum during an interview with Ed Sutkowski, as well as Soprano Gianna Corbisiero, Soprano Ekaterina Siurina and Tenor Charles Castronovo, this new Hershey Felder creation, will spur the imagination and move the musical soul.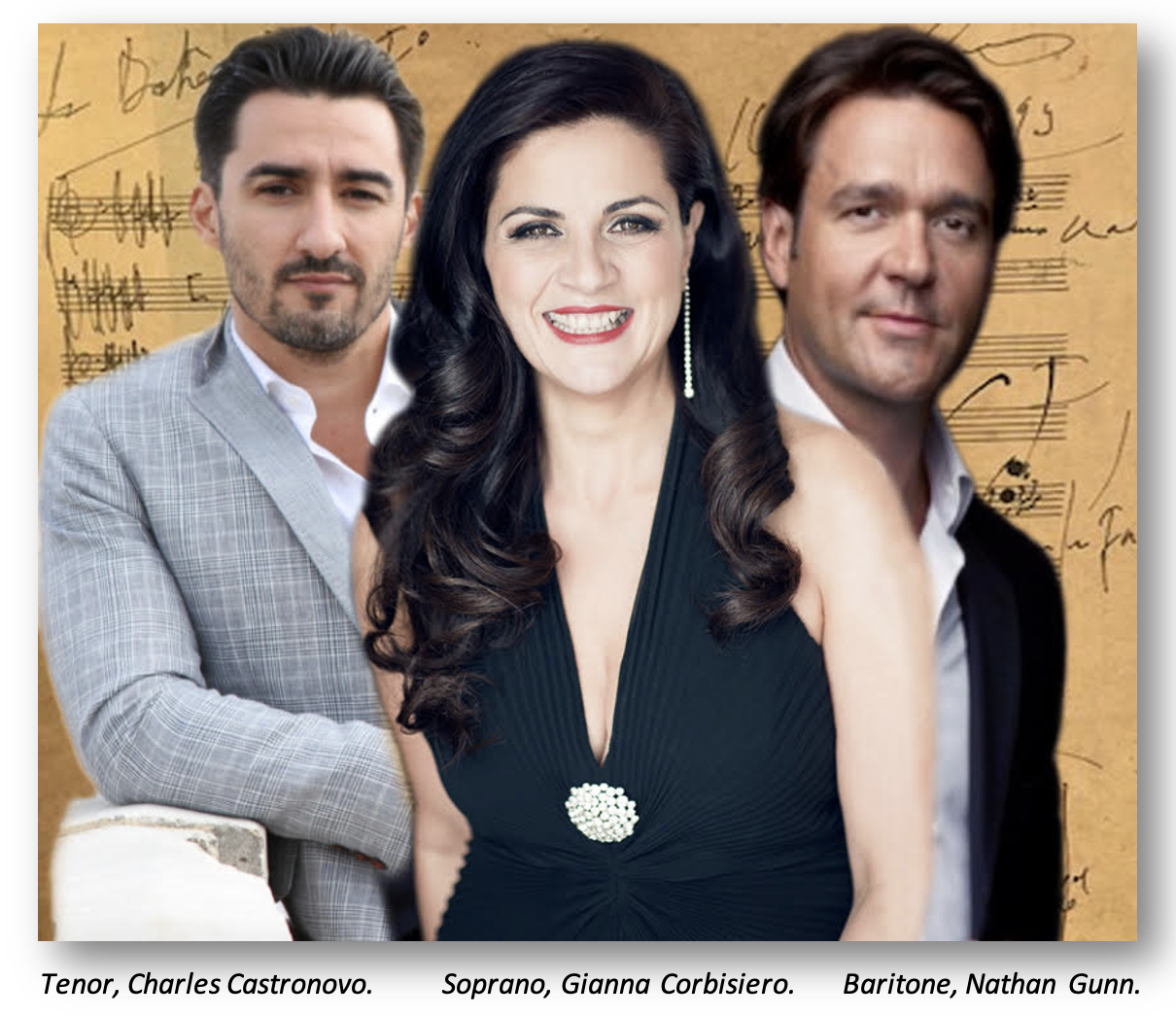 ABOUT THE PERFORMERS
HERSEY FELDER
Hershey Felder (Writer & Performer). Named to TIME magazine's 2016 Top 10 Plays and Musicals, Hershey Felder has played over 6,000 performances of his self-created solo productions at some of the world's most prestigious theatres, consistently breaking box office records. American Theatre magazine has said, "Hershey Felder is in a category all his own." His shows include: George Gershwin Alone (Broadway's Helen Hayes Theatre, West End's Duchess Theatre); Monsieur Chopin; Beethoven; Maestro (Leonard Bernstein); Franz Liszt in Musik; Lincoln: An American Story; Hershey Felder as Irving Berlin; Our Great Tchaikovsky; and A Paris Love Story. His compositions and recordings include Aliyah, Concerto for Piano and Orchestra; Fairytale, a musical; Les Anges de Paris, Suite for Violin and Piano; Song Settings; Saltimbanques for Piano and Orchestra; Etudes Thematiques for Piano; and An American Story for Actor and Orchestra. Hershey is the adaptor, director and designer for the internationally performed play-with-music The Pianist of Willesden Lane with Steinway artist Mona Golabek; producer and designer for the musical Louis and Keely: 'Live' at the Sahara, directed by Taylor Hackford; and writer and director for Flying Solo, featuring opera legend Nathan Gunn. 
Hershey has operated a full-service production company since 2001, and in 2020 created a new brand, Live from Florence, that operates a "theatre at home broadcast company," based in Florence, Italy. Previous broadcasts have included Hershey Felder as Irving Berlin; Hershey Felder, Beethoven; Hershey Felder as George Gershwin Alone; Hershey Felder as Claude Debussy in A Paris Love Story; Hershey Felder, Tchaikovsky; Hershey Felder as Sholem Aleichem in Before Fiddler; Hershey Felder, Backstory – The Story Behind the Creation of Berlin, Gershwin & Bernstein; and Cooking French in Florence with Jeff Thickman & Hershey Felder. The Hershey Felder Presents - Live from Florence 2020-21 Season of broadcasts will also include Hershey Felder as Sergei Rachmaninoff in Anna & Sergei. Hershey has been a scholar-in-residence at Harvard University's Department of Music and is married to Kim Campbell, the first female Prime Minister of Canada.
NATHAN GUNN
South Bend, Indiana native Nathan Gunn is a professor and Swandlund Chair at the University of Illinois where he is co-director of Lyric Theatre @ Illinois, a comprehensive program embracing a broad continuum of opera and musical theatre, as well as the development of new works. At the Lyric Theatre @ Illinois, Gunn developed and founded the first ever Bachelor of Musical Arts in Lyric Theatre curriculum in the nation. The program is part of the School of Music at the University of Illinois and housed in the Krannert Center for the Performing Arts.
Gunn recently performed live with his wife, fellow professor and opera singer Julie Jordan Gunn, at the Peoria Riverfront Museum during a virtual live interview hosted by Interesting People's Ed Sutkowski.
Gunn has performed many of opera and musical theatre's greatest roles on the world's most prestigious stages, including the Metropolitan Opera, the San Francisco Opera, Lyric Opera of Chicago, Houston Grand Opera, Seattle Opera, Royal Opera in London, Paris Opéra, Bavarian State Opera Munich, Theater an der Wien Vienna, Teatro Real Madrid, and Théâtre Royal de la Monnaie Brussels. He has been seen and heard on television, radio, video, and live simulcast performances, including the first ever Met in HD broadcast (The Magic Flute), in which he sang Papageno, one of his signature roles. Nathan has reinterpreted other classic roles such as Billy Budd, Figaro, and Don Giovanni, garnering awards including the Grammy Award for Best Opera Recording (Billy Budd) and the Metropolitan Opera's first ever Beverly Sills Award. Gunn has also been widely acclaimed for his ability to cross over into musical theatre, including performances with the New York Philharmonic in Carousel and Camelot, the televised celebration of Stephen Sondheim's 80th birthday, and collaborations with musical theatre stars including Mandy Patinkin, Kelli O'Hara, Audra McDonald, and Kristin Chenoweth. Gunn's one-man autobiographical show Flying Solo, produced and written by Hershey Felder, has been lauded as a "riveting autobiographical musical [that] is a stunner both with its touching, relatable, family-centric narrative and Gunn's entertaining, charismatic performing style." (Broadway World).
In addition to life as a performer, educator and arts advocate, Gunn is an avid patron of the arts. Nathan and Julie Gunn consistently support pre-college music education and sponsor local cultural events in order to secure the future of the art form. The family resides in Champaign, Illinois.
GIANNA CORBISIERO
Declared "luminous" by Opera News, Gianna Corbisiero has performed the title roles in Tosca, La bohème, La traviata, Pagliacci, Suor Angelica, Gianni Schicchi, Le nozze di Figaro, Don Giovanni, The Magic Flute, Carmen, Il barbiere di Siviglia and Falstaff at major opera houses throughout North America, Europe, and Asia, under the baton of conductors such as Zubin Mehta, Kent Nagano, and Charles Dutoit. She has performed with Bryn Terfel, Renee Fleming, and Marcelo Alvarez. For Bravo Canada she recorded episodes of television's "Opera Easy," performing excerpts from La bohème, La traviata, Tosca and Norma, and made her cinema debut singing "O mio babbino caro" in the film Elephant Song, which premiered at the Toronto International Film Festival. Corbisiero's many honors and awards include a special prize from the Luciano Pavarotti International Vocal Competition, Top Prize in the Canadian Music Competition, and First Prize from the Jacqueline Desmarais Foundation.
CHARLES CASTRONOVO
Charles Castronovo has been acclaimed internationally as one of the finest lyric tenors of his generation. Castronovo has sung at most of the world's leading opera houses, including San Francisco Opera, Metropolitan Opera, Los Angeles Opera. Royal Opera House Covent Garden, Vienna State Opera, Berlin State Opera, Paris Opera, Bavarian State Opera Munich, Theatre Royale de la Monnaie Brussels, and many others. He starred in the title role of Daniel Catan's Il Postino opposite Placido Domingo in the work's World Premiere in Los Angeles, as well as in Paris and Santiago. His repertoire spans from the great Mozart tenor roles in Don Giovanni, Cosí fan tutte and Die Zauberflöte, to Edgardo in Lucia di Lammermoor, Nemorino in L'elisir d'amore and Alfredo in La traviata. In recent seasons, Castronovo won wide acclaim for his performances as the title role in Faust, Romeo in Roméo et Juliette, the Duke in Rigoletto, Rodolfo in La bohème and Tom Rakewell in The Rake's Progress.
Tickets* | CLICK HERE
*Tickets include extended on-demand viewing access of the recording through Sunday, March 21!