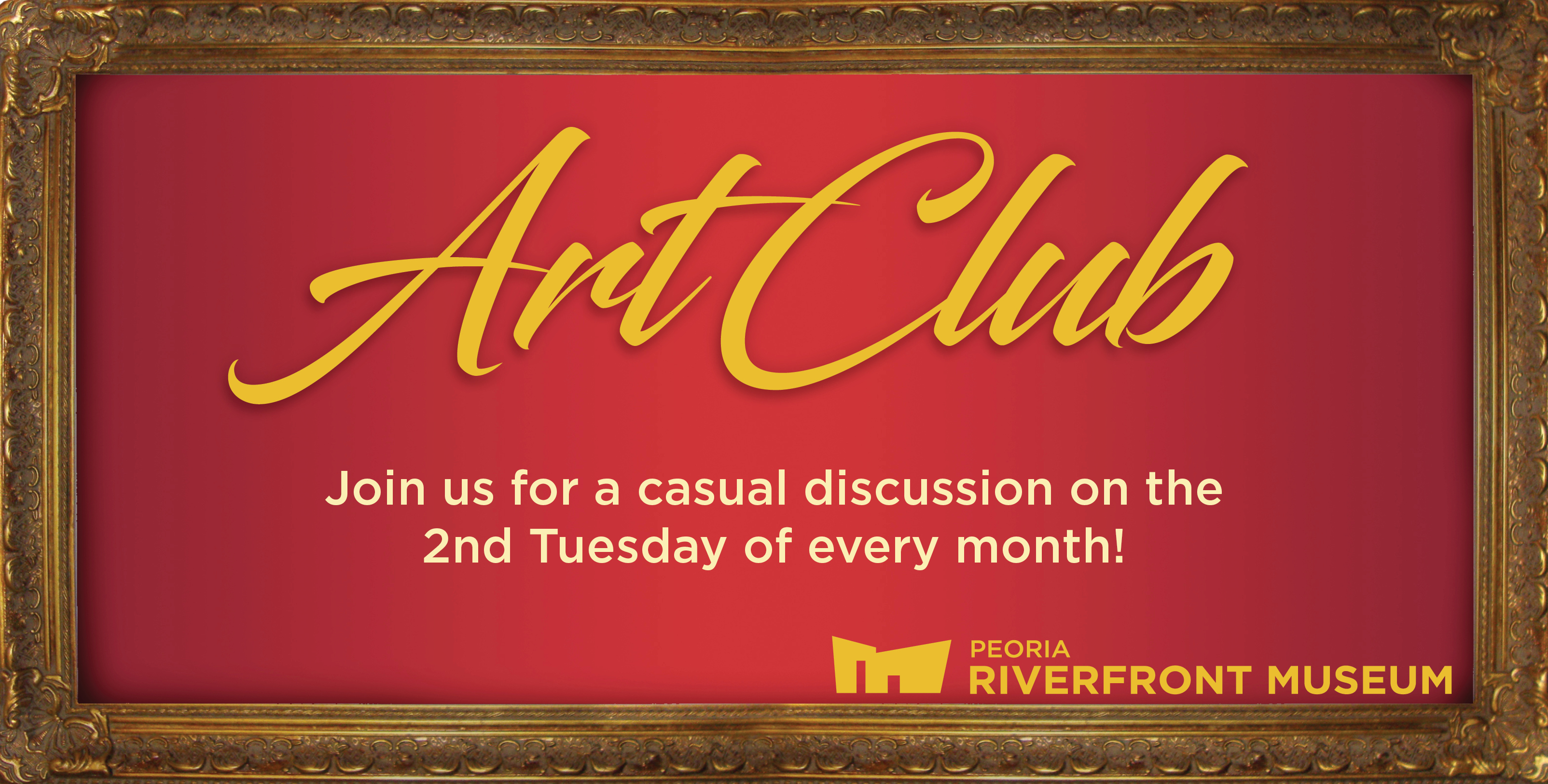 Art Club is a monthly meeting of people who love art. Each month we hear from a different artist or about a new topic. We encourage artists to talk about their own work, a style they love, or another artist they admire. Enjoy a casual discussion (with PowerPoint slides) accompanied by coffee and light treats. Participants are encouraged, though not required, to submit discussion suggestions of art that is related to the topic. 
Check out our YouTube Channel with past Art Club presentations available to watch - click here. 
Sign up for our Art Club emails - click here.
"Seen but not Felt" Exhibition at Bradley University Galleries
Presented by Exhibition Curators and contributing artists Erin Buczynski and Hattie Lee, and contributing artists Heather Brammier and Nina Gospodin
Tue, May 11 | 1 pm
Because of Covid precautions, Bradley University Galleries are bringing exhibitions to the public virtually. However, the exhibitions themselves are very real! Director of University Galleries Erin Buczynski is staging all exhibitions in the gallery space, so that the artwork can be experienced as authentically as possible, though only through documentation. Unable to invite visitors to campus to view the artwork, curators Erin Buczynski and Hattie Lee devised an exhibition concept that responds to the limitations of this moment. Seen but not Felt fills the void left when visitors are not allowed in the gallery. The artwork inhabits the floor plane, stretching from wall to wall and up to windows.
The population that can actually view the artwork is an important one, the students in the Department of Art & Design. From the second floor gallery overlook, students have the ideal vantage point. The gallery skylights and floor-to-ceiling windows illuminate the collaged, undulating surfaces. What was a ground plane has become a picture plane filled with lush textures, objects, and imagery.
From curator Hattie Lee: Seen but Not Felt is an exhibition borne out of the impact Covid-19 has had on our society, which becomes reflected in our public spaces; empty galleries with paintings on the walls, but void of visitors to roam the floor and appreciate them, artwork seen through computer screens or windows without the physical space being activated by human presence to complement the artwork. What does it look like to create an exhibition of art pieces that are made to exist on the floor- a space usually open and maneuverable, but not available for usual function anymore? Seen but Not Felt is a collaboration of artists across multiple mediums, to create an installation in the Heuser Art Center Gallery that is designed to be seen from windows or on a screen. The space functions in a new way, just as we are all learning how to navigate space differently.
Congratulations to participating artists: Heather Brammeier, Loreeta Brammeier, Erin Buczynski, Alexandra Dupont, Heather Ford, Nina Gospodin, Nichole Gronvold-Roller, Mie Kongo, Hattie Lee, Nicholas Nyland, Dylan Paschke, Lisa Nelson Raabe, Sydney Ryan, and Trish Williams.
Program Link |  https://us02web.zoom.us/j/88183793721?pwd=di85S2JMcDZPOEtkZlo2UzJxS3RiZz09
Meeting ID: 881 8379 3721
Passcode: 295237
URL: https://art.bradley.edu/bug/
Jam Rohr
Tue, Jun 8 | 1 pm
Jam Rohr is a sculptor located in Peoria, IL. She owns Black Dog Metal Arts LLC with her husband, Danny Rohr, and also owns Up Beet Jams Inc. where she cooks vegan food for the public. Jam received her BA in Painting with a minor in Psychology from Illinois State University in 2014, her MA in Studio Arts from Eastern Illinois University in 2015, and her MFA in Sculpture from Southern Illinois University in Carbondale in 2018. She is involved in the international iron community as she has served on the steering committee for the National Conference for Contemporary Cast Iron Art and Practices in 2019 and 2021, spoke on a panel at the International Conference for Contemporary Cast Iron Art in 2018, hosts public iron pours for artists from across the country in Peoria regularly, and travels the country to cast iron with her husband. Her work has been included in several publications including Studio Visit Magazine, Expose Art Magazine, and the Studio Break Podcast. She has shown her work nationally including Las Vegas, NM, Memphis, TN, Birmingham, AL, Scranton, PA, Jackson, MS, and more. 
To see Jam's work and learn more about her thoughts check out www.jamrohr.art or find her on Instagram @jam_rohr.
Program Link |  https://us02web.zoom.us/j/84998025848?pwd=SmlGdmJzcW9naWZ6QUxWaWtIZ0lIdz09
Meeting ID: 849 9802 5848
Passcode: 223733
Allison Walsh
Tue, Aug 10 | 1 pm
Allison Walsh is an independent documentary filmmaker, freelance videographer, and fine artist, who is committed to local political advocacy and documenting social issues in the Midwest. Walsh's films have screened around the world including Paris, France (Paris Art and Movie Awards), Sayulita, Mexico (Festival Sayulita), Barcelona, Spain (BSF2019), and Chicago, Illinois (Pride Film Fest, Femme Filmmakers Showcase). Walsh is the founder and program director of the Big Picture Film Festival, an international film festival in Peoria, IL (2018-2019). She is a recipient of the Kartemquin Emerging Storytellers Fund (2019), Illinois Arts Council Individual Artist Program (2019), and the Acorn Equality Grant (2018), awarded to work that positively impacts the lives of lesbian, gay, bisexual, and transgender persons and allies. She has been invited to speak about her films at Western Illinois University and the El Paso Museum of History.
Walsh holds a degree from Bradley University where she studied Painting, Spanish, and Philosophy. She is a graduate of the internship program at Kartemquin Films in Chicago. During her time at Kartemquin, she worked on the documentary film Dilemma of Desire (SXSW, 2020), led by the Emmy and Peabody award-winning director Maria Finitzo, and City So Real (Sundance, 2020), led by the Oscar-nominated director Steve James. Her current film, Teaching About Religion (working title), is in post-production.
My website is AllisonWalshArtist.com
Program Link |  https://us02web.zoom.us/j/86105069619?pwd=cnZ2c1loYVJFaUduZk80UmVXWTAxUT09
Meeting ID: 861 0506 9619
Passcode: 621081
-
Questions? Email: hplacko@peoriariverfrontmuseum.org
Free for members & with general admission.