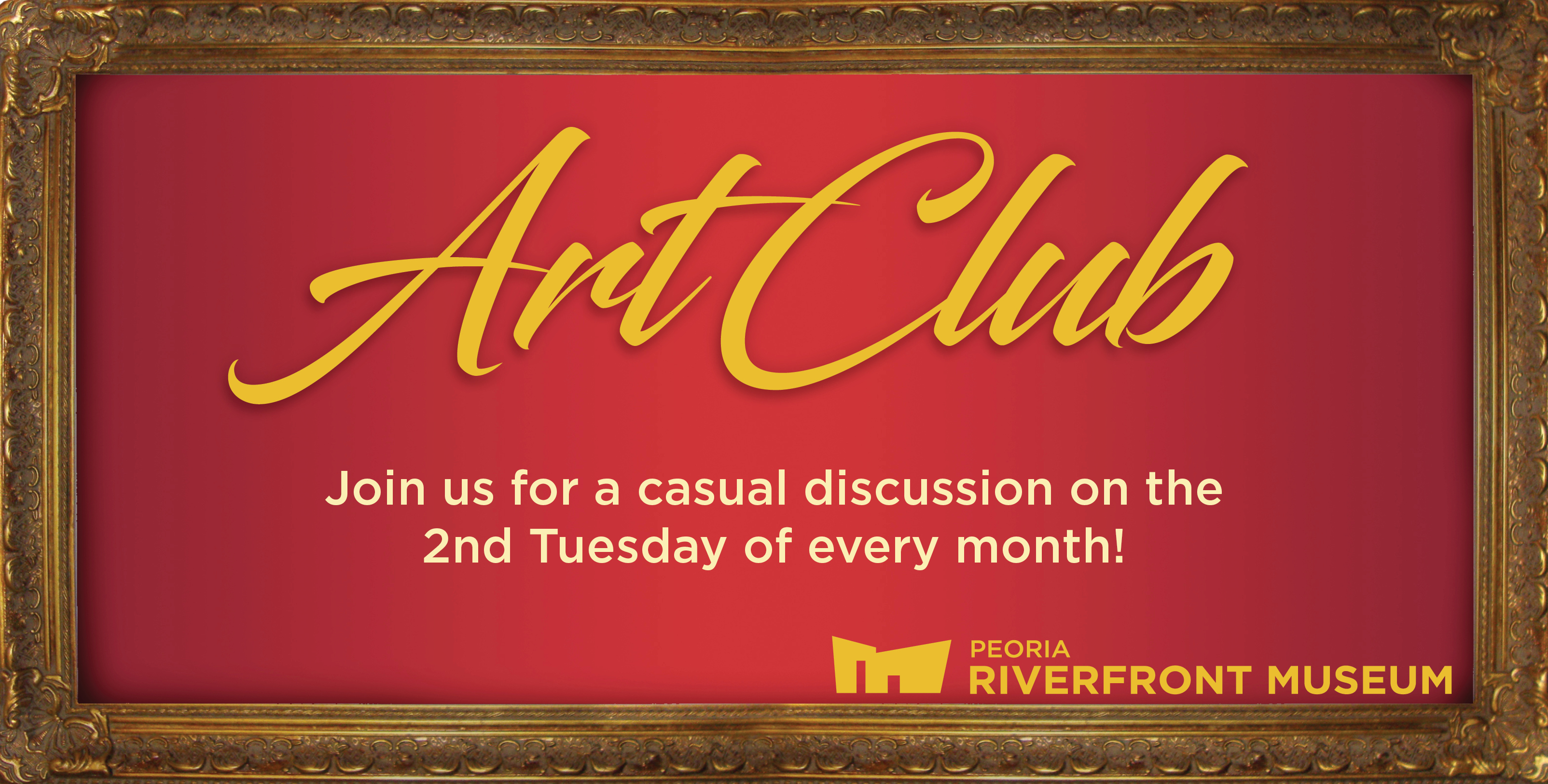 Art Club 
Art Club is a monthly meeting of people who love art. Each month we hear from a different artist or about a new topic. We encourage artists to talk about their own work, a style they love, or another artist they admire. Enjoy a casual discussion (with PowerPoint slides) accompanied by coffee and light treats. Participants are encouraged, though not required, to submit discussion suggestions of art that is related to the topic. 
Check out our YouTube Channel with past Art Club presentations available to watch - click here. 
Upcoming VITRUAL Events:
Tue, Oct 10  | 1 pm
Bob Doucette, presented by the artist
Bob Doucette's whimsical and highly saturated paintings come from the world of dreams. Sometimes bordering on surreal, his imagery is a product of a decade of theater work, puppetry and twenty-five years in the world of animation. As an animation director he was responsible for many well known animated children's programs for PBS including, Chloe's Closet, Dive Olly Dive and Clifford's Puppy Days. He started in animation at Warner Bros. and was involved with many classics like Tiny Toon Adventures and Animaniacs. His independently animated films won him many prestigious awards and honors and his MFA thesis film Pink Triangle, the first animated film to depict the persecution of homosexuals by the Nazis, is in the permanent collection at the New York Public Library.
As a doll maker Bob has been in galleries since the early 90s. His Ben Franklin doll, created for the White House Christmas tree in 1999, is in the permanent collection of the Smithsonian. Many of his dolls are in the private collection of Demi Moore and have been featured in books, magazines articles and TV programs.
Bob earned a BFA at Rhode Island School of Design and an MFA at CalARTS and studied both illustration and animation. He was born in Waterville Maine and at present lives in Peoria with his husband Tom and his two cats Ginger and BooBoo.
Tue, Nov 10 | 1 pm
Natalia Villanueva Linares, presented by the artist
French + Peruvian international Artist graduated with honors in 2010 from L'Ecole Nationale Supérieure des Beaux Arts de Paris. She specializes in space understanding, installation Art and performance. She currently lives in Illinois and works between South/North America and Europe. Her work has been shown in two major exhibitions at the Palais des Beaux Arts in Paris, in galleries and art fairs in France, Germany, the United States, Italy, Spain, France and recently Ecuador. She had her first solo show in Lima, Peru, this year. In 2017, her installation "Estera" was recognized as the culminating piece of the Alumni Show, at the Prairie Center of the Arts, by Peoria Magazine.
In 2018, she participated in the evolutive exhibition Devenir in Paris, where she made a monumental piece with materials found in illinois.
In 2019 she curated for Terrain Biennial the project "The most talkative gestures", presenting 17 local artists on all the windows of the Hale Memorial Church. Natalia has made multiple performances in our city gathering large groups of people to participate in her performative project (meant to heal distance): "SOULUTIONS, The library of gestures". She even created simultaneous actions between Peoria and Paris.
Natalia is a hard working, engaged, moment maker, she dedicated years promoting a local interest in international contemporary Art approaches, she curated a large community of young creative minded people, made connections between Peoria and institutions + Artists around the globe. She is the co-founder of the Arts non-profit organization Yaku Peoria, the Co-Director of the Artist-run mini mansion High Place and also the founder of the nomadic Art magazine Ukayzine, first trilingual magazine made in Peoria! Created to promote international cultural exchanges through the visual Arts.
IG: https://www.instagram.com/nati.work/
FB: https://www.facebook.com/Natalia-Villanueva-Linares-420626268012132
Co-founder: http://www.yakupeoria.org/
Founder: https://www.ukayzine.org/
Tue, Dec 8 | 1 pm
TBD
Tue, Jan 12 | 1 pm
Jessica Bingham, presented by the artist
Jessica Bingham (b. 1989) is an artist, curator, mother, educator, and advocate working in Central Illinois. She is Curator at University Galleries of Illinois State University where she has organized solo exhibitions for Katie Bell and Eric Anthony Berdis, and has a forthcoming solo exhibition planned for Ashley Jude Jonas. Bingham is also the Director and Co-founder of Project 1612, an independent artist-run space and short-term residency program focused on ephemeral exhibitions and participatory performances. Project 1612 was founded in 2015 in collaboration with her husband Zach Ott and fellow artist Alexander Martin. Since the inaugural exhibition, nearly forty solo and two-person exhibitions have taken place, including artists Sophie Ansell, Claire Ashley, ZW Buckley, Reenie Charrière, Ben Cook, Linda Ding, Adam Farcus, Mona Gazala, Rachel Hausmann, Chintia Kirana, Joey Knox, Richard Medina, Eric Peterson, and Angie Saiz. Additionally, Bingham was the previous Curator at Illinois Central College where she organized solo exhibitions for Jan Brandt, Felicia Cannon, Jacob Guzan, Yun Jeong Hong, Ginger Lukas, Dan Ossandón, Ian Shelley, and Trish Williams.
Bingham is dedicated to collaborating with and supporting local and regional artist-run, LGBTQ-owned, Black-led, and NFP organizations. She views such collaboration as an essential part of community development and pride. She co-organized satellite group exhibitions and programming for the 3rd (2017) and 4th (2019) Terrain Biennials. Participating 2017 artists: Gina Hunt, Bryony Hussey, Ryan Paluczak, and Dawn Robin. Participating 2019 artists: Sage Dawson, Venise Keys, Jam Rohr, John Steck Jr. In 2019, Bingham curated a two-part group exhibition at Super Dutchess featuring works by the members of Monaco, an artist collective based in St. Louis. Participating artists: Bruce Burton, Heather Bennett, Jennifer Colten, Sage Dawson, Kristin Fleischmann Brewer, José Garza, Meghan Grubb, Howard Krohn, Yowshien Kuo, Allison Lacher, Tim Portlock, and Edo Rosenblith. Furthermore, Bingham has written regional exhibition reviews for Sixty Inches From Center; co-presented about artist-run spaces at the Midwest Art History Society Annual Conference, The Business of Art, and Beyond Alternatives Symposium; juried and presented for Sky Art Peoria Celebration; co-organized an international film festival with the RPCA in the Peoria Community Garden; facilitated a donation-based art sale to raise funds for Peoria Guild of Black Artists and Girls Light Our Way; and is currently serving on the board of pt.fwd., an independent non-profit organization in Bloomington-Normal presenting performances of contemporary music and sonic arts.
Bingham has also taught in higher-ed at Monmouth College and Bradley University. Through a variety of classes, including Drawing, Painting, Art History, Digital Photography, and BFA and Portfolio Seminars, Bingham invested in future artists by fostering classrooms that sought to develop individualized visual language, engage students in challenging conversations, and support research opportunities that furthered their interest in the art and art history.
In addition to curating exhibitions and engaging community, Bingham is also a practicing artist. Bingham's work has been exhibited at: Woman Made Gallery, Chicago; Neon Heater, Findlay, Ohio; Public Space One, Iowa City; Mantel Art Space, San Antonia; Figge Art Museum, Davenport, Iowa; and Heartbreaker, Peoria, Illinois, among others. She earned her M.A. in 2014 and M.F.A. in 2016 in Painting from Bradley University and her B.A. from Monmouth College in 2012.
If you would like to present at Art Club on your own work, discuss an artist, a style, or an art movement, please email: hplacko@peoriariverfrontmuseum.org
Free for members & with general admission.