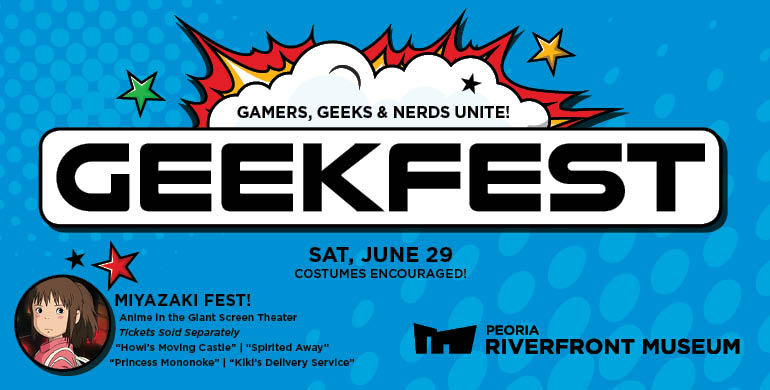 GeekFest | Round 2
Sat, Jun 29 | 5:30-10 pm
All ages fun! Games, building bricks, cosplay, costume contest & more!
Experience the Museum transformed into a nerdy night to remember at our 2nd annual GeekFest: Round 2. Challenge friends and family to video games, explore our new Art of the Brick exhibition! Throughout the night there will be awesome panels, fabulous door prizes, awesome exhibitions in the galleries, vendors selling geeky wares and showing off cool stuff in the auditorium, as well as a juried costume contest (Be sure to review our Cosplay and Costuming Weapons Policy)! 
All ages welcome; under 16 cannot be admitted without a parent.
$15 Members | $20 Public
Buy tickets online now - click here. 
Tickets & more info also available at the Museum or by phone: 309-686-7000.
Full Schedule
5:30-10 pm
Lower Level
Quiet Area Featuring Nerdy TV Shows/Movies | Board Room
Vendors + Artists | Auditorium
Main Level
Table Top Game Room by Titan Games | Illinois River Classroom
Super Smash Bros. Ultimate | Street Gallery
Atari | Object Theater in the Street Gallery
Watercolor Geeky Quotes Craft | Lobby
Peoria Public Library | Lobby
Fondulac Library | Lobby
3D Printer | Lobby
Stellar STEAM Demos + Activities | Lobby
Cardboard Engineering with Makedo | Sun Plaza
Explore Galleries + "Art of the Brick"
6-6:45 pm
Bubble Blast Show + Bubble Free Play | Sun Plaza
6:30-7:10 pm
No Place Like Foam: A Cosplay How To: presented by Aaron Selburg | Stage in Lobby
Selburg will go through how to build cosplay armor and weapons for beginners, painting techniques, attachment systems, and overall items used for building a costume from top to bottom.
6:45-7:30 pm
Yoga for All with Soulside Healing Arts | Sun Plaza (please bring your own mat if possible)
7:15-7:55 pm
Aspiring Authors: presented by Rey Clark | Stage in Lobby
Clark will discuss the art of crafting a story, how to establish a writing schedule, and how to publish. Will include an audience Q&A.
8-8:40 pm
Premiering at GeekFest:
From Start to Finish: A Cosplay Project Panel: presented by La Vie Cosplay | Stage in Lobby
LK & Persephone will walk attendees through the process of creating one of their recent projects, step by step, from start to finish. Topics will include research, finding/creating patterns, selecting materials, technique, embellishments, and styling to pull it all together. They will be sharing their nearly 40 years of combined cosplay experience with GeekFest attendees!
9-9:45 pm
Scavenger Hunt Prize Drawing, 4 tickets to Spider-Man: Far From Home | Stage in Lobby
Cosplay Contest | Stage in Lobby
Miyazaki Fest in the Giant Screen Theater:
Noon | Princess Mononoke
2:30 pm | Kiki's Delivery Service
5 pm | Howl's Moving Castle - 15th Anniversary!
7:30 pm | Spirited Away - Academy Award-winning Animated Film
Get $2 off admission to GeekFest when you purchase a ticket to one Miyazaki Film - discount only available in person or by phone 309.686.7000. Or show your Miyazaki Film ticket day of & get $2 off GeekFest admission!
For film descriptions - click here. 
Featured Community Partners and Vendors:
River City Labs | Peoria's premier MakerSpace
Titan Games Peoria | tabletop games and gear
La Vie Cosplay | award-winning cosplayers
Soulside Healing Arts | yoga for everyone
Peoria Public Library
Fondulac District Library
501st Midwest Garrison | Star Wars costuming organization
Kimmy's Hair Pretties | fandom hair accessories and more
CuppaGeek Teas | geeky tea blends and accessories
PlayNormal Esports | eSports arena
Geek Art Custom Creations | handmade bags and accessories
Geek Art by Zentner | prints, illustrations, paintings, pyrography
NSB Comics | self-published comics and other geeky goods
Rachael Dunn | fantasy author
Jeremy Berkley Art | pop culture inspired silk screen prints
Rey Clark | indie fantasy & science fiction author
Ravenwing Creations | handmade jewelry
Trever Bierschbach Writes | books and art prints
Kiley Beecher Creative | buttons, prints, original artwork
Andy Zach | sci-fi author
Magic Cat Crafts | handmade crafts and art
Atomicwarkitten | geeky crochet, posters, dice bags, and more
Inknoor Art | watercolor art on stickers, prints, magnets, and more
Katie's Bowtique | variety of character and geeky themed bows
AshuriiYuki Productions LLC | Kawaii handmade accessories
Jim Trifone | tabletop gaming accessories
Aaron's Awesome Builds | cosplay patterns and props
Perler Mama | handmade items made from Perler Beads
Ink And Feathers Comics | original art, color prints, graphic novels
Southern Moon Creations | embroidered bags, towels, and more
Taryn Klockenga | variety of fan art prints
J.E. Mueller | fantasy author
Teresa Louise Menk | Face Painting
Vendor Tables - SOLD OUT!
We're sold out of vendor spots for 2019 GeekFest, to be a part of GeekFest 2020, contact hplacko@peoriariverfrontmuseum.org. Any vendors interested in obtaining space at GeekFest should fill out the Vendor Entry Application and send it with requested images to Heather Placko, hplacko@peoriariverfrontmuseum.org or Peoria Riverfront Museum, 222 SW Washington St., Peoria, IL 61602. Questions? Call 309.863.3046.  
Panel/Activity Information
Interested in hosting a panel or activity at GeekFest should fill out the Panel Application and send it with requested images to Heather Placko at hplacko@peoriariverfrontmsueum.org or by mail at Peoria Riverfront Museum, 222 SW Washington St, Peoria, IL 61602. Questions? Call 309.863.3046. 
2019 GeekFest Panel Application
Questions? Contact Heather at hplacko@peoriariverfrontmuseum.org or call 309.863.3046.