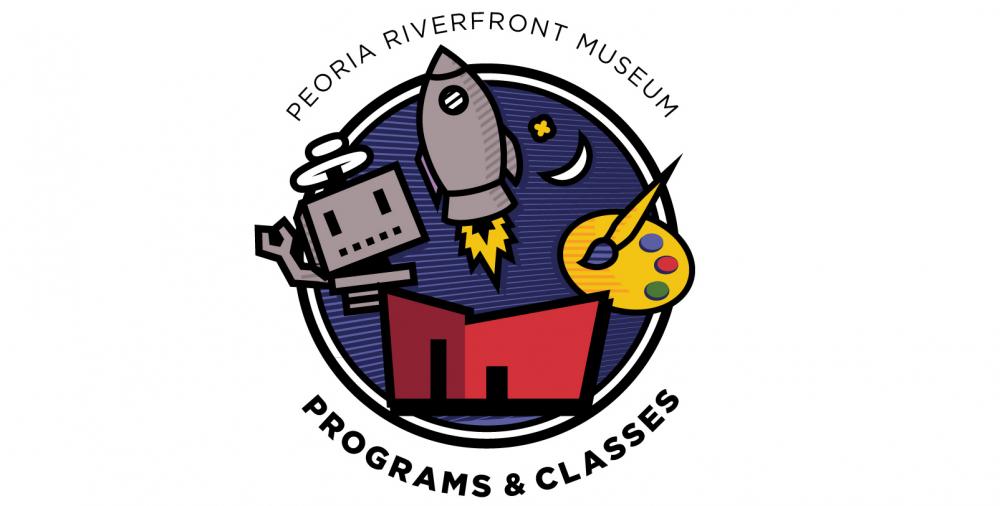 Peoria Riverfront Museum is a great place for scouts of all ages to explore art, science, history, and achievement. Our scouting programs include dedicated merit badge workshops, group tours, and outreach programs. To schedule a program, please call Jack Daleske at 309.863.3048 or email at jdaleske@peoriariverfrontmuseum.org.
Merit Badge Workshops
Please see below for a list of some of our most popular badge workshops. Other workshops can be provided on request. While many workshops are designed with specific badges in mind, workshops are open to Scouts and siblings of all ages. All supplies will be provided. Workshops cost $16 per participating child. If fewer than 10 Scouts are participating, a flat fee of $160 is required.
Cub Scouting Patch Workshops
Sky is the Limit
Tiger Scouts can study astronomy in the planetarium and earn their Sky is the Limit belt loop. The workshop will fulfill requirements 3-8 and prepare the Scouts for requirements for their night hike (requirements 1 & 2 will not be completed at the museum). (Tiger)

Air of the Wolf
Learn the science of air and weather in the river lab! Cub Scouts will experiment with density, temperature, and sound. Scouts will also work to design and build the best paper airplane. (Wolf)

Game Design
In this workshop, Scouts will design their own video game! Working as a group, Scouts will learn about the basics of game design and the basics of computer programming using Scratch. Scratch is a web-based program developed by MIT to make an accessible but powerful programming language for students. (Webelos)

Super Science
Explore the science behind static electricity, light, and density! (Bear)

Forensics
Scouts will learn the science of solving crimes and experiment with fingerprinting, microscopic analysis, and chromatography. This workshop will fulfill requirements 1-4 and 6-7. Requirement #5 (Visit a police station) will not be fulfilled at the museum. (Bear)

Stories in Shapes
Learn about art and make some of your own! (Tiger)
Girl Scout Badge Workshops
Craft Potter
Scouts will learn how to work with clay to make their own masterpiece in the museum pottery studio. The pieces will be fired in the studio kiln. Parents will have to pick up the finished pieces the following week. This workshop fulfills all of the requirements for the craft potter badge! (Brownie)

Space Science Adventurer
Learn about stars, constellations, and the solar system in the planetarium! (Brownie)

Home Scientist
This Scouting at the Museum event is a one day workshop for Brownies to earn their Home Scientist badge with safe but exciting experiments that might not be possible at home. Experiments include static electricity, chemical reactions, and density. (Brownie)

Painting
Grab a smock and join us in the museum studio! Girl Scout brownies can earn their Painting patch and have fun learning different styles of making art. No supplies required. While smocks will be provided, girls should wear an outfit that is OK to get paint on. (Brownie)

Book Artist
This is a one-day workshop for Cadettes to get creative with books! The girl scouts will learn the basics of bookbinding and will even make their own diary to take home! The workshop includes everything the scouts need to get their patch! (Cadette)

Detective
Scouts will learn the science of investigation with activities from fingerprinting to microscopic analysis to writing secret codes! (Junior)

Entertainment Technology
Girl Scout juniors can earn their Entertainment Technology patch and have fun learning how to make movies and video games. (Junior)

Sky
Explore the science of the skies in the River Science Lab and study constellations in the planetarium! (Senior)
Group Tours
Group tours can be reserved for groups of 15 scouts or more. School group rates are extended to scouting troops. 
More info about field trip options & pricing - click here.  
To reserve a group tour please contact our Group Tours Coordinator at 309.863.3013.

School Loan & Astronomy Outreach
Hands-on education kits are available for Scout leaders at no cost. These kits include educational models, replicas, and activities for every conceivable subject. To learn more about our school loans - click here.
Our astronomy experts can come to you with our reflecting telescope or inflatable planetarium. Learn more about rates and availability - click here.
For additional questions please contact Jack Daleske at 309.863.3048.