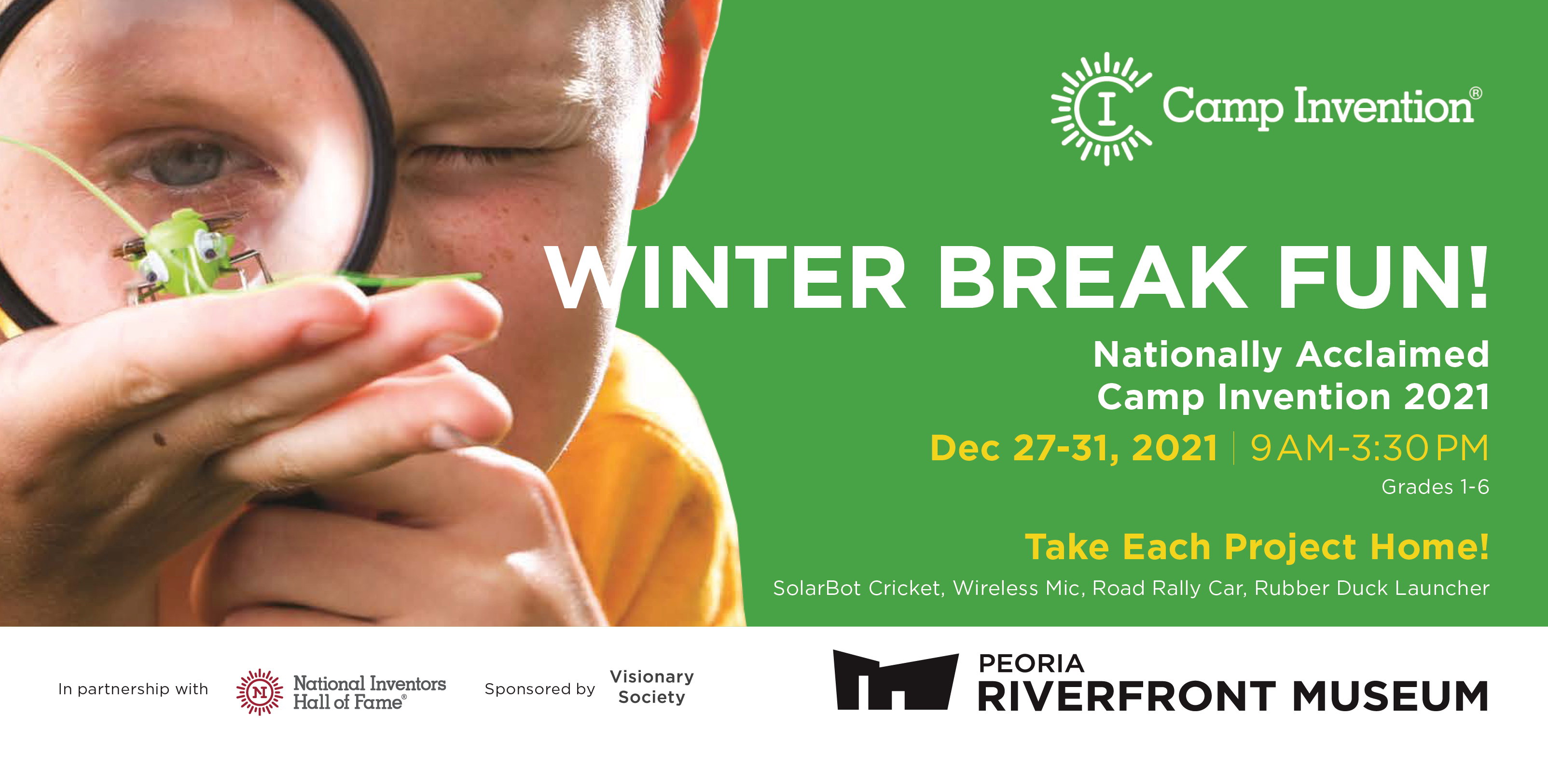 WINTER BREAK FUN! | CAMP INVENTION 2021
Register today for the Nationally Acclaimed Camp Invention Recharge! – our new winter break STEM day camp, in partnership with the National Inventors Hall of Fame!
Grades 1-6
December 27-31, 2021 | 9 am - 3:30 p.m.
Peoria Riverfront Museum
Recharge winter break and energize your child's confidence, creativity and imagination! Camp Invention® day campers engage in exciting hands-on STEM challenges each day, from creating a solar-powered cricket to designing a duck-launching device. Each activity is designed to give every young innovator an unforgettable experience and a take-home invention, including a SolarBot Cricket, Wireless Mic, Road Rally Car and Rubber Duck Launcher!
Space is limited, register HERE!
Camp Innovation Builds Confidence, Creativity & Problem-solving Skills, Hands on!
KIDS TAKE EACH DAY'S PROJECT HOME:
SOLAR BOT CRICKET | Make and adopt a robotic solar-powered cricket, creating custom habitats and protective gear for it.
WIRELESS MIC | Reverse engineer a wireless mic and put sound waves into action.
ROAD RALLY CAR | Design a morphing vehicle that travels across land, adding prototype elements inspired by nature for moving through air and water.
RUBBER DUCK LAUNCHER | Experiment with cool physics concepts while testing and modifying a device to launch rubber ducks.

Parents and caregivers please take advantage this winter break of our exciting and nationally acclaimed Camp Invention STEM program for your children, in partnership with the National Inventors Hall of Fame!
Barb Dawson
Director of Education & Engagement
Peoria Riverfront Museum
---
Get early bird discounts when you register today!
Price: $235
DISCOUNT CODES
Save $25 with code SAVE25 (Expires Nov 30, 2021)
Save $30 per child with code SIBLOVE30 (For 2 children, Expires Dec 31, 2021)
Save $40 per child with code SIBLOVE40 (For 3+ children, Expires Dec 31, 2021)
Visit invent.org/mylocalcamp to secure your spot!
Download more information here. 
Camp Invention® Recharge! is a nationally acclaimed summer STEM program led by certified local educators and grouped by grade level to create effective, encouraging learning environments. 
In partnership with National Inventors Hall of Fame. Sponsored by Visionary Society.
For more information, contact Camp Director Angela Drach at adrach@peoriariverfrontmuseum.org.