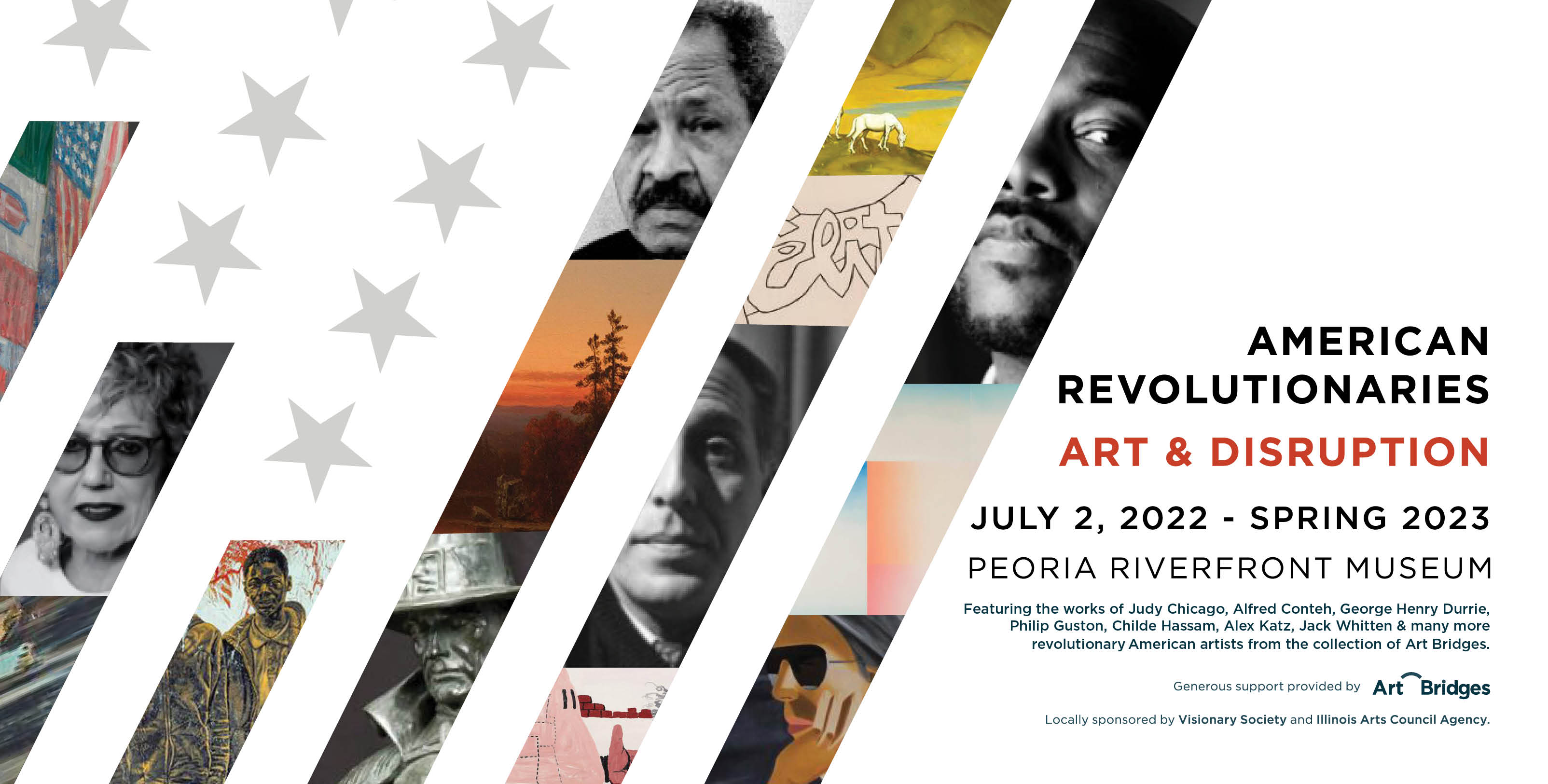 AMERICAN REVOLUTIONARIES
ART & DISRUPTION
July 2, 2022 - Spring 2023
Peoria Riverfront Museum
Disruption is the firebrand nature of great artists who, through competing art movements, seek to advance truth by rattling the status quo with new modes of expression and new windows into understanding the American condition.
In the largest-scale collaboration to date with philanthropist Alice Walton's Art Bridges, "American Revolutionaries" represents the first loan of a curated art grouping from her foundation's collection. The foundation's dozen major works are integrated into the exhibition with objects from the Peoria Riverfront Museum's Permanent Collection and other private loans.
Representing a disparate yet compelling assembly of American artworks spanning 166 years from 1854 to 2020, these works, examples of some of the most significant artists in the nation's history, examine an extraordinary range of aesthetic and socio-political content which has carved the identity of American art and the American condition.
ARTISTS
Featuring the works of Judy Chicago, Alfred Conteh, Stuart Davis, George Henry Durrie, Sanford Robinson Gifford, Arshile Gorky, Philip Guston, David Hammon, Childe Hassam, Luis Alfonso Jimenez, Alex Katz, John Frederick Kensett, Augustus Saint-Gaudens, Henrietta Mary Shore & Jack Whitten, on loan from Art Bridges.
ART
Learn more about specific works in "American Revolutionaries: Art & Disruption"!
Learn the story behind "Bacchante and Infant Faun," sculpted by Frederic William MacMonnies HERE
What do the Oval Office and the Peoria Riverfront Museum have in common?
Learn about Childe Hassam's art HERE
THANK YOU TO OUR SPONSORS
Generous support for this project provided by Art Bridges.

Sponsored locally by Visionary Society & Illinois Arts Council Agency.