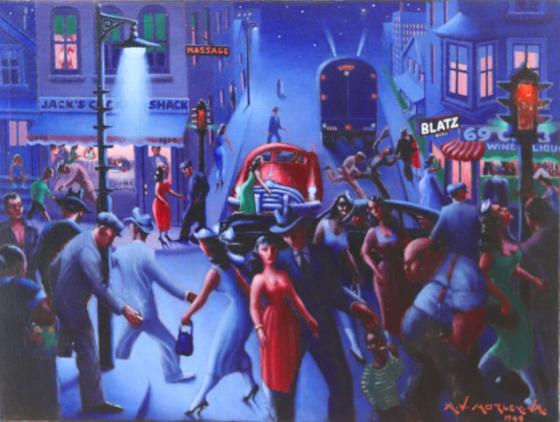 ARCHIBALD MOTLEY'S 
BRONZEVILLE AT NIGHT
March 3, 2022 – September 2024
See it across from Preston Jackson's "Bronzeville to Harlem: An American Story"!
"In 'Bronzeville at Night,' on yearlong loan from Art Bridges, we glimpse at a darkened street in the Bronzeville neighborhood of Chicago that in the early 1900s rivaled Harlem, New York. The exaggerated frenzy of the street is a self-contained world that the viewer is both part of, yet removed from. Motley's genre paintings give the outsider a view of a vibrant and frenetic world which is exclusive to those in it.
"The works of the New Orleans born Chicago painter, Archibald Motley (1891-1981) are unmatched in their inventive depictions of Black culture during the Harlem Renaissance. The insular, urban environments within Motley's paintings are very much painted from the perspective of an outsider. A mixed-race individual himself, Motley struggled with his racial identity and incorporated that struggle into his paintings. Moreover, the people in the painting possess an array of skin tones. Motley himself said 'I don't paint black people, I paint colored people.' The term 'colored' to Motley indicated a freedom from merely being categorized as 'black.' In a 1978 interview he elaborated that 'I think everybody, every human being is different.'
"Having studied in Paris for year under a Guggenheim Fellowship in 1929, Motley studied the works of the Italian Renaissance and of Dutch genre painting which compressed snippets of everyday life into a single packed scene which gave context and scope to life in that time period. When he returned, Motley created his most important paintings which explored black culture through panoplies of urban density pulsing with rhythm and human energy."
-- Chief Curator Bill Conger
A kaleidoscopic parade of dapper men, elegant young women, rambunctious youths, and blue collar workers fills Motley's nocturne, which is set in the neighborhood known as Bronzeville on Chicago's South Side. The jazz-infused neighborhood of pool halls and cabarets was both ribald and artistically invigorating to Motley. His vivid and energetic scene is enclosed by brick and asphalt, with no sign of nature. It is an urban canyon illuminated by the glow of artificial light; its denizens carouse amid signs that advertise alcohol and tobacco or present sly innuendo. A window above the street frames a voluptuous woman, who, together with the sultry hustler at far left, counters the innocence of a thumb-sucking child in the foreground. Motley was the first American artist to paint images of Black social life in cities, and this work is both earnest and exuberant, presenting a colorful tangle of vice and vitality that illustrates the complex dynamics of city life. 
ARTWORK
Archibald John Motley Jr. (1891 - 1981), "Bronzeville at Night," 1949. Oil on Canvas, 30 × 40 in. (76.2 × 101.6 cm). On loan from Art Bridges.
THANK YOU TO OUR SPONSORS
Generous support for this project provided by Art Bridges.
Sponsored locally by Visionary Society & Illinois Arts Council Agency.