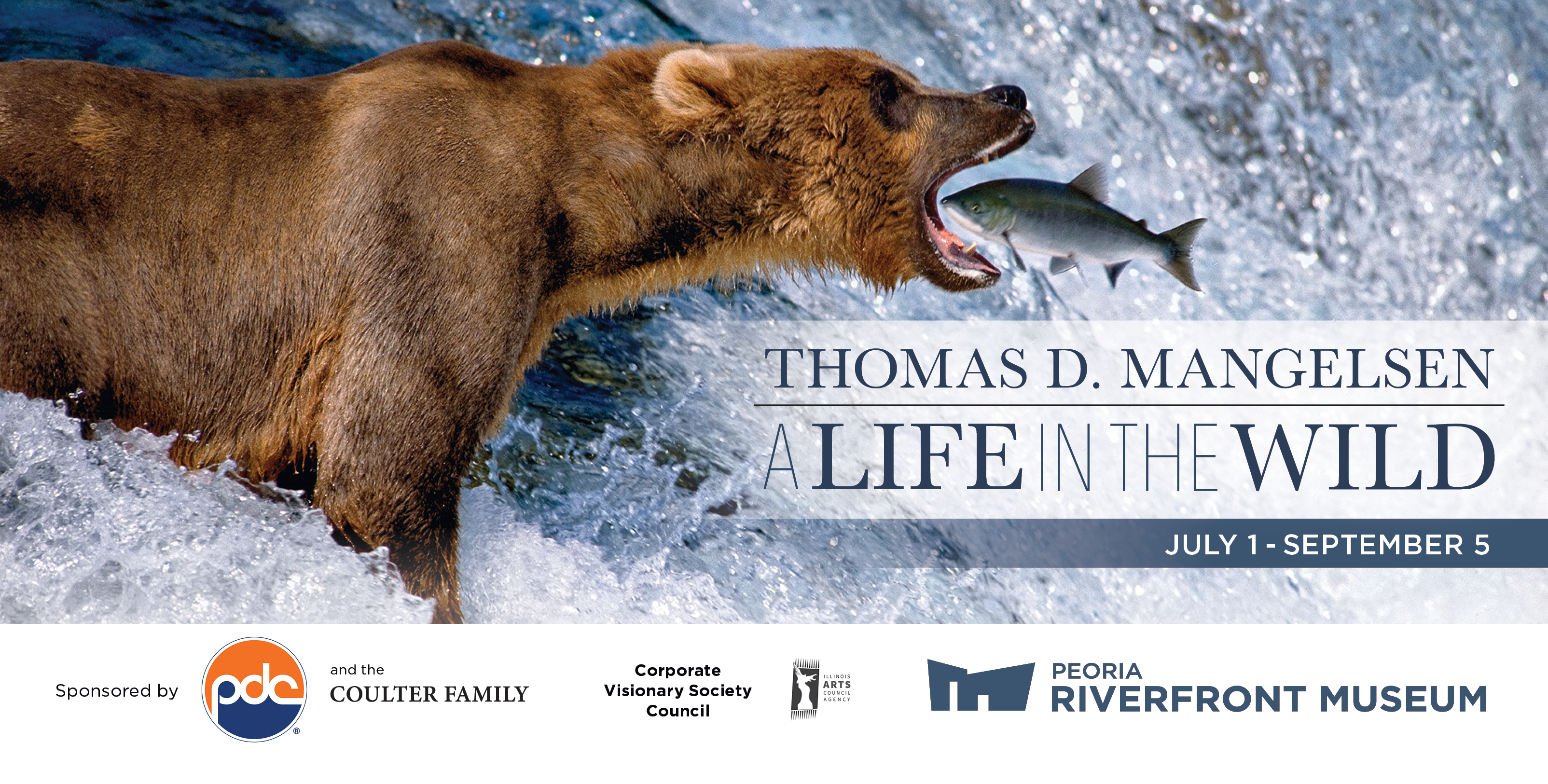 Photo detail: "Catch of the Day," Thomas D. Mangelsen's most famous wildlife photograph.
Check out our LIVE virtual programs featuring Thomas D. Mangelsen - click here. 
Thomas Mangelsen: A Life in the Wild
July 1 - September 7
Illinois River Gallery
Thomas Mangelsen, perhaps the world's best known wildlife photographer, has produced a legendary body of work through more than 40 years of traveling to the wildest corners of North America and beyond. His work includes truly awe-inspiring landscapes and some of the most recognizable wildlife scenes ever photographed, including many considered the most important of the modern environmental age. This exhibition of Mangelsen's most iconic, large-scale photographs will open Peoria Riverfront Museum's newly renovated Illinois River gallery. 
Mangelsen's award-winning photography books are available in the Museum Store.
THOMAS MANGELSEN
One of the most prolific nature photographers of our time, Mangelsen is as much an artist as he is a conservationist. Tom was named the 2011 Conservation Photographer of the Year by Nature's Best Photography, placing his work in the permanent collection at the Smithsonian's National Museum of Natural History in Washington, D.C. He was named one of the 40 Most Influential Nature Photographers by Outdoor Photography. His image Polar Dance was selected by the International League of Conservation Photographers as one of the 40 Most Important Nature Photographs of All Time. He was chosen as one of Dr. Jane Goodall's Heroes of the Animal Planet and profiled in the television series of the same name. Mangelsen was named one of the 100 Most Important People in Photography by American Photo magazine and honored with Nikon's Legend Behind the Lens recognition. The North American Nature Photography Association named him Outstanding Nature Photographer of the Year, and Mangelsen also received the prestigious British Broadcasting Corporation's Wildlife Photographer of the Year Award. He was presented with an honorary doctorate from Doane College and received an Honorary Fellowship from The Royal Photographic Society. Mangelsen's photographs have been exhibited internationally and published in award-winning books.
THANK YOU TO OUR SPONSORS
The museum gratefully acknowledges our exhibition presenting sponsors, PDC & the Coulter Family, with additional sponsorship by the Corporate Visionary Society Council and Illinois Arts Council Agency.
EXHIBITION
THOMAS D. MANGELSEN – A LIFE IN THE WILD, Produced by David J. Wagner, L.L.C. 
Discover more about the exhibition, here: mangelsen.com/exhibition