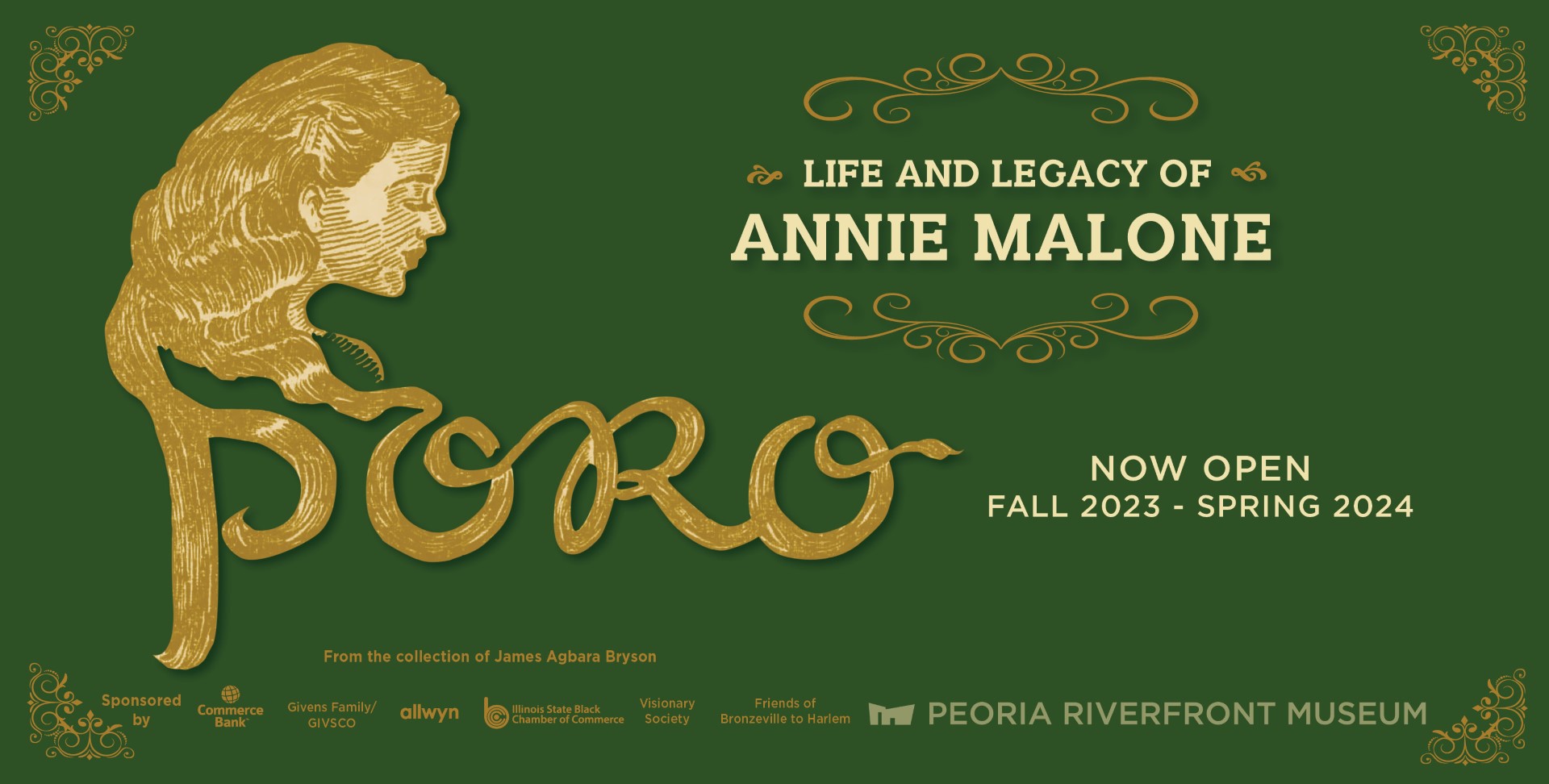 LIFE AND LEGACY OF ANNIE MALONE
Opens September 16, 2023
Annie Minerva Turnbo Malone, born August 9, 1869, was the nation's first female Black millionaire. Malone made her fortune in the haircare industry, rising to international acclaim through the creation of a cosmetics line and the first Black owned hairdressing college; both under the name PORO. She was central Illinois born and raised, with roots in our very own Peoria, IL. Malone attended a school that still stands in the Peoria area, Peoria High School. As she went on to be an educator and mentor herself, with Poro haircare and college, we prove once again that Peoria can bring great things through education, community, and inspiring confidence in our own city.
Poro haircare/Poro College:
At the turn of the twentieth century, Annie Malone was ready to take her hair grower to market. Annie saw Black women experiencing hair loss and scalp injury due to improper hair straightening techniques using animal fats and high heat that negatively impacted their hair. This product was first developed at Annie's home with several formula adjustments tested on sisters and friends. Poro Hair Grower was the first product sold by Annie and her direct saleswomen, called agents. Companies like Avon and Tupperware use the direct sales method that was popularized by Poro agents.
Annie Malone's legacy lives on:
Although she did not complete formal schooling herself, her vision of financially independent women spreading the practice of self-care led to the opening of Poro College, the first Black-owned cosmetology school in the nation. Annie purchased several buildings in St. Louis and Chicago. Each time she bought a larger facility, her business' demand and success outgrew the space. Quickly, Poro College expanded across the continental US boasting thirty-two locations in every major city.
Newspapers often referred to Annie Malone as the most successful and supportive person of her race. By 1924, Annie Malone's net worth was $14 million, but she spread the wealth with the Black community across the United States. Throughout her career, it is estimated she donated over $100,000, equivalent to over $1.5 million in today's purchasing power, to support the Black community through historically Black colleges and universities, community organizations and personal sponsorships. Her generous gifts made her one the nation's first major African American philanthropists.
Annie Malone was a rich woman, because of the wealth she built for herself and for the way she enriched the lives of her community through philanthropic and educational support. Her contributions formed a legacy that can still be felt today. Learn more about her story in the exhibition "Life and Legacy of Annie Malone."
Sponsored by Commerce Bank, Givens Family/GIVSCO, Allwyn, Illinois State Black Chamber of Commerce
Additional support from: Peoria Area Chamber of Commerce, Supreme Solutions, Infrastructure Engineering, IDG+ Architects, Ameren Illinois, Visionary Society, Friends of Bronzeville to Harlem