Event Details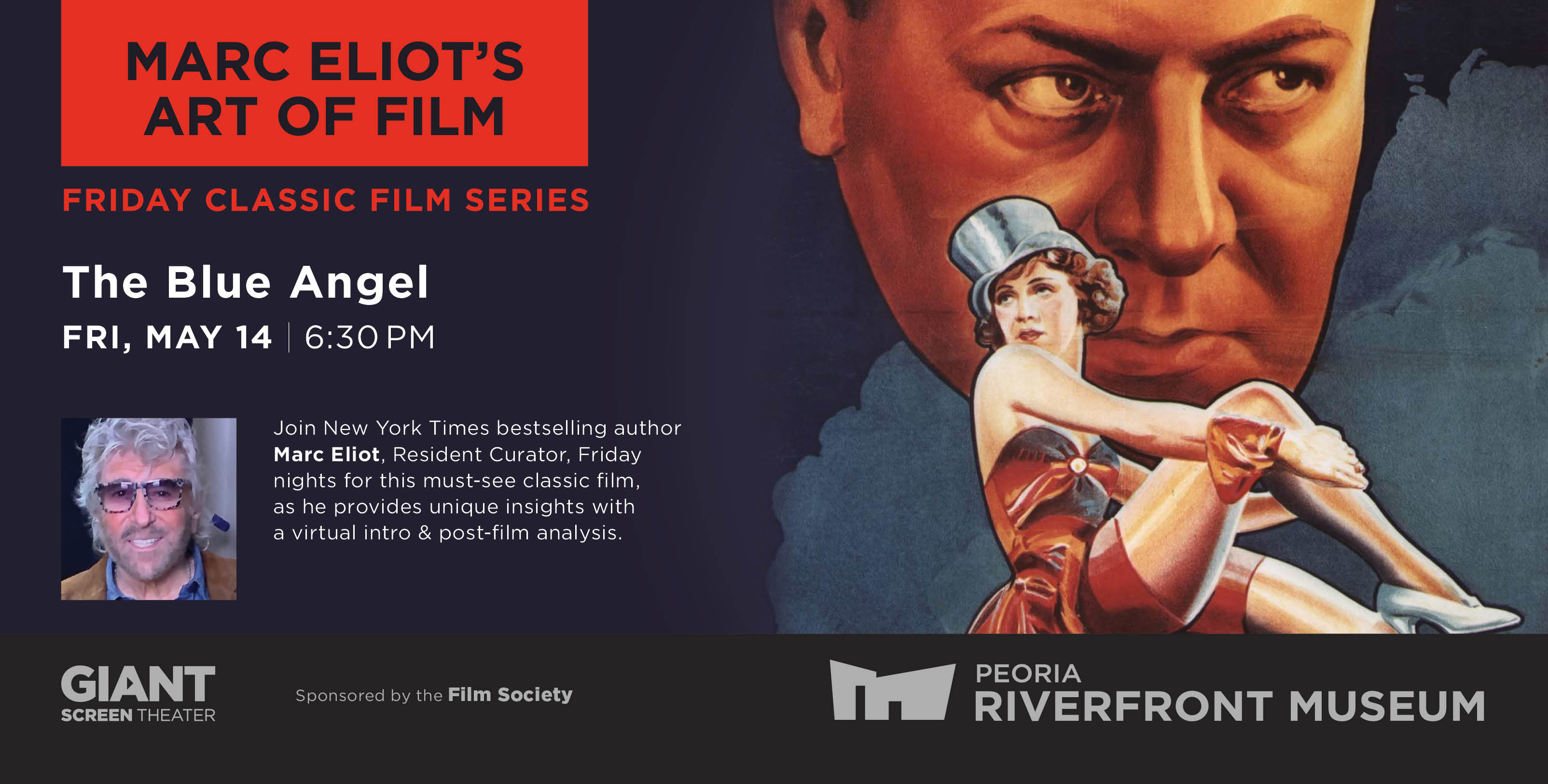 Fri, May 14 | 6:30 PM
Tickets | CLICK HERE
Join us for our new weekly film series in the Giant Screen Theater, "Marc Eliot's Art of Film," with The New York Times Best-Selling Author! Peoria Riverfront Museum is pleased to announce the residency of film critic and historian Marc Eliot, who is the author of more than two dozen books on pop culture and biographies on Hollywood icons. Marc has personally selected each of the films in the "Art of Film" series and provides virtual commentary for each film before and after the film's screening at the museum.
THE BLUE ANGEL, 1930. Director: Joseph Von Sternberg. With Marlene Dietrich and Emil Jannings.
This remarkable film made Marlene Dietrich a star in America. Her co-star, Emil Jannings, won the first Best Actor Oscar (for "The Last Command"), and, while he had a relatively brief career in Hollywood, his work remains an outstanding example of Expressionist acting. The entire film is heavily influenced stylistically by German Expressionism, but its story is universal, that of a stodgy, if well-respected man of society succumbing to the charms of a beautiful, if immoral woman with disastrous results. This is the film that set the standard for the "femme fatale" the Hollywood system thrived on, and, in its pre-code production, allowed Dietrich to fully express what it was about her that drove all men (and many women) crazy. Iconic in every way, this is one of the most important films to come out of the studio system (Paramount). Sternberg and Dietrich made 7 films together, of which this was the first. He was hopelessly in love with her from the beginning, making the film a remarkably personal statement. The story of Unrat and Lola is really the story of Sternberg and Dietrich.
- Marc Eliot