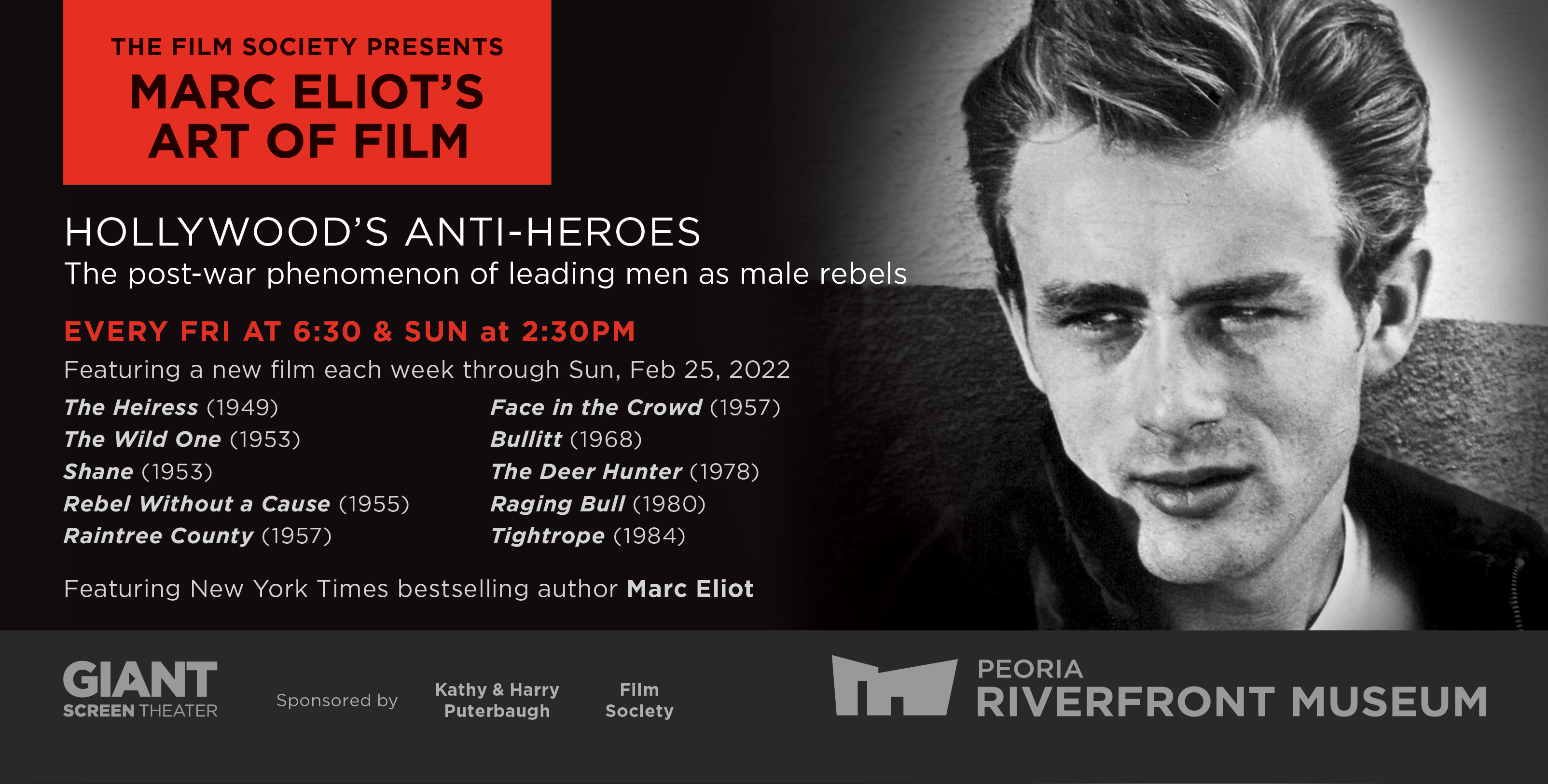 Marc Eliot's Art of Film
Hollywood's Anti-Heroes
Join film historian, art critic, educator, New York Times best-selling author and our resident film curator Marc Eliot every Friday night for the Greatest Films ever released, screened like they should be seen on the Giant Screen. Marc Eliot personally selects each of the films in the "Art of Film" series and provides in-depth commentary for each film with an introduction to the film before screening and a full post-film discussion after screening.
In this cycle of films, we look at the post-war phenomenon of leading men as male rebels – anti-heroes – a character type introduced by Hollywood following the end of World War II. With the return of American forces, there was no longer a great need for women to be Rosies the Riveters, or teens to take on jobs and become "the man of the house" while their husbands, older brothers and fathers were overseas.
However, after the war, for practical purposes (leading men had aged out of their youthful appeal during those tumultuous five years), the age of the Hollywood hero was lowered, to appeal to the ticket-buying demographic being taken over by the newest leisure class with money to spend for leisure: the new teenagers. They gave rise to the young romantic male heroes that emerged, sensitive rather than stoic, boyish rather than been-there, rebellious rather than conformist, viscous rather than visionary, conning rather than cunning.
Sponsored by: Harry & Kathy Puterbaugh, Visionary Society
--
A FACE IN THE CROWD (1957)
Fri, Jan 28 | 6:30 PM
Tickets: CLICK HERE
Sun, Jan 30 | 2:30 PM
Tickets: CLICK HERE
--
BULLITT (1963)
Fri, Feb 4 | 6:30 PM
Tickets: CLICK HERE
Sun, Feb 6 | 2:30 PM
Tickets: CLICK HERE
--
THE DEER HUNTER (1978)
Fri, Feb 11 | 6:30 PM
Tickets: CLICK HERE
Sun, Feb 13 | 2:30 PM
Tickets: CLICK HERE
--
RAGING BULL (1980)
Fri, Feb 18 | 6:30 PM
Tickets: CLICK HERE
Sat, Feb 19 | 2:30 PM
Tickets: CLICK HERE
--
TIGHTROPE (1984)
Fri, Feb 25 | 6:30 PM
Tickets: CLICK HERE
Sat, Feb 26 | 2:30 PM
Tickets: CLICK HERE