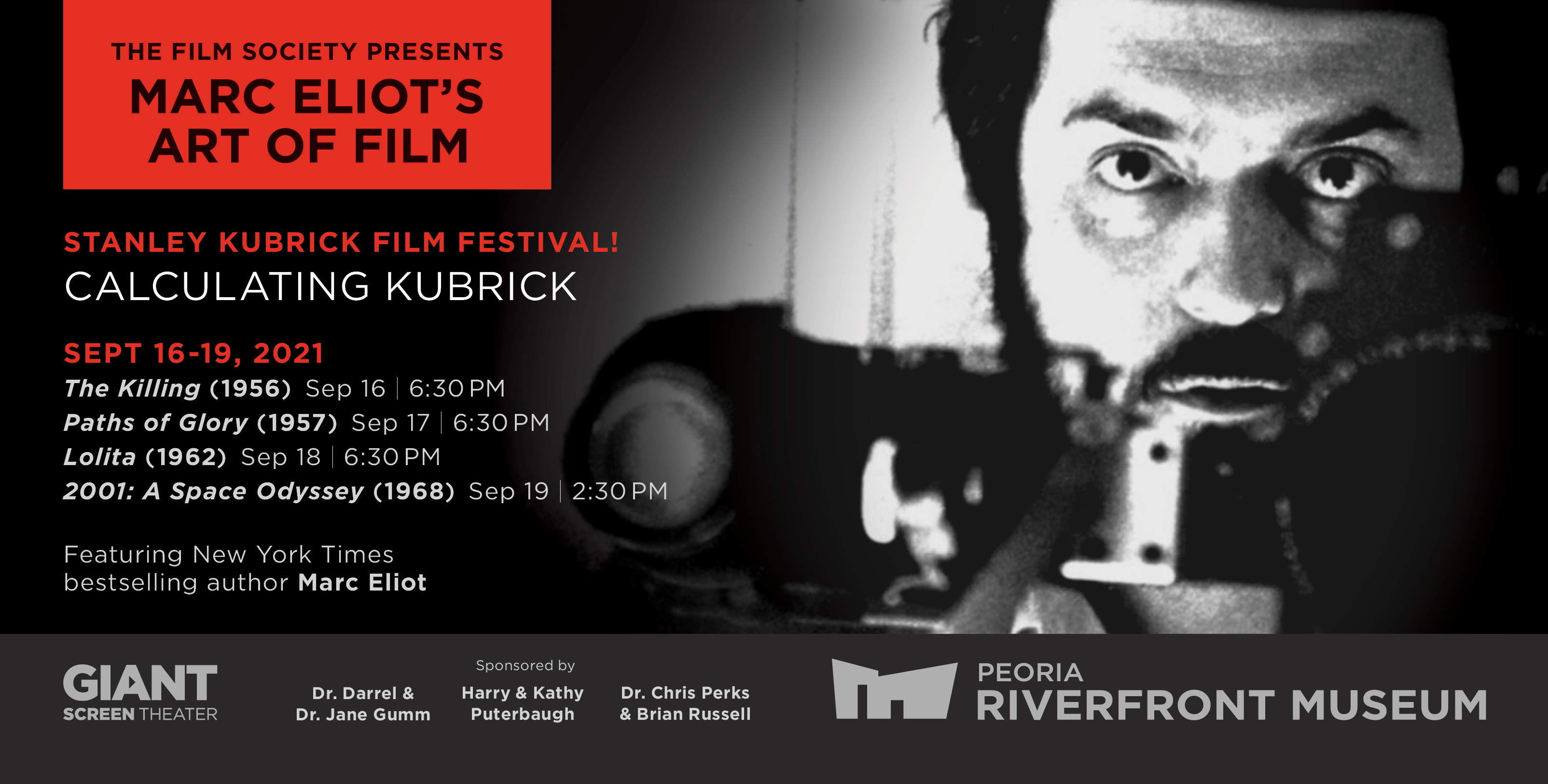 MARC ELIOT'S ART OF FILM | STANLEY KUBRICK FILM FESTIVAL
"CALCULATING KUBRICK"
SEPTEMBER 16 -19, 2021
THE KILLING
Thu, Sep 16 | 6:30 PM
PATHS OF GLORY
Fri, Sep 17 | 6:30 PM
LOLITA
Sat, Sep 18 | 6:30 PM
2001: A SPACE ODYSSEY
Sun, Sep 19 | 2:30 PM
Join film historian, art critic, educator and New York Times best-selling author Marc Eliot in person September 16-19 for the museum's special "Art of Film" festival focusing on the work of director Stanley Kubrick. 
"Calculating Kubrick" features the rarely seen The Killing, Thursday, Sept. 16, 6:30 p.m.; Paths of Glory, Friday, Sept. 17, 6:30 p.m.; Lolita, Saturday, Sept. 18, 6:30 p.m.; and 2001: A Space Odyssey, Sunday, Sept. 19, 2:30 p.m.
This special festival is an extension of our "Art of Film" series in the Giant Screen Theater with Peoria Riverfront Museum Resident Film Curator Marc Eliot, who is the author of more than two dozen books on pop culture and biographies about Hollywood icons.
Marc Eliot personally selects each of the films in the "Art of Film" series and provides in-depth commentary for each film with an introduction to the film before screening and a full post-film discussion after screening.
Sponsored by: Dr. Darrel & Dr. Jane Gumm, Harry & Kathy Puterbaugh, Dr. Chris Perks & Brian Russell
---
THE KILLING (1956)
In only his third feature, Kubrick turns the heist genre on its head while paying homage to two of the directors who had the most influence on him, Orson Welles and John Huston. Made on a minuscule budget of less than $300,000, the film features one of Kubrick's (and Huston's) favorite actors, the scandalously underrated Sterling Hayden. - Marc Eliot
Tickets - CLICK HERE!
PATHS OF GLORY (1957)
Starring and produced by Kubrick's longtime partner, James Harris, and Kirk Douglas' independent production company, Paths of Glory borrows heavily from William Wellman's 1943 The Ox-Bow Incident, to such a degree it may be seen as a remake. This incredible anti-war film, set safely back in World War One, has one of the most excruciating climaxes ever seen on the silver screen and one of the most touching endings. Wellesian in every way, this is one of the most important films of Kubrick's career. - Marc Eliot
Tickets - CLICK HERE!
LOLITA (1962)
Considered by many to be Kubrick's masterpiece, Lolita borrows Nabokov's central thesis, the anti-Jamesian notion that after World War II old Europe was seduced by young America, personified here by the sterling performances of James Mason and Sue Lyon. She never again achieved the level of sulking she did in this, her debut film. - Marc Eliot
Tickets - CLICK HERE!
2001: A SPACE ODYSSEY (1968)
Fasten your seatbelts and get aboard the Zeitgeist Express for a joyride of the film that captured the American '60s far better than Woodstock or Five Easy Pieces. 2001 anticipates the landing on the Moon, Microsoft, psychedelic silliness, and pays homage to traditional Judaism, all climaxing with one of the most unique interpretations of Jesus' rebirth. No room at the inn, no room in the solar system? As John Denver might say:
"Far out!" - Marc Eliot
Tickets - CLICK HERE! 
---
MARC ELIOT
Marc Eliot is a renowned classical film scholar and New York Times bestselling author of more than 25 books including definitive biographies on John Wayne, Jimmy Stewart, Clint Eastwood, Charlton Heston, Steve McQueen, Cary Grant and Clint Eastwood, as well as Ronald Reagan (Reagan: The Hollywood Years) and Walt Disney. A New York City native, Eliot began his career as a child actor and student at the High School of Performing Arts (featured in Fame), and has worked as a musician, television producer, and writer for national magazines. He holds an advanced degree from Columbia University, where he was a protégé of film critic, scholar and founder of "auteurism," Andrew Sarris. Eliot lives in Manhattan but has become a regular visitor to the Peoria area, first serving as artist-in-residence at Eureka College in 2012 and hosting his first "The Art of Film" festival at the Peoria Riverfront Museum on Alfred Hitchcock, March 2019.
---
SPONSORSHIPS
To find out more information about sponsorship please contact the Visionary Society Concierge at development@peoriariverfrontmuseum.org or 309-863-3019. Thank you for your support!