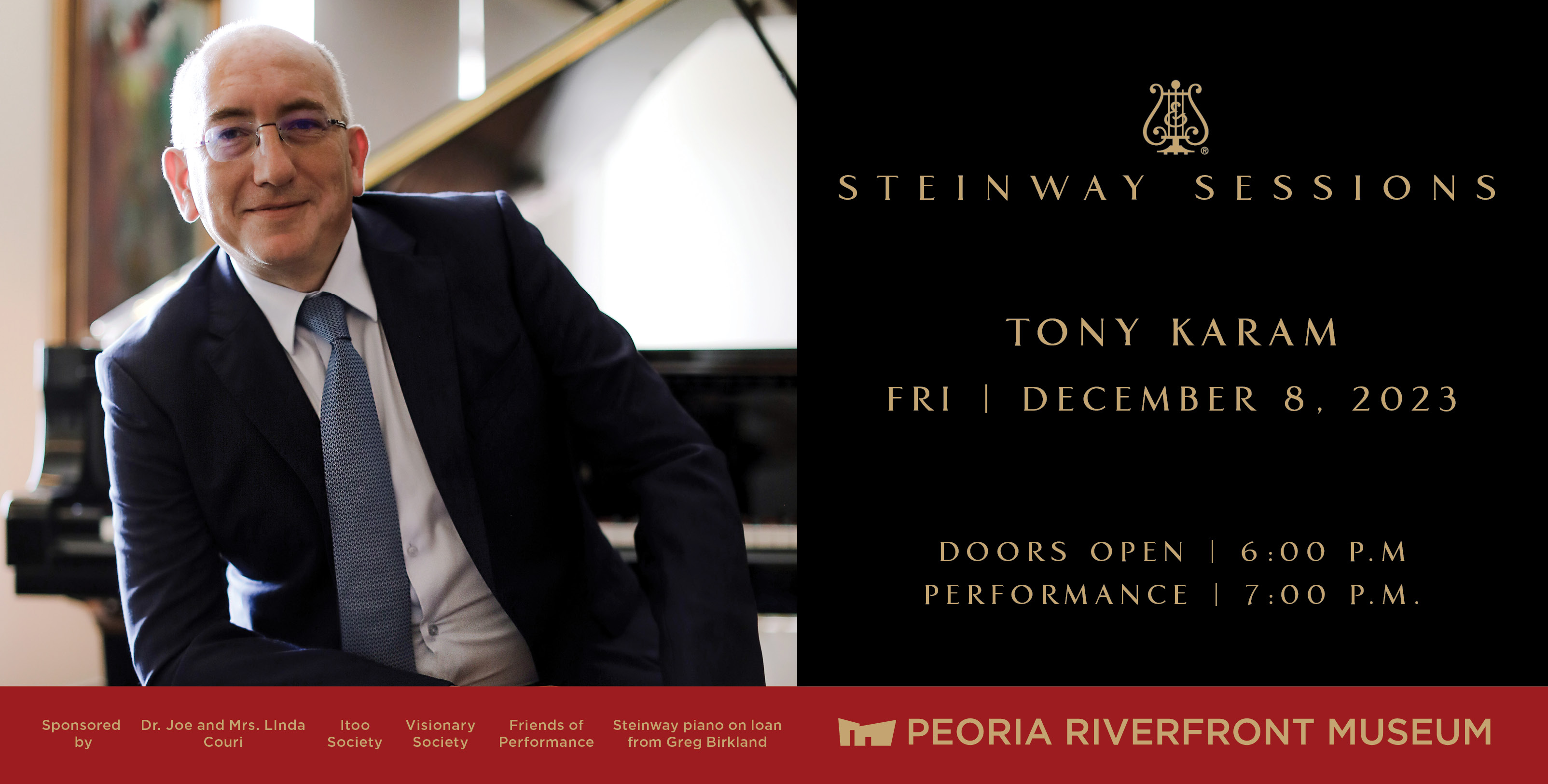 STEINWAY SESSIONS: TONY KARAM
Friday, December 8, 2023 | Doors open at 6 p.m. | Performance at 7 p.m.
Steinway Sessions with Doctor Tony Karam is sponsored by: Visionary Society, Friends of Performance, Steinway piano on loan from Greg Birkland.
Steinway Sessions is the only live Museum+ performance series of its kind spotlighting international quality musicians, set amidst the art and beauty of the Peoria Riverfront Museum galleries, and using the most valuable instrument every purchased for Peoria, the Spirio grand piano made by Steinway & Sons.
The Steinway is on loan from the KDB Group and Greg Birkland in memory of Betty Jayne Brimmer. Steinway Sessions is sponsored by Friends of Performance, the Steinway Piano Gallery, Springfield and Visionary Society. The overall Museum+ performance program is expertly guided by guest curators Nathan and Julie Gunn and generously sponsored by Linda Beth and Ed Sutkowski. 
The Peoria Riverfront Museum is delighted to welcome back world-renowned pianist Dr. Tony Karam to perform on the Steinway piano amidst the art work in our most current exhibit, FRESH: New Directions in Contemporary Art.
An internationally renowned pianist since childhood, Beirut native Dr. Tony Karam is a distinguished OBGYN who practiced in the U.S. and currently practices in Lebanon. Dr. Karam received his double M.S., Microbiology and Immunology, High Honors, and MD from The George Washington University School of Medicine and Health Sciences.
Dr. Karam has performed at the Peoria Riverfront Museum once before, and we are thrilled to welcome him back as he flies in from Lebanon for a performance you won't soon forget. 
Tickets:
General Public: $75
Members: $60
Hors d'oeuvres and dessert included with ticket price, cash bar available
Sponsored by: Dr. Joe and Mrs. Linda Couri, Itoo Society, Visionary Society, Friends of Performance
Steinway piano on loan from Greg Birkland