Event Details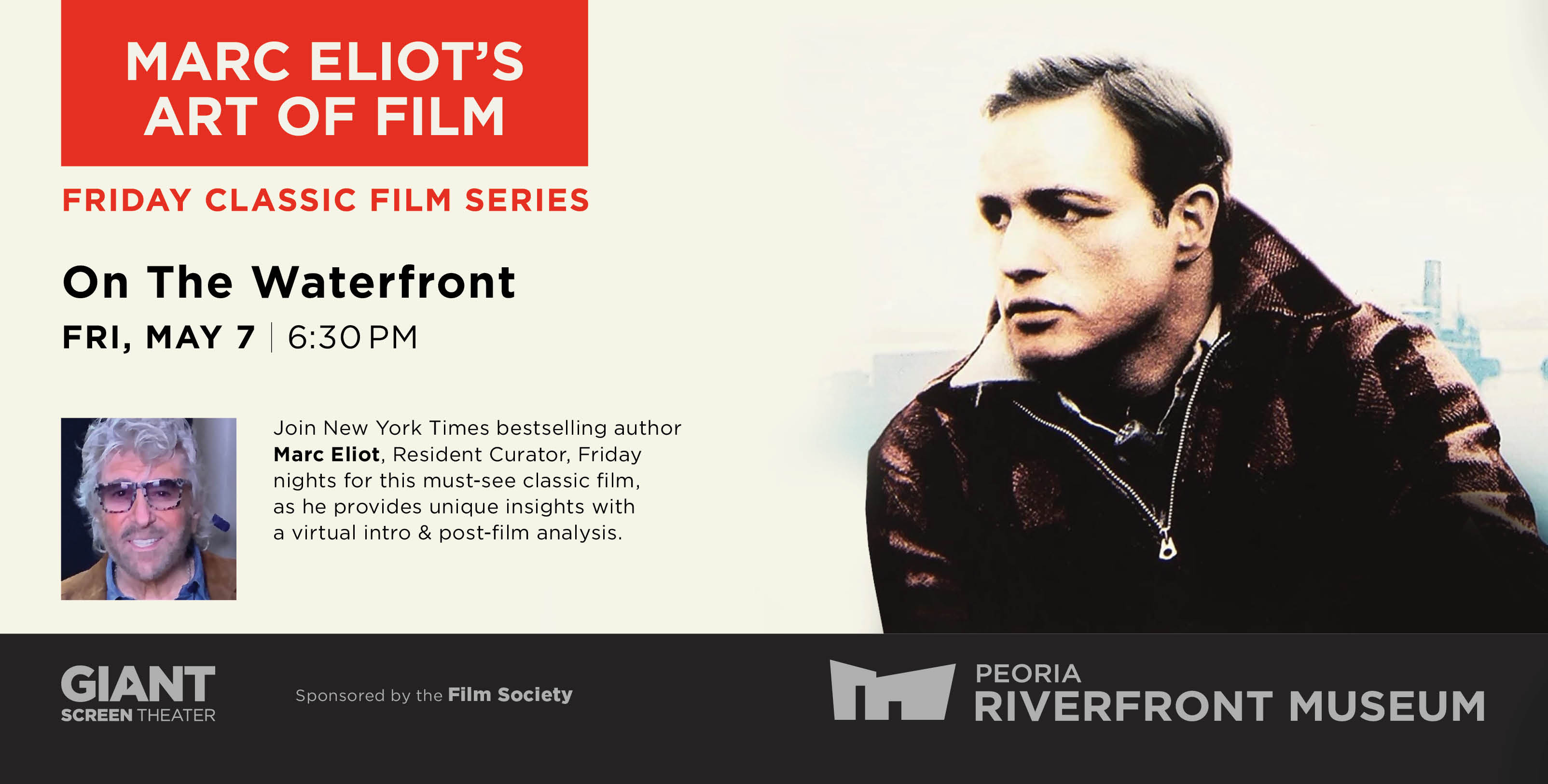 Fri, May 7 | 6:30 PM
Tickets | CLICK HERE
Join us for our new weekly film series in the Giant Screen Theater, "Marc Eliot's Art of Film," with The New York Times Best-Selling Author! Peoria Riverfront Museum is pleased to announce the residency of film critic and historian Marc Eliot, who is the author of more than two dozen books on pop culture and biographies on Hollywood icons.Marc has personally selected each of the films in the "Art of Film" series and provides virtual commentary for each film before and after the film's screening at the museum.
ON THE WATERFRONT, 1954, Columbia Pictures. Director: Elia Kazan. Screenplay: Budd Schulberg. Score: Leonard Bernstein.
With Marlon Brando, Eva Marie Saint, Lee J. Cobb, Rod Steiger. This is the one of the brightest gems of the studio era, with a Method-trained cast straight out of the famed Actors Studio. Waterfront established Brando as the preeminent screen actor of his time, perhaps of all time, and everyone in the film gave the best performance of their careers. The film may be seen on one level as Kazan's self-justification for being a friendly witness before The House Un-American Activities and naming names, before the making of Waterfront, but it is so much more. In this modern retelling of the Crucifixion, Kazan reaches far beyond the body politic to contemplate the relationships between morality, loyalty, sacrifice and redemption. The winner of 8 Academy Awards, including Best Picture, Best Director, Best Actor (Brando), Best Supporting Actress (Eva Marie Saint, in her film debut), and Best Screenplay (Budd Schulberg), On the Waterfront is American cinema at its finest. Even if you have already seen this film, to experience it again on the big screen, in its rarely seen original correct\proportion, is to witness first-hand one of the crowning achievements of the art of Film.
- Marc Eliot